Padma awardee swears that Lakadong Turmeric is by far the best. Try and enjoy the benefits.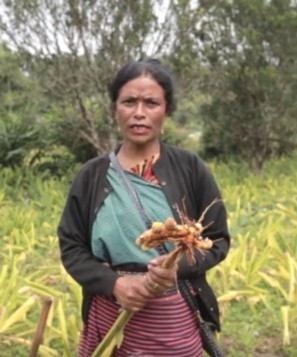 We all know about the medicinal properties of turmeric and what place it is given in the Indian Kitchen. Right from being used as an antiseptic to working its best as an antioxidant, turmeric has various uses in everyday life. Have you ever heard of the Lakadong variety of turmeric? This has its origins from the Lakadong area of the Jaintia Hills district of Meghalaya. It is considered as an amazing flavouring and coloring spice. Lakadong turmeric has a bright, golden yellow hue that gives the food that rich and appealing deep yellow colour while other turmeric types don't give the food such an appealing look. There is also a clear earthy and nutty taste to it along with a pleasant aroma. The spice is naturally farmed, without chemical or artificial fertilizers and no pesticides. Well, while I talk about Lakadong turmeric, I would also like to take you through the story of a teacher who has been empowering the women of her place by helping them grow and sell Lakadong turmeric.
School Teacher Turned Farmer:
Trinity Saioo, a 53-year-old former teacher belongs to Mulieh village in the North-Eastern state of Meghalaya. She is a member of the Jaintia Hill Tribe. Her transition from being a teacher to a farmer happened in one of the moments of her realisation when she understood the brilliance of Lakadong turmeric. It all started in 2013 when the Spices Board of India visited her hamlet. The officers knew about Lakadong turmeric and it's benefits but have little knowledge about its cultivation and production process. They wished to bring Lakadong turmeric cultivation under a government scheme introducing grants for successful cultivation. Though Trinity hailed from a farmer's family, it is only then that she discovered how valuable Lakadong turmeric is and learned of its high demand. As she was a teacher, she could speak both English and Hindi fluently, which acted as an added advantage for her to deal with the government officials to facilitate the subsidy scheme. The Board registered her name along with seven others from her village under a subsidy scheme of three years which should be renewed every year.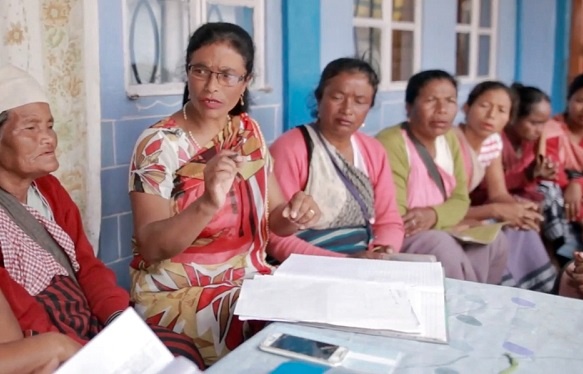 Plunged Into Action:
Trinity set into action and visited the nearby villages to create awareness about the organic cultivation of turmeric. She then set to train women so as to enhance their skills as well as income. She formed a self-help group of women farmers and about 100 women work with her at Hills Curcumin & Spice Producer Society, an association formed by Trinity in Meghalaya. There, she serves as an Assistant General Secretary. The society has procured machines for the production and extraction process of turmeric. The society also provides money to the farmers to grow Lakadong turmeric. Trinity also managed to procure Lakadong seedlings for women, taught them how to grow them organically along with using safer alternatives to curb pests. The yield thus produced is processed and taken further. "We collect the raw products from the local farmers, and my workers and I clean the turmeric. As we have nearly 86 villages in Laskien block, I have appointed local collectors to get the farm products from the farmers," Trinity shares. While the main team has about ten farmer leaders, it also has project officers and staff to take up the projects that come through agriculture and horticulture department. Trinity and her team supply close to 30 metric tonnes of Lakadong turmeric to various parts of India.
"With a firm network of SHGs in place to carry forward the agenda of women-led farming practices, I have pushed to avail the implementation of existing schemes and policies to strengthen the network of SHGs in the state," she says. Trinity focuses mainly on Mulieh village and across the Laskien block in West Jaintia Hills district. She is now trying to extend her operations across Meghalaya with the support of the Hill Farmers Union. There are close to 25 core members in the society formed by Trinity, which is registered in the government database and has farmers from across Laskien Block, with more than 800 members. Trinity has empowered more than 800 women in her village with Lakadong Farming. Apart from exporting Lakadong Turmeric, her team is also prepping to export around three metric tonnes of dried ginger.
I am happy that whatever I am doing along with the support of the district and respective department authorities, I am able to provide a survival way to the rural women farmers. Even if I am running short of financials, I make sure that these women are paid in time, says Trinity.
Recognition:
In 2020, Trinity was honoured with the Padma Shri award for her contributions to increasing the income of the women farmers in Meghalaya. She was also praised as an 'unsung hero' by Union Minister Piyush Goyal. She was also honoured by the Balipara Foundation during the Annual Balipara Foundation Awards, 2020.
The Road Ahead:
Speaking about her dreams for the future, Trinity says, "I want Lakadong Turmeric to garner a greater international market so that the farmers are benefited and recognised at the same time. I also wish the products to be sold at a very decent price in the market," She wants to pass on the knowledge and tradition of cultivating the Lakadong variety to the younger generations. "This is a solution to the kind of economic problems faced by my community members and I urge the women to take this up as an added income source that would pave the way for socio-economic development and upliftment of their community," Trinity concludes.
Hats off to the woman who has been relentlessly trying to empower her region by drawing on the benefits of Lakadong turmeric cultivation. May her efforts bear fruits and may the legacy continue.