Here is the first Indian woman to FLY SOLO before independence. She proved that skies are open to women.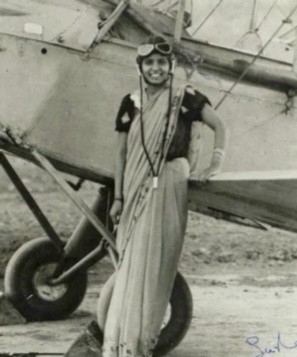 "Always be happy. It is very important for us to be happy and cheerful. This one motto has seen me tide over the crisis in my life" - Sarla Thukral
Do you know who said these words? Sarla Thukral, the lady who pioneered a career in aviation. The first Indian woman to fly solo showing that the skies are open for women too, is an inspiration to many young women of the day who dared to enter the cockpit after she adorned it in the beautiful Indian sari. Unfortunately, after her demise in 2008, her story went buried behind the clouds. Today, the 7th December, Civil Aviation Day, is the best occasion to talk about her achievements and offer our salutes to the dashing lady who winged her way into the skies.
Love For The Skies Spotted By Husband:
Sarla was born on 8th August 1914 in Delhi, British India and later moved to Lahore in present-day Pakistan. She was married at a young age of 16. Unlike other girls whose lives get confined to kitchen and household work, Sarla rose to touch the skies after marriage – thanks to her husband and father-in-law. Her husband P.D. Sharma was an airmail pilot. He identified her passion and love for flying and encouraged her in that direction. P.D. Sharma, who was the first Indian to get the airmail pilot's license flew between Karachi and Lahore. With his busy schedules, he couldn't accompany Sarla for her training. So what? There's another supportive man, Sarla's father-in-law, who accompanied then 19-year-old Sarla to the flying club and got her enrolled there. "I knew I was breaching a strictly male bastion but I must say the men, they never made me feel out of place." said Sarla Thakral.
A Quick And Enthusiastic Trainee:
Sarla began to train in her instructor Mr. Natoor's Gypsy Moth and just after eight hours and ten minutes of training, she was declared "ready to fly solo" by her instructor. The first solo indicates taking off, turning back and landing while flying alone in the plane, which stands as the first crucial test to one's ability in flying. Though she was ready to 'fly alone', she wanted to wait for her husband to return and soon after Captain Sharma arrived home, Sarla flew the Gypsy Moth solo, reached the required altitude and made a successful landing. Her first solo was a success! More intensive training started and Sarla showed her endurance and perseverance in clocking 1000 hours of training while taking care of her husband and her 4-year-old daughter back home. In 1936, when Sarla was 21, she received her A license.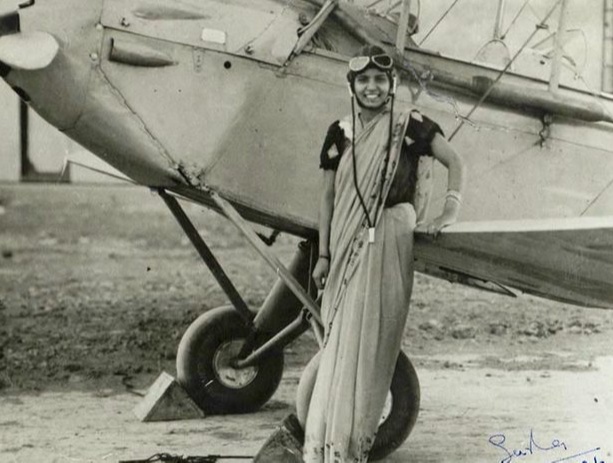 Life Had Different Plans For This Winged Woman:
After receiving the A license, Sarla aimed for the B license that makes her eligible to become a commercial pilot. During this time, her husband Sharma died in a plane crash and Sarla was 24 years old then. Drawing all her broken pieces together, Sarla decided to take her husband's motivation for her flying career forward. Unfortunately, with the outbreak of World War II, the civil training was suspended as the British government was trying to divert all the resources towards their country that took part in the war. Sarla had a child to raise and she didn't want to depend on anyone for her living. So, she decided to use her other skills leaving behind the thought of becoming a commercial pilot. She came back to Lahore and attended the Mayo School of Art where she received training in the Bengal School of Painting and has received a diploma in fine arts.
Life As An Entrepreneur:
When you have the zeal to make things work for you, you will succeed in any chosen path. That was what Sarla has proved right! After partition, Sarla moved to Delhi with her two daughters. She became a successful entrepreneur as she took up painting, designing clothes and costume jewellery. One of her clients was Vijayalaxmi Pandit. She was so extremely good at her work that she supplied for Cottage Emporium and also designed for National School of Drama. "I dabbled in designing costume jewellery, which was not only worn by the who's who of that time, but also supplied it to Cottage Emporium for 15 years. After that, I took to block printing and the sarees designed by me were well sought after. This too continued for 15 years. Then I began designing for the National School of Drama and all along I kept painting." said Sarla Thakral. After she moved to Delhi, she met R.P. Thakral and married him in 1948.
At the time when women were thinking of pursuing education and going out, Sarla dared to touch the skies. Her story is an inspiration even today, for, it is with her zeal that she proved that nothing is impossible. Kudos to the pioneer of women's career in aviation.
Must Read: Untold story of a widow at 16 with a child who proved that women are equal. Get inspired.