Our Indian Picasso at 10 has earned a whopping dollar 40,000 by selling his paintings internationally.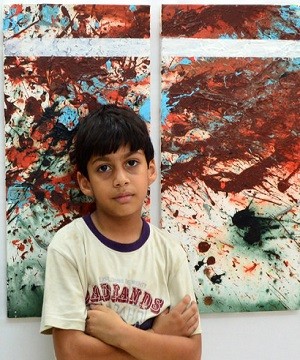 Sought after Abstract Paintings.
A Neemuch, Madhya Pradesh boy's Abstract Art is much Sought after globally. This happened when he showcased some of his Art along-side some well know artists like Yaacov Agam and Burt Young. The Artist community was overwhelmed by this young talent and the boy made some quick bucks.
Picked up a Brush from his sisters.
He was just 4 when happened to pick a brush from his sisters while watching them paint and observe a few art books. Though they were into figurative images, this somehow didn't fascinate him. He was not even aware of what Abstract Art meant, but with just a few strokes and fabulous bright color combinations, he created paintings, which turned out to be Abstract. His Art streak was appreciated by the ones who had a glance at them found it absolutely startling, unique and special.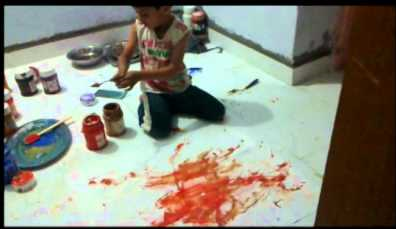 Dad was instrumental

.
While Shorya continued with his passion and interest, his Dad wanted to have his works exhibited. Dad organized his first solo public exhibition at the Taj Mahal Hotel in Mumbai. The art lovers found his art so fascinating and couldn't believe this little boy's work. Many cited his painting to resemble famous artists like the American Jackson Pollock and some others even called him an Indian Picasso.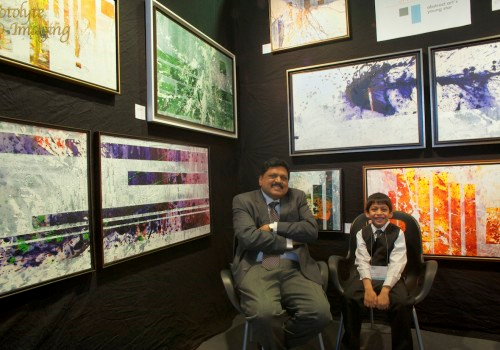 Drawing Inspiration from?
Any artist is generally inspired by the surroundings and the life around them and this was no different for Shorya. He probably expresses his deepest emotions through colors; like the writers do through stories. He was elated when he was welcomed by Late R.K.Laxman to the world of Art.
Renowned Artist already. What next?
Being famous when young is sometimes hard to deal with but his parents help him to keep a balance. He continues to popularise his art through regular exhibitions and wants to sell more. He has his own website wherein one can have a look at his gallery.
What else interests this little Artist?
He is keen on focussing on his studies, take up some other activity like cricket or perhaps Music.
Bookofachievers.com wishes him Good luck with his master-strokes with the brush.