Gaming into education, this teen teaches the teachers, receives Bal Puraskar.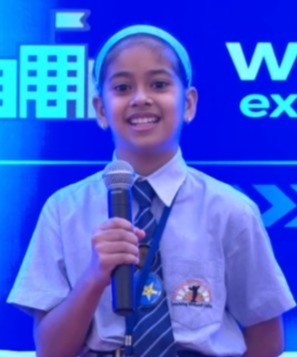 "The best thing is that now I can tell teachers to listen to me and pay attention to what I'm saying. It's a great feeling," Namya giggles. This student from Ludhiana is teaching the teachers in India and from across the globe. She is training them in the creative approaches to make learning fun, interactive and interesting. Having observed her fellow students feeling bored of holding books and her own disinterest in referring to a notebook that she writes, she thought - Why not collaborate gaming and lessons? There you go, the revolution has begun from that very thought and Namya went on to become the teachers' teacher. Let's look at the work of this young teenager who was hailed by big heads like the Prime Minister, Shri Narendra Modi and the business tycoon, Satya Nadella.
An Incident That Changed The Course Of Learning:
Namya Joshi, the precious daughter of Ludhiana, was born to Kunal and Monica Joshi. Her father is an IT entrepreneur and mother is head of the IT cell at Sat Paul Mittal School where Namya pursues her schooling. Namya was 10 years old when the seeds to what she is today, were sown. Her mother, who is the IT Head at the school, registered herself to become a global Minecraft mentor, as a part of Microsoft Innovative Educator program. All she had was a very basic idea that she attained during the Microsoft's Hour of Code at that time. She started researching about it and learnt that the game can further be re-created to fit in the school's curriculum. But she is not convinced about the very idea. How could a video game be integrated into school's curriculum? But to her surprise, she noticed 10-year-old Namya playing with Minecraft: Education Edition, a special edition of the game customized for the classroom environment, on her laptop.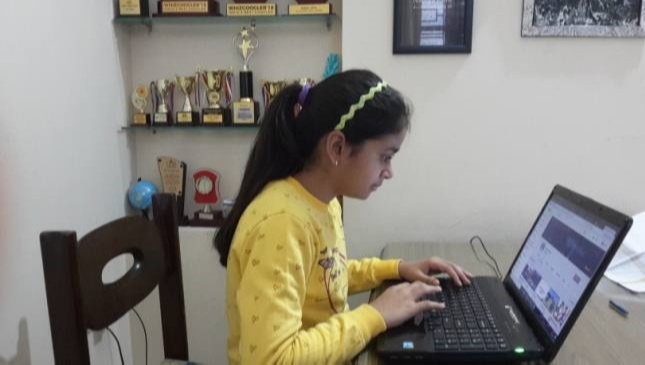 "I'd seen Minecraft installed on my mother's Windows 10 laptop and started trying it on my own. After understanding the basics, I watched some tutorials and got myself familiar with it," said Namya. Looking at her daughter's familiar encounter with the game, Monica asked her daughter to create her upcoming lesson in the Minecraft world. What Namya showed her later, convinced Monica about the incorporation of gaming (Minecraft) into the curriculum. Namya developed a lesson about her recent trip to the hills where she created the hills, waterfall and other things she saw during the trip and also wrote descriptions of everything in Minecraft. Later on, Namya discussed with the principal of the school about the possibility of including Minecraft in the curriculum and Bhupinder Gogia, the principal was ready to accept anything that benefits the students. With his support, Namya and Monica began creating more lesssons on Minecraft. Eventually, other teachers and students started to join.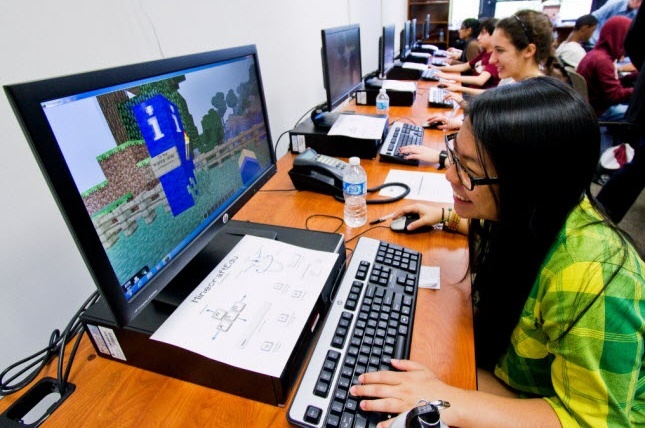 "We started off with an experiment with some classes and asked students to convert their Math lesson into Minecraft and the results were amazing. Some students created e-learning books for which they did exhaustive research. Soon mid-school students also started asking us to get them on Minecraft. Today we have Minecraft licenses for the entire school," said Bhupinder Gogia. Namya has trained more than 100 teachers in her school and across the world on how to use Microsoft tools like Minecraft, Scratch, Kahoot, and Flipgrid in their classrooms through Teams. "Minecraft is a great platform. If a child does not like reading books, for example, you can make them in Minecraft and get the child interested. I didn't look at Minecraft as just a game. I realised that it can teach the teachers. Create lessons that they can use in the classroom to educate students. I saw the change instantly with these lessons, children were more engaged and trying to understand concepts easily.", Namya explains the reason for advocating the cause of gaming in education. Namya spends 30 minutes in a day to create lessons on Minecraft. Her Minecraft lesson on Ramayana won her great applause from all over the country.
Supporting The UN's Sustainable Development Goals:
"As a committed supporter of the United Nations Sustainable Development Goals initiative, I believe gamification can greatly contribute to achieving the SDGs, and in particular SDG4 which is quality education for all," Namya talks about how she supports the cause for quality education. To achieve this, Namya regularly interacts with educators and learners from across the globe through Microsoft Teams. She runs her own blog and also launched a YouTube channel. She is also the student ambassador on #MSEduChat, a social media event organized by Microsoft Education every month. "The sessions help me connect and collaborate with like-minded people from across the world. They also help me instil the values of empathy and teamwork in my approach," she says. She creates 'worlds' or lessons and explains STEM and cyber-security concepts through storytelling. She takes classes over Skype demonstrating the innovation in education. Her students are the senior teachers and principals from countries such as Russia, Hungary, Vietnam. In November 2019, she travelled to Jyvaskyla and Finland on a five-day tour of schools where she organised workshops and interactive classrooms. "I believe in #EachOneTeachTen and with this motto, I have trained teachers and students in my region, country and across the globe on the power of Minecraft, makecode, Python and other ICT Tools using, Skype, Teams, Zoom or Google meet", she mentioned.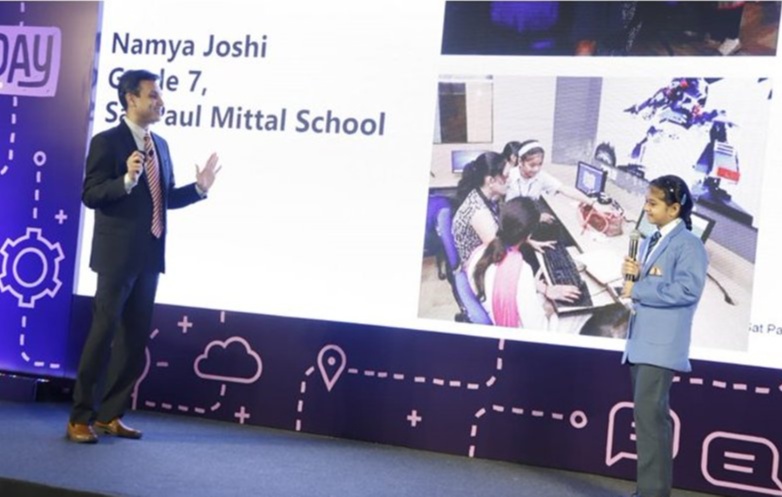 Achievements Taller Than Her and Bigger Than Her Age:
Teenager who is just 14 already has several accomplishments filling her bag and numerous appreciations crowning her. This young genius has already spoken at KEOS2019-a global education conference in Finland and has also conducted a workshop for teachers there. She won the National Minecraft Competition in December 2018 and was nominated as India's ambassador for SDGs For Children. She received the Pradhan Mantri Rashtriya Bal Puraskar for using the popular video game Minecraft to re-design the school curriculum and for turning classrooms into educational gaming sessions. Prime Minister Narendra Modi tweeted that she "has achieved international status in the field of multimedia due to her talent". In February 2020, she met the Microsoft CEO Satya Nadella in Bengaluru, who, in his concluding speech said, "I was energised to meet so many young innovators in India this week, including Namya Joshi who is training teachers around the world on how to use Minecraft as a learning tool."
लुधियाना की गेमर नाम्या जोशी ने अपनी प्रतिभा के बल पर मल्टीमीडिया के क्षेत्र में अंतर्राष्ट्रीय मुकाम हासिल किया है। बड़ी-बड़ी संस्थाओं और कंपनियों ने उनके इनोवेशन का लोहा माना है। प्रधानमंत्री राष्ट्रीय बाल पुरस्कार के लिए उन्हें मेरी बहुत शुभकामनाएं। pic.twitter.com/yVCklCMli1

— Narendra Modi (@narendramodi) January 25, 2021
The Future Ahead:
Namya is zealous about taking her mission forward. "Over the next few years, I plan to sharpen my technical skills and create lessons on a wide variety of subjects. My ultimate dream is to work with tech giants Microsoft and Google and revolutionise K-12 education through technological innovations," she says with determination gleaming on her face.

Follow Her Work

Know More About Her

Like and Subscribe To Her Channel For More Videos
Must Read: Class 10 girl received the Global Child Prodigy Award. Has been writing stories since she was two.