Class 10 girl received the Global Child Prodigy Award. Has been writing stories since she was two.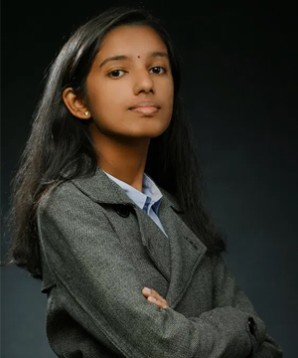 At the age of five, parents help their kids with their broken language and try to impart in them better communication skills. Children at the age of 5 read short stories and play with the alphabet to hone their language. But there's a wonder kid in Bengaluru, India who started writing stories when every kid of her age was still learning the A, B, Cs of language. For her exceptional ability, she was chosen for the Global Child Prodigy Award 2020. Let's get into the world of this amazing child to know more about her.
Started To Pen At An Unbelievable Age:
Ananya Rajaraman is a class 10 student of Greenwood High International School. While other children listen to bedtime stories at the age of two, Ananya already started to pen short stories out of her imagination. Fantasy poured in from her ink so effortlessly that by the age of 5 years, she had already penned 175 short stories. The genre 'fantasy' came to her so naturally and her vivid imagination took it to the next level.
The Youngest Crime-fiction Author:
Ananya was always enthralled by "crime fiction", thrill and adventure being her all-time buddies. Ananya sat down to pen her first novel and at the age of seven, she has already released her first adventure novelette. Magnus Hooper (as the Criminal Sleeps), is her first book that was published in 2016. As a sequel to this, in 2018, she published Magnus Hooper: A Contentious Inheritance. With this, Ananya became the youngest crime-fiction author in the country according to the India Book of Records. Thus she grabbed her position in the literary world at a very young age of 10.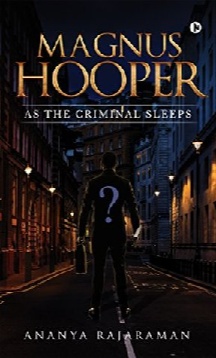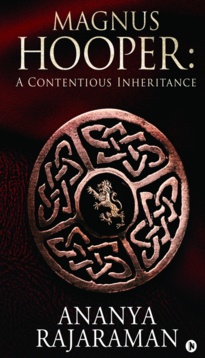 The Child Prodigy:
Ananya Rajaraman was awarded the Global Child Prodigy Award (GCPA) 2020 for her distinctive flair in writing. She was selected after a rigorous process of screening that took over a year and a half. Kiran Bedi, the current Lieutenant Governor of Puducherry presented the award at an event held on 3rd January 2020 at The Ashok Hotel, New Delhi. Nobel Peace Laureate Kailash Satyarthi, senior Parliamentarians, music stalwarts and many other dignitaries were present at the event.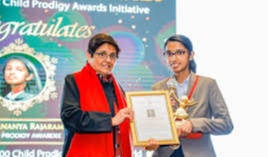 I feel honoured to be amongst the 100 prodigies in the world. It was wonderful to interact with other exceptional achievers across the world, and the distinguished guests at the ceremony. I thank them for selecting me among thousands of applicants, said Ananya.
Niru Agarwal, Trustee of Greenwood High International School said, "It is a moment of pride for the school, Ananya's family and friends. Ananya has worked very hard at such a young age and to get to the top. Our school maintains high standards in academics and co-curricular activities and Ananya's success reflects our worldview. I congratulate Ananya and wish her the best in her future endeavours.
Support in All Forms From All Sides:
Ananya had excellent support of her teachers and academic coordinators who have always given the girl high spirits and kept her motivated. Ananya also draws inspiration from her friends and the community of readers. The foreword to Ananya's books is written by the Principal of her school, Mr Aloysius D'Mello. She extends her sincere thanks to her principal, teachers, classmates and family for encouraging her to take up writing.
Her Aspirations:
Ananya who says that writing is much of a routine to her wishes to get into the realm of theoretical physics. She said that she is trying to explore completely a different genre this time. She has also been trying to compile a grammar treatise for four years now and she says that she will publish it very soon.
Writing is much of a routine for me as is brushing one's teeth. I don't look at it as a separate entity to incorporate in my life, rather a part of life itself, -Ananya Rajaraman