Playwright and a performer at 10? Look at the story of the Guinness Record holder.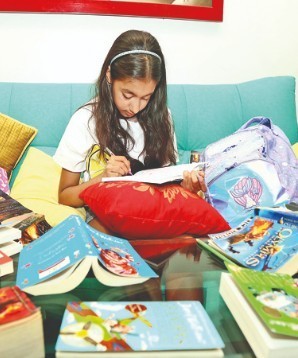 When the English teacher steps into the class and asks students to perform a skit on one of the plays prescribed in their syllabus, the majority of the students fear hell and cannot even deliver the dialogues that were already written in the textbook. They can hardly present themselves in front of their own classmates. This happens with most of the students as the education system is focussed on creating rankers and is lacking to develop doers. While we are bound to accept this harsh reality, we can find comfort when we get to know a few children who are going beyond their age and boundaries to do bigger than ever. One such child is Krshaana Rawat, a 12-year-old from Jaipur who is mesmerizing everyone with her spectacular plays. Let's get into her magnificent world of theatre.
A Child's Love for Fantasy:
Krshaana Rawat lives in Jaipur, India along with her parents, grandparents and two pet dogs. She is a student of Jayshree Periwal International School. Rawat was so fond of reading that she asks her friends to gift crossword vouchers for her birthday every year. She has also read over 500 books so far. Like other children of her age, she is not glued to movies and cartoon. She just watches Tom and Jerry in her free time if she is not reading. She loves to read fantasy fiction with Harry Potter and Percy Jackson series as her favourites. This avid reader who started reading at the age of 4 slowly developed a flair for writing and started penning stories by the time she reached class 3. J.K. Rowling and David Williams are her inspiration. Her mother Shreya Rawat, who is a theatre artist, left her job to attend to Krshaana. It is her mother that supported and helped Krshaana in penning her imagination.
family Photo
The emergence of The Youngest Playwright:
When Krshaana was 10 years old, she wrote a play called Mystical Magical Adventures – "The Lost Key" which is about a young girl named Tinky. She meets four mystical creatures who take her on a magical adventure in order to save a kidnapped fairy. The play's duration was 85 minutes and comprised of 40 performers. Krshaana hired professional actors and dancers to perform in the play along with inviting some of her friends to act. The lead role was played by Krshaana herself. Rawat took four months to write, plan and put the whole play together while her mother stood by her side assisting the young girl by directing and producing the play. The play was performed on 21st April 2018 at Birla Auditorium. Official Guinness World Records adjudicator Swapnil Dangarikar was invited to verify the attempt who witnessed the magnificent performance and bestowed the title as the world's youngest practising playwright on Krshaana. "The play was of very professional standards, with elaborate stage setup and costumes," he commented.
Happy and delighted young record holder said, "I feel so honoured after winning the Guinness World Records title for the Youngest practising playwright. It gives me a feeling of excitement [and] I sense a sparkle of happiness when I know that our play will be going into your books."
To the Times Of India, this creative genius spoke and said, "When I was eight, I started writing short stories – thanks to my mum Shreya, who is also a theatre artist. Actually, I wanted my mother to start working in the theatres again, as she had taken a break to take care of me. She said to me that she will direct plays when I start writing."
The proud mother Shreya said that she just went numb when the certificate from the Guinness World Record team was being offered to Krshaana. She urged all the parents to encourage young children to be a part of the theatre that has huge potential.
Kudos to the creative genius of this girl who, at the age of 10 became the Youngest practising playwright by writing, planning and performing a play while most children of her age spend time watching toons.

Follow Her Work
CheckOut - New Kid on the Writing Block: Published her First Book When just 8 Years Old.