Student wins elections and becomes the youngest Mayor in Kerala. What's the secret?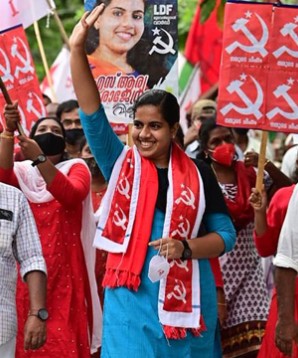 She cast her vote for the first time. It's not legal to ask someone who they have cast their vote for. But in her case, without asking, one can undoubtedly tell who her choice was. It is her. Yes! She must have definitely voted for herself. Well, without much ado, let us get straight to the point. 21-year-old college student from Kerala contested for the civic polls held recently and that was also the first time ever she could cast her vote in the local body election owing to her age. She is Arya Rajendran and this is her story.
Politically Influenced Right From Childhood:
21-year-old Arya Rajendran who hails from Thiruvananthapuram, Kerala. She is a second-year B.Sc Maths student at the All Saints College. Daughter of Rajendran, an electrician and Sreelatha, a LIC agent, Arya completed her schooling from Carmel Girls' Higher Secondary School. Hailing from a family who are supporters of Communist Party of India (Marxist), she joined the CPM as an associate at the party's children's collective Baalasangham at the age of 10. Much before her joining the Baalasangham, she accompanied her father K. Rajendran, a party member since 2000, to the party meetings. Having grown up seeing her father's active association with the party, Arya developed a positive viewpoint for the Left party's ideologies. Her father, unlike other parents who would worry about their children's career, opined that his children can get into politics if they wished to and thus never stopped them from taking up any of the leadership activities. Also, Arya's association with the Baalasangham and the Students Federation of India gave her an opportunity to get exposed to and understand various issues related to students. She also actively participated in various protests in support of students' welfare. All this served as a push for the young girl to step into the politics driving her to contest in the recent civic polls held in Kerala.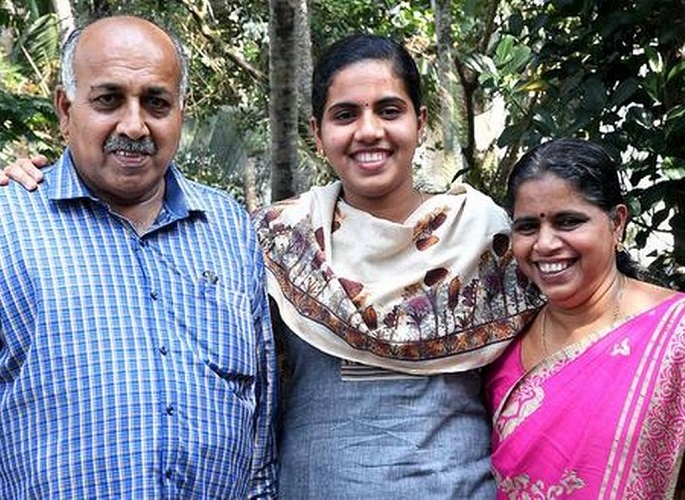 The Winning Marathon:
Arya contested for the recent civic polls held in Kerala. She has won the civic body elections from Mudavanmugal ward of the city corporation thus giving the CPI(M)-led Left Democratic Front its second consecutive win in the Thiruvananthapuram Corporation. She bagged 2,872 votes and defeated her nearest Congress rival by 549 votes. Arya was thus formally elected as the Mayor for the Thiruvananthapuram Municipal Corporation and became the youngest mayor of the Thiruvananthapuram Corporation. Rajendran, a state committee member of the Students Federation of India (SFI) and also the state president of Balasangam, the children's wing of the Left party, received extreme support from her family who never discouraged her whenever she wanted to participate in the political activities or wished to travel extensively across Kerala. Her association with the Baalasangham and the SFI also served as an experience and helped her big deal in interacting with the public while communicating her ideas clearly during the election campaign. This young leader, who missed some of her examinations to campaigning, is confident of balancing both her studies and the new responsibilities.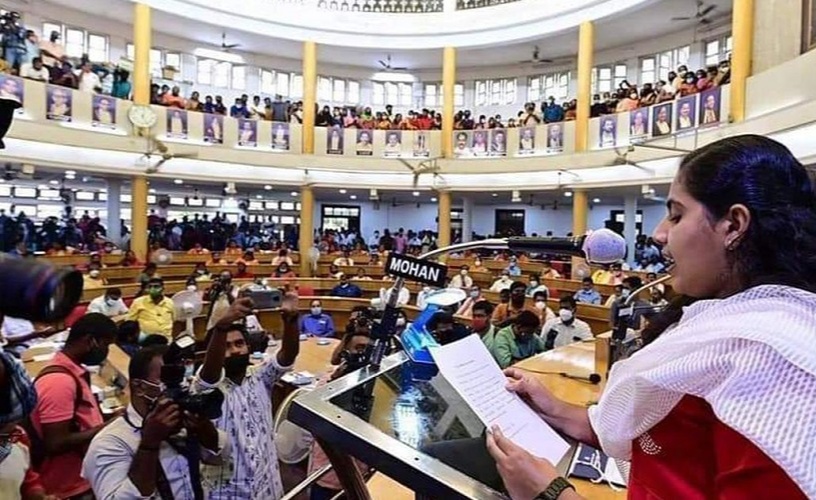 Her Duty towards the City:
Arya, who draws inspiration from Kerala's Health Minister KK Shailaja, says that, as a Mayor, her topmost priority shall be the waste management in the city.
"Our city is beautiful. To keep it like this, it should be free of waste. Besides a scientific waste management system, a thorough awareness is needed among people not to dump waste in waysides" Arya Rajendran said. This youngest mayor of a major city also sees veteran poet Sugatha kumari and Malayalam writer K R Meera as her role models.
Congratulatory Messages:
The joy of her father over her victory had known no bounds. Several social media users posted congratulatory messages as she is set to become the youngest mayor in the country. Superstar Mohanlal who is her neighbour at Mudavanmugal has personally called her up and congratulated on her victory.
"Time for a representative of the 51% of India's population that's under 25 to lead," Congress MP Shashi Tharoor tweeted. The Chairman and founder of Adani Group, Gautam Adani wrote on his Twitter, "Congratulations to Thiruvananthapuram's and India's youngest Mayor, Arya Rajendran. Absolutely stunning and India's demographic dividend at its best. This is how young political leaders shape paths and inspire others to follow. This is Incredible India!"
The youngest Mayor and still a student stood as a youth icon and this is the symbol of transformation. A change that witnesses the innovative minds of youth coming forward for the betterment of the nation. More youth in politics, more development. Let's wish more young people enter politics and may Indian politics become vibrant. May it be made free of loopholes. Congratulations Mayor Arya Rajendran.
This will certainly inspire more youth to join politics and the country needs them too.

Follow Her Works