Young Picasso from Australian receives Child Prodigy Award. Art that speaks.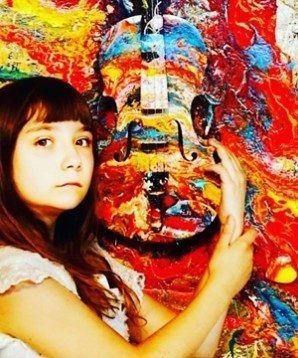 When "Sixty minutes" ran a segment "The Next Big Thing" and made a story about Aelita, they approached the Professor of Art, Robert Nelson at Monash University. Without revealing the artist's age, they showed him a few paintings. He called the paintings, "Very credible abstract works with an Asian style and strong calligraphic elements with amazingly liberated gestures." Once the artist's age was revealed, he was quite surprised and added that her paintings are an "antidote to the oppressive qualities of expectation in western painting." She is a 13-year-old Aelita Andre from Australia.
Since her birth, Aelita has never concentrated on any other activity apart from painting. She expressed her love for canvas and colours when she was just 10 months old. When her father who took out painting as his hobby spread the canvas on the floor one day, little Aelita crawled on to the canvas, gleefully squeezed the paints and rejoiced with colours. That's when her parents noticed how much Aelita enjoyed the company of colours. When adults take up a specific field and try to carve a niche in the area, we see that the roots for the interest were laid at an early age of four or five. But gaining mastery and tasting success happens years later. But Aelita is different from them. The interest spotted when she was just 10 months old grew up and by the time she was one year and 10 months old, her first painting was in the London Art Gallery.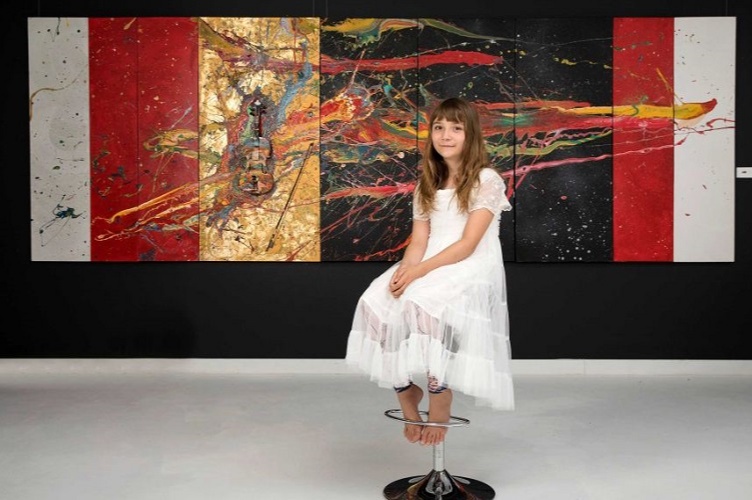 With no education, apprenticeship or any formal training, a girl who just learnt to walk walked her fingers on the canvas with just her style flowing naturally. When Aelita's parents shared an incident of her where she woke up at 1 a.m crying, "I want to paint, I want to paint!" we can figure out how much this young girl was inclined towards painting.
An interviewer for the American talk show "Good Morning America" asked Aelita, "What do you want to be when you grow up?" Without missing a beat the four-year-old Aelita laughed and replied, "A caterpillar!" Only Andy Warhol gave answers like that. The Absurdists and Dadaists would have been proud. Recently when a reporter asked Aelita how long will she continue to paint for, Aelita answered, "I will paint until I die, but it doesn't matter because I will live forever!"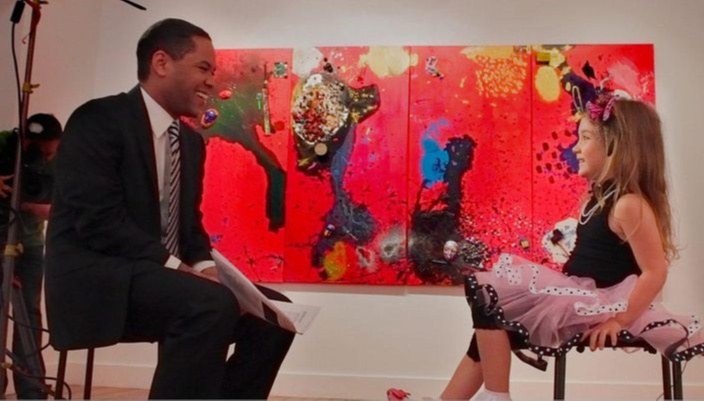 The journey of the Little Brush:
Aelita who was born in Melbourne, Australia in 2007, began to paint when she was just 9 or 10 months old. By the time she reached 2 years of age, her painting was already in the display at the BSG Gallery, Melbourne, Australia. Her first-ever solo exhibition 'The Prodigy of Colours" was held in Manhattan when she was just 4 years old. This went on for three weeks and all her 24 artworks whose price ranged between $4000 and $10000 were sold within a week giving her not just money but also lots of fame. In 2014, when she was just 7, she did live painting in front of the largest single audience in history - 20,000 people in the LDS stadium, Utah, USA. Eventually, her artwork began to appear in all the big galleries across the world. Aelita who does touch paints, sound paintings and is adept at music and sculpture too is the youngest artist whose work was featured in a solo museum exhibition in the Russian Academy of Fine Arts Museum, St Petersburg, Russia in 2016. She was 9 at that time. She held another solo show, Infinite Wonder, at the Art Basel Miami, Miami, the USA in 2018. Her solo shows became prominent in many countries going further.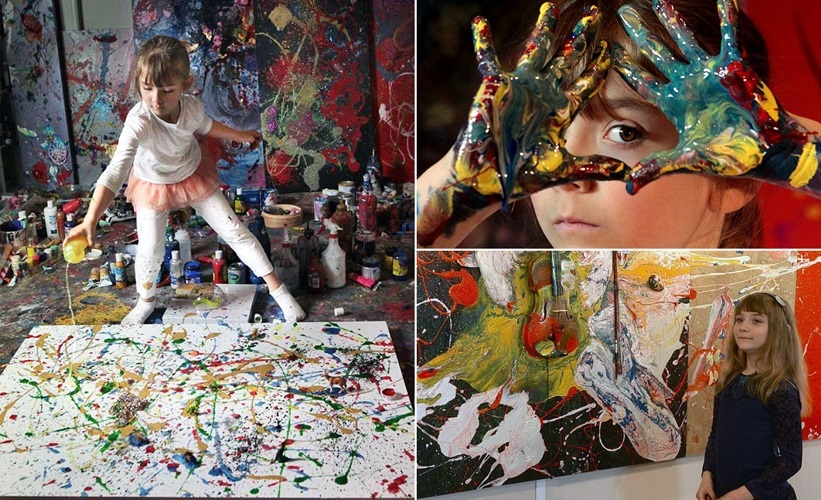 The Little Artist's Style:
If it's a child doing the art, then it would be pure, unhindered and free. Aelita's art is pure in the same way and bubble with originality. Her art breaks away from the convention of western art and is revolutionary in all senses. It is bold and superior. She doesn't care for the figuration and is free-spirited. Her innocence reflects in every stroke and splash of colours. She is extremely interested in colour, texture, shape, line and considers them to be the expressive ingredients in the process of creation. Her expressive artworks reflect her spontaneous intuitive impulses.
In 2011, Agora Gallery​ quoted Aelita Andre's works as, "extraordinary acrylic on canvas paintings with occasionally added objects such as toys like plastic dinosaurs, butterflies and penguins, and various other items, including even a microscope. Aelita creates swirling layers of paint splatters and uses iridescent neon glitter to form an intricate, kinetic whole. The structural rhythms are unmistakable and completely instinctive, reflecting an understanding of composition far beyond her years. Complex yet accessible, sophisticated yet unguided, Aelita's artworks communicate a sense of excitement and allow unique access into the creative mind of a child."
Songs of Praise in The Global Air:
Aelita who appeared on the front cover "The Australian" Magazine in 2011 received "The Leonardo da Vinci Award" Biennale, Art Museum, Italy in the same year. She became the youngest entrant in Wikipedia for a person for their own accomplishments. She is called "Young Picasso" and her style of painting is compared to that of Jackson Pollock, the greatest abstract artist of all time. She is the winner of "The Museum Award" at the Italy Art Museum, Italy. She is chosen as the ambassador for Wonder charity, Miami, USA. The World's first and only award ceremony, The Global Child Prodigy Award that recognizes unique and talented children, awarded Aelita Andre under the category of art. She was also listed under the Top 100 Prodigies of 2020.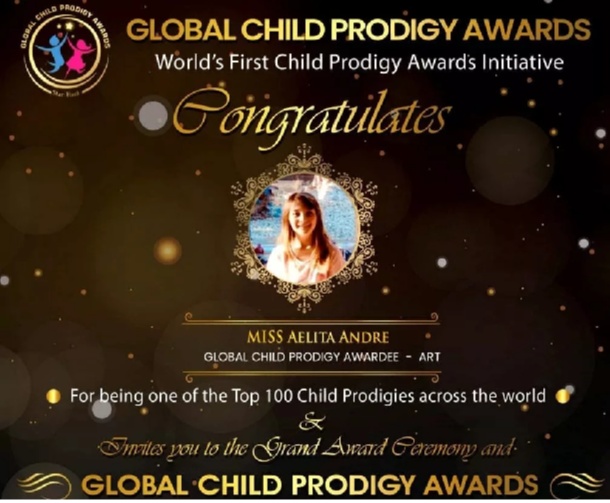 A Versatile Kid:
Aelita is not immersed in the world of painting all the time. She finds science fascinating and finds no difference between science and art. She loves to learn about atoms and subatomic particles and finds them as interesting as the splash of colours. Aelita paints two to three paintings a week and at other times, she sketches on her drawing pads. She covered the walls of her parents' house with unicorns, dinosaurs and butterflies. She also makes movies on the iPad. Aelita loves to play the piano and violin and takes weekly lessons. She also loves ballet, rhythmic gymnastics, singing and learning drums. Aelita Andre became an author as well by launching her book, 'Music of the Infinite', that is published by the Russian Academy of Fine Arts Press.
We wish this young little girl many more accomplished years to come and may she continue to outshine everyone the same way.

Know More About Her

Follow Her Works