A Bold and Fearless 26 year old Woman Rider goes solo across 29 capitals and 7 union territories covering over 22,000 kms.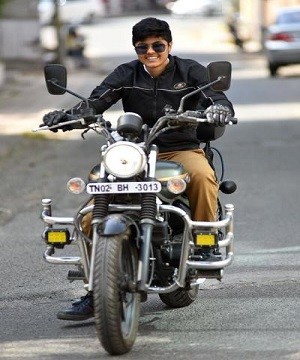 When Radhika Rao mounted her Bajaj Avenger and decided to take a solo trip by riding it across India, she managed to raise a lot of eyebrows. For a woman to ride alone throughout a country like India, it sure takes a lot of guts and passion – which is exactly what Radhika is made up of.
A freelance photographer by profession, Radhika had a thirst for wanderlust - a desire to go to new places, meet new people, do different things, and indulge in different cultures.
Around the country on a bike
The 26-year-old from Chennai set out to capture the smiles of people from different regions of the country, covering over 22,000 km in distance, exploring the nooks and corners of India and meeting people from various walks of life. Radhika managed to cover all 29 capitals and 7 Union territories.
The experience
For Radhika, her journey has been one full of learning and growth. Her initial plan to explore the country on trains and busses along with her sister never happened due to unforeseen circumstances but the fire in her heart for an adventure never went out. So she hopped onto her bike and rode to the horizon of her dreams.
During her trip, Dengue got the best of her as she saw herself hospitalized and bedridden for a week. But this tryst was momentary for she soon recovered and was back on track.
Radhika recalls Sikkim as being one of the most memorable parts of her journey for its road discipline, culture, and natural beauty, followed by Meghalaya.
A member of the Bajaj Avengers Club – Chennai, she is among those women who set a stellar example for the rest to follow.
Going against the norm
It wasn't easy for Radhika to convince her parents. Their worry over her safety was a genuine concern. She was a fragile girl and we all know the challenges that lie before us women in the country but instead of backing out of fear, Radhika turned her weaknesses into her strengths. She learned how to box and sharpened her skills on the basics of bike mechanics. She gained weight and defied all odds by following her dreams.
An expression of freedom
What the women in our country need is the freedom to move around without having to fret over their safety. Radhika's solo bike journey, in many ways, should inspire this generation of women to take their own standing and not let anything come in the way of their dreams.
The secret to happiness is freedom and the secret to freedom is courage. Motorcycling is the ultimate expression of freedom and Radhika, being the free bird she is, teaches us that on the other side of fear, lies boldness and freedom.'Please don't let others define your dreams, go ahead and do it. Nothing feels more accomplished like challenging your own fear,' says Radhika to all the other women out there!Radhika has documented her journey on her Facebook page called 'Carefree Vagabond.' She followed her dreams and it led her to places. So are you going to listen to your heart as well?