Mysuru teen appeals to the PM to include Yoga as a sports discipline.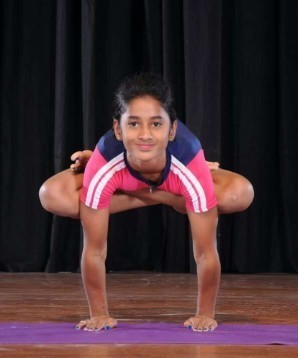 Yoga was not taken up by many previously because the thoughts about yoga were that, it was only for Old people who can only do exercises which are slow. But this false perspective towards yoga took a spin-off lately. The younger generation has perceived the Real Power of Yoga and has started taking it so seriously and have enrolled themselves in Yoga Institutions to Become Professional Yoga Trainers and shares the power, knowledge, and magic of yoga with others.
Mysuru is Evolving into the Global Yoga Hub...
Krishnaraja Wadiyar is the man who we all must thank because when he was ruling Mysuru he took up Yoga in his hands and practised it with so much gratitude. He instilled Yoga in his Kingdom Mysuru.
Followed by him the next pride of Mysuru is Kushi, she is a very young girl who is currently pursuing her first PUC in Mysuru, she is phenomenal in her Yoga Asanas, she started practising only a few years ago and that didn't stop her from creating a Golden Record in Performing the Toughest, hardest Yoga asanas - Niraalamba Poorna Chakrasana 15 times under 1 minute while she was only 13 years. She is also the brand ambassador for Swachh Bharat Abhiyan, Mysuru.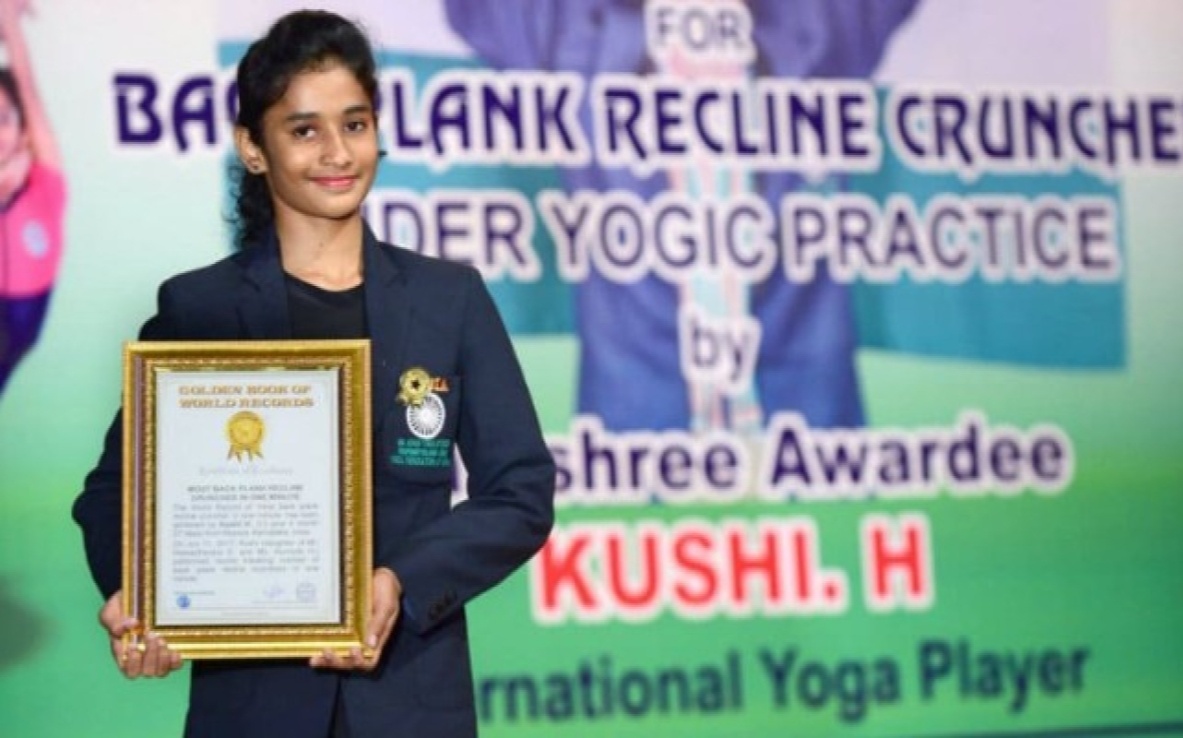 Exquisite Laurels bagged by Khushi for India...
Khushi represented Junior Girls' (14-17 years) in the 9th Asian Yoga Sports Championship held at South Korea and won Gold Medals in Asanas, Rhythmic Pair and Free Flow Yoga Dance events. She represented India in the 8th Asian Yoga Championships-2018 held at Kerala from Sept.27 to 30, won a gold and a silver medal. Khushi won four golds and a silver medal in the 7th Asian Yoga Sports Championship organized by Yoga Sports Singapore at Kallang Community Club. She also won gold medals in Rhythmic Yoga, Artistic Pair Yoga, Yagasana and Free Flow Yoga Dance contests and silver medal in Artistic Yoga contest.
Khushi said these words while she was only 13 years old!!!
A contestant from Tokyo performed the same asana, which made me want to practice it and try to achieve a world record. I am glad it was successful. In the future, I would like to hold many more such records and do in-depth research in the field of yoga.
Khushi Took an exceptionally amazing Extreme step for the love of Yoga.
Khushi boldly appealed to the Prime Minister of India to Consider Yoga to be a part of Sport. In return, PM Modi responded positively for the appeal. She has received a letter from the Union AYUSH Ministry, Yoga and Naturopathy Cell on the process initiated by AYUSH Minister to recognize yoga as a sports discipline.
Kushi, along with MP Pratap Simha, had met PM Modi in Delhi on Dec.31 last and had submitted a memorandum in that context. On the occasion, Simha also invited the Prime Minister to participate in 2019 International Yoga Day in Mysuru.
The Prime Minister had appreciated the desire of Kushi and had assured to give due credit and promote yoga as a part of sports. In response to the direction by the PMO, Union Minister for AYUSH Shripad Naik has referred the issue to the Union Minister for Youth Affairs and Sports Rajyavardhan Singh Rathore for consideration and to review the status of yoga and recognize it as a sports discipline, it is learnt.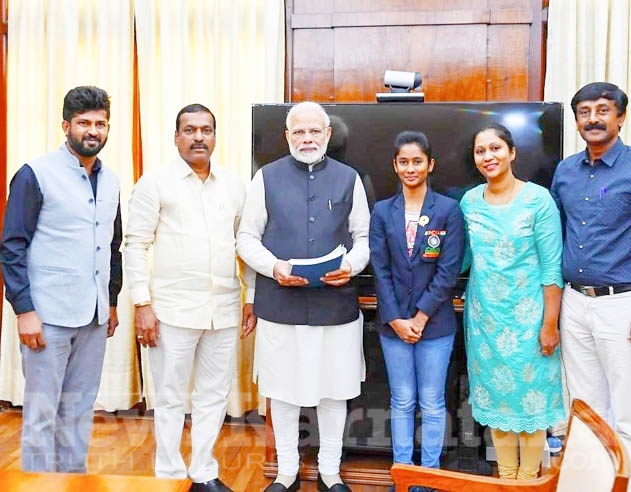 Next disciple of Yoga-

Yogacharya Bharath Shetty...
In 1993, Bharath was just a boy of about 13 years old who suffered from Asthma, he was advised a few yogic asanas by his teacher which he practised religiously for some time and it completely cured him of the ailment.
When he was 16, some people asked him to teach them yoga asanas and he graciously obliged. Five years later, at the age of 18, it was common for Bharath Shetty to get invites from professional organizations to teach them yoga which he did because he loved yoga.
A year later, he met with a near-fatal accident. Doctors ruled out that he would ever be able to walk again. At that time little did he know that his physical suffering would lead him to do bigger things in life. Not the type to give up, he practised yoga to cure himself which reinstated his belief in the power of yoga on one's body.
Since then there has been no looking back for Yogacharya Bharath Shetty who is the first yoga teacher in India to be certified as E-RYT 500 (Experienced Registered Yoga Teacher who has completed minimum 500 hours of yoga teacher training programme).
These kids are surely inspiring the youngsters to go the YOGA-way.