Class 8 girls are getting ready to handle nation's emergencies through HAM radio communication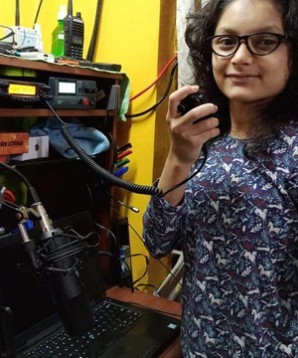 If a hobby turns into something that benefits society, then it's a WOW thing. Many times we have seen people helping others especially during the time of disasters by shifting them to safer places and by providing them with the basic needs. We don't see many others who work tirelessly in the background transmitting and communicating important messages in a scenario where all the communication lines fail to operate. HAM radios or the amateur radios come handy during such times of emergency.
However, it's not possible for everyone to operate and communicate using a HAM radio. It requires proper training and certification that not everyone is inclined towards. Especially we don't expect teenagers whose focus lies majorly on fashion, movies, games, and professional courses to be interested in HAM radio communication. But two Indian teenage girls from Bangalore and Mysore broke the glass ceiling and made it big by becoming the country's youngest female amateur radio operators. So why late? Let's know more about why and how they have bumped into the HAM radio business.
School Girls Made It Big :
Bengaluru-based Smriti Hegde and Mysuru-based Prama Rao are the students of class 8 who made it to the news for becoming the youngest HAM radio operators. The Department of Telecommunications issued them licences for the amateur wireless station to establish, maintain and work a wireless telegraph transmitting and receiving station.
Smriti, a student of National Center for Excellence, was introduced to HAM radios by her father who is a licensed HAM operator. She closely watched her father operating and communicating with HAM radios. Little Smriti found the design and operation of HAM radios fascinating. Her fascination grew with age and she decided to apply for a formal training course. She wanted to become a qualified HAM operator like her father.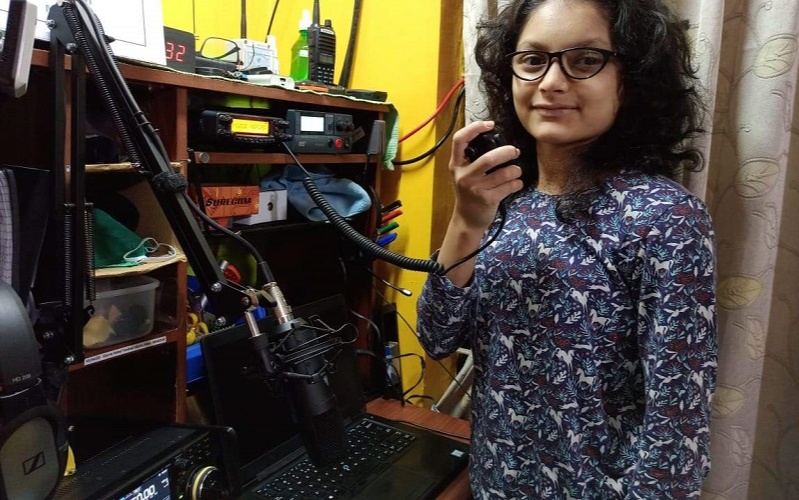 On the other hand, Prama Rao is a student of Excel Public School in Mysuru. Interestingly, she took up HAM as her hobby. This hobby grew into a passion that led her to travel from Mysuru to Bengaluru over the weekends to pursue an official training course from the Indian Institute of Hams. She cracked the ASOC in the very first attempt.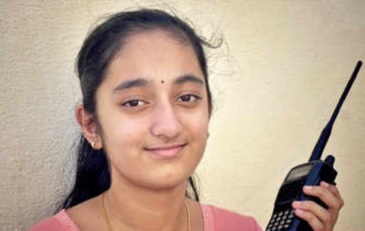 Thus, Smriti and Prama received training at the Bengaluru-based Indian Institute of Hams and became the youngest female licenced amateur radio operators.
"After I got my licence I have been regularly communicating with the HAM community," said Smrithi. The girls learnt how HAM radio communication differs from social media communication. While social media is for all, HAM radio communication requires qualified and licensed operators who undergo a screening process before they are allowed to operate HAMs. There are two licence categories in India - one is General and the other Restricted. While Restricted grade is not confined to a particular age category, the General grade users will have to develop expertise on Morse code proficiency. Both Smrithi and Prama have qualified in the restricted grade.
Inspired By The On-field Operators:
The girls saw how the HAM operators provided communication support during the Odisha super cyclone, Gujarat earthquake, tsunami, Uttarakhand floods and the Chennai floods. The way these HAM operators were providing support to the front-line warriors of Covid also caught their eye. They learnt how HAMs were used as an effective second line of communication during every disaster and wanted to be in the line of HAM operators extending necessary help when the country needs it.
One of our instructors shared his experience about the Gujarat Earthquake relief operations and how HAMs were used as a second line of communication, said Smrithi.
Prama wants to use her HAM expertise during big events. I would like to use my skills during the next Mysore Dasara, said Prama.
These class 8 girls are surely an inspiration to many for their resolution to stand for the nation during emergencies. Kudos girls. We need more youngsters like this in the days to come.