Who cares for migrant workers? The good Samaritan did provide during the pandemic.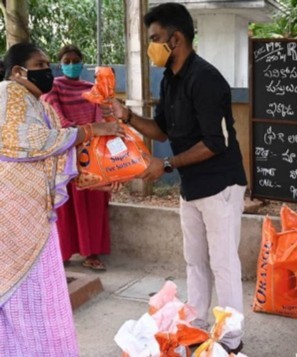 Lakshmamma, a watchwoman was found buying 10kg of chicken paying Rs.2000 in the month of April 2020 during the covid lockdown. Ramu, a man from the same area who saw this, came to know that she bought the chicken for the migrant workers in the area. He found her gesture interesting and kickstarted a conversation with her. What Lakshmamma told Ramu was an eye-opener - "They have lost jobs due to lockdown and are starving for the last two days. They are unable to go back to their hometowns. Hence, I am doing my bit," she said. Being a watchwoman if she had spent all her little savings on migrant workers, how will she be able to cater to her family? Answering to this, she said, "I am from this city. I know the local language. I can seek help from anyone here. But nobody will trust these migrant labourers or help them." These words rang in Ramu's ears and he decided to do his bit for these people.
An Accident Opened Doors To Humanity:
Ramu Dosapati hails from Nakrekal Mandal in Nalgonda district in Telangana. He belongs to a family of landlords and lives in a 2BHK flat in Lalbahadur Nagar. He pursued MBA in Human Resource Management from Osmania University. In May 2006, Ramu fell off his scooter while trying to avoid hitting a man and got his face injured bleeding from nose and ears. He was rushed to the hospital and his wife was pregnant with their first child at that time.
I was worried about what will happen to her and our kid if I am not there. Lying on the hospital bed I sincerely prayed to God to give me another life. I made a vow that if I am allowed a second chance, I will spend all my earnings on the poor and needy, and serve the society, he recalls. After seeing the reports, doctors confirmed that there were no major injuries, and he recovered within few weeks. Thus an accident transformed a normal human into a good Samaritan.
Living For The Community:
The first and foremost thing that Ramu did post his discharge was to start a campaign "I am not an idiot, I will follow traffic rules'' reminding the bikers of the importance of wearing helmets irrespective of the distance. In 2013, when Hyderabad faced twin blasts in Dilsukhnagar, Ramu lent his hand by shifting the injured to hospitals and arranged around 150 litres of blood for the needy. Later, he led a campaign to get CCTV cameras installed across Hyderabad in view of safety. He also raised awareness on the adverse effects of use and throw plastic by distributing one lakh cloth and jute bags. When COVID-19 pandemic hit, Ramu decided to lend his part to help the needy. He started with serving cooked food to migrant workers who stayed close to his house. However, with a possible risk of contracting the virus, he switched to distributing dry ration like grocery kits containing rice, daal, oil, atta, tea powder, sugar, salt, turmeric, etc. Going forward, he also stopped around 200 migrant workers from walking off to their homelands and assured them shelter and food.
"I assured that I will take care of them till the train services resumed, and housed them in under-construction buildings and provided them food every day," he says. When heavy rains flooded Hyderabad, Ramu dived through the waters and helped people by providing them with food, milk, drinking water and groceries. Ramu spent his earnings of around Rs 2 lakh per month and along with that used Rs 25 lakh that he saved to buy a three-bedroom apartment for his family.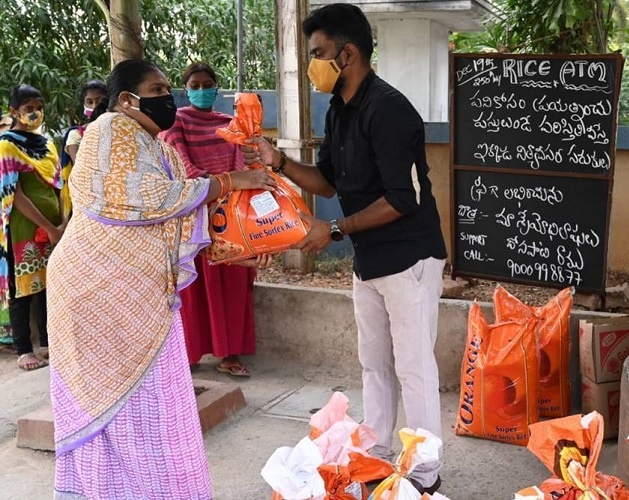 Family Is With Him All The Way:
When a man resolves to spend money on charity, not everytime he will get support from his family. However, it's a different case with Ramu. Ramu's grandparents and parents also are big-hearted always helping the needy in their village. To provide jobs to unemployed youth of the village at the kiln, Ramu's father Satyam Dosapati gave away give acres of land to a brick kiln owner. Ramu's wife Sri Shilpa who works as a Mathematics teacher in a private school is his backbone. She contributed to the Rice ATM with her salary and gave away her savings too. His sons Arjun and Aryan who wanted to have a separate room for themselves urged for a triple bedroom flat. But when Ramu had used up all his and his wife's savings that are kept aside for the flat on charity, the two children have agreed to stay in the two-bedroom flat itself. On top of that, his sons told Ramu that they wouldn't be asking for pocket money for a year.
What more can I ask for, says proud Ramu.
This pandemic gave me a life-time opportunity to serve thousands of people, he expresses his gratitude.
One incident can change lives. Very true. It's all in us how we take and mould ourselves. It's just one life. What's the use of it if it's not lived productively. Live and let live.