Indian-Australian is the recipient of Edna Ryan Award for her Essay on Match-Fixing Marriages.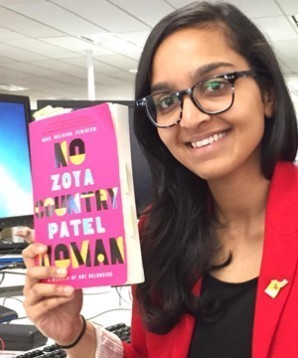 Zoya Patel is a vibrant young woman who Is an Australian-Indian. She is a Prominent writer, distinguished editor, and a Communications professional. She is an excellent multitasker who always likes to have loads on her Plate. Most of them complain about how busy their life is but Zoya makes sure she has her work crammed because that's how she loves to live her life. She is a Master's degree student who is excelling in her Journalism, Writing, etc.. She is the founder of feminist literature and arts journal FEMINARTSY. She was also a former editor of the Magazine LIP. Zoya's debut book, No Country Woman, a collection of memoir essays on race, identity, and the diaspora is out now through Hachette Australia.
Zoya's Exceptional Journalism Victory!
Zoya wrote a Magnificent Longlisted essay on MATCH FIXING. It was a very insightful piece of work of Journalism. Match Fixing was all about arranged marriages. As they crop in many of the Southeast Asian Australians she wanted to know more about it. She is one among them, wanted an insight into what goes around in the lives of people who get married through Match Fixing, what is the cultural impact in their respective lives in Australia. And she was even curious about how they conceive multiculturalism in Australia. She interviewed people who got married through Match Fixing and interrogated them through the ethical, cultural, and interrogative lens.
Zoya Patel's Work in Action...
Zoya has collaborated with Australian Financial Review, SBS Voices, Guardian Australia, The Canberra Times, Right Now, Junkee, Women's Agenda, and more publishers. She has worked in marketing and communications for five years, primarily in the not-for-profit and arts sectors, and even held senior and management roles since 2015. She has been active in community advocacy for many years and was a member of the former Australian Social Inclusion Board.
Notable Recognition and Awards...
Zoya being a passionate writer has received several awards. She is so glad about being recognized by so many people. She was the recipient of the Anne Edgeworth Young Writer's Fellowship. She was awarded the Edna Ryan Award. She was also highly commended in the Scribe Non-Fiction Prize for young writers in 2015. Most recently she was awarded a 2016 Canberra Critics Award in the category of 'Writing', for creating a platform for women writers through Feminartsy. In 2015, Zoya Patel was named ACT Young Woman of the Year for her Commitment towards raising the profile of Women's voices in the media.
Her Favourite Non-Fiction Writer...
Zoya is a huge Helen Garner fan, and would do pretty much anything to sit down with her over a glass of something! She really would love to pick her brain about her writing process, how she dealt with the uproar over The First Stone, and ask what her views are on contemporary feminism.
She also loves Anna Funder for her Stasiland. She loves Funder's writing style, and how she structures her narrative around such disparate stories in a way that really pulls the reader into an understanding of the GDR. Zoya would love to be able to write with her compassion, humour, and analysis.
Zoya's Love for Reading is Constant...
Zoya's love for reading is above and beyond. She will always have several books handy on the go.
She loves reading so much that she cannot imagine a day going by without reading books, its a must for her to have a book to read during lunch and the same before hitting the bed and finishing the day.
The most important message we would like to share is, always encourage budding talents because we never know what heights they can reach!! Zoya Patel is a Great Example for it!
To know more About Zoya Patel and her new book which is yet to launch follow her:

Know More About Her

Follow Her Work

Follow Her