Meet the transwoman who won her right to contest in elections and won.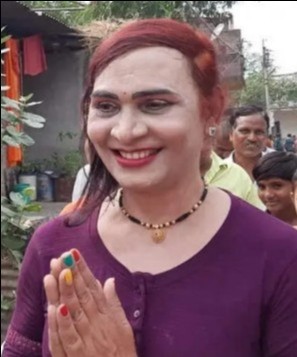 The Election Commission refrained her from contesting elections saying that the seat is reserved for women. She ticked "OTHER" as her gender while filing the nomination. While when all her other official documents like the identity proofs declare that she is a woman, the returning officer did not approve her candidature. What's all this? Who is this woman whose gender was put under question? What did she do further? Let's get into the inspiring story of Anjali Patil who fought for her rights and finally won.
Justice by Her Side:
Anjali Patil aka Anjali Guru Sanjana Jaan is a transwoman from Maharashtra. She resolved to contest in the recent Grampanchayat elections from Bhadli Bhudruk seat in the Jalgaon taluka in the Nashik division. The seat which was formerly a general seat was now reserved for women this year. Anjali filed nomination to stand in the race and selected the 'OTHER' category for gender. With this, the State Election Commission rejected her nomination saying that she can't apply because the seat was reserved for women, not men. Anjali, whose other official documents state that she is a woman tried to convince the returning officer but in vain. Anjali who did not accept what was happening to her approached the Bombay High Court. The court ruled that a transgender person has the right to choose and perceive their gender identity and that came as a summer's rain to Anjali. However, the court also stated that Anjali should not take an opportunity of this advantage in future and change her gender as and when she wishes to. Once Anjali chose her gender as female, the court said, she shouldn't change it to male again in future. Thus, Anjali won the initial battle and filed her nomination under the female category representing the local state party called Vanchit Bahujan Aghadi. Not only that she contested, she also won the elections that were held on January 15, 2021, by over 250 votes.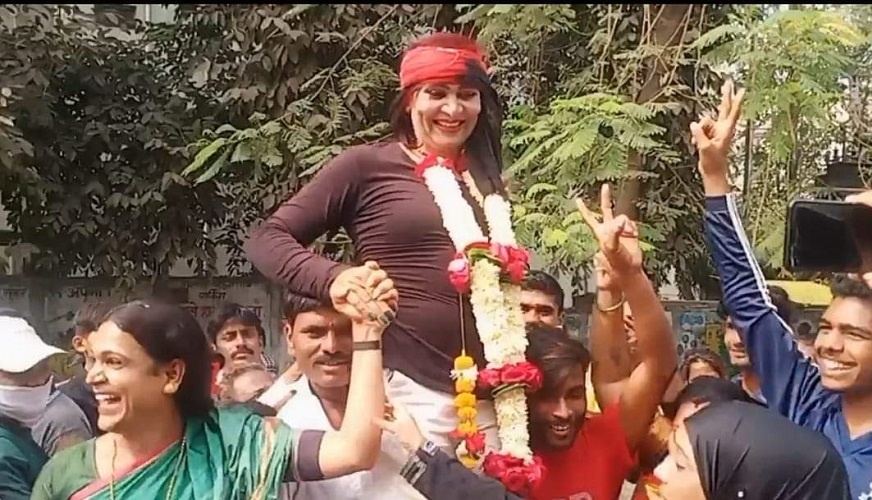 The Aurangabad Bench of Bombay High Court gave a verdict in my favour, and I not only contested but won the elections, Patil tells with glittering eyes.
Fighting the Odds:
Anjali's life saw nothing but poverty. Prior to her contesting in the elections, she survived on begging. However, begging on the streets didn't defame her as she always stood by the people in her village and was round the clock ready to help the needy. This placed her in the hearts of the villagers and most of them supported her. However, there were also many people who made her life and journey miserable. While filing the nomination and during the election campaign, she had to listen to slanderous remarks. The villagers were influenced against her though it didn't last long. "Struggle is not new to us. It starts at home itself, and public acceptance is another story in itself. When I approached people while campaigning, I said to them that I am a good person. I care about the village and asked for a chance to be elected just like any other person. They showed trust in me.", she mentions. She never lost hope and has a reason to be optimistic. Anjali who contested from Bhadli earlier in 2016 when it was a general seat, lost by just 11 votes which made it evident that she has good support of the villagers. "I was optimistic and didn't choose to be a pessimist so as not to contest again. I was adamant that I wanted to get into politics and do something for people with the power that comes with the position," she says.
Public Service:
Brave Anjali who has crossed all the thorns laid her way and rose victorious says that her complete focus will now be on serving the public and not just serving her community. She says that as she doesn't have a family, she entered politics so she can find a family among the public.
"I have always loved helping people and I have always done things for others. I don't have a family or relatives, and that's why I entered politics so that I can find a family among the public by listening to their grievances and being of help," she said. She says that she wants to look into the problems in the village without any further ado. Access to clean drinking water, electricity, toilets, drainage systems and better roads are her goals.
I have a lot to learn, and I will be studying each of these issues carefully before I take any action, she adds.
Anjali Patil's winning is a triumph for the whole LGBTQ+ community. With more Trans representatives in governing bodies, the community will slowly find its way into the mainstream! She is a true exemplar!