Our children will suffer if we do not act now and put a system that lasts says the water warrior.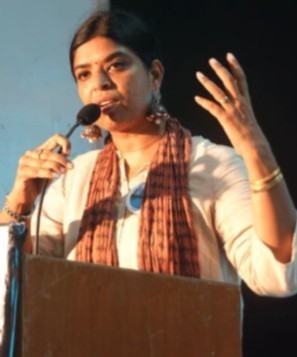 Last year, she appeared on the Prime Minister's Twitter handle as @kalpana_designs and tweeted, "Be a warrior but of a different kind! Be a water warrior. Have you ever thought about water scarcity? Each one of us can collectively act to create a water-secure future for our children". A Hyderabad-based architect is termed as a water warrior for her exceptional contributions towards reviving the ponds and lakes in the city helping them gain their former glory. What started as an effort to replace tanker water in their house with harvested rainwater, went on to get the water in the lakes of Hyderabad back to use.
As An Attempt To Address The Personal Need:
Kalpana Ramesh is an architect and a designer who was born and raised in Bangalore. She runs Kaava Design Studio and is a member of the IIID and TEDX Hyderabad chapter. Kalpana graduated with a Bachelors degree in Architecture from the University Visvesvaraya College of Engineering, Bangalore. In the year 2000, Kalpana and her husband decided to settle in Hyderabad after moving back to India from the States. When they started their family in Hyderabad, the dependence of the locals on water tankers and cans pinched Kalpana to an extent that the couple decided to go "tanker-free" when they move to their new home. "From the very beginning, our family had to order tankers on a weekly basis to fulfil our water needs. When I asked around, I discovered that this is somewhat of a norm in Hyderabad," Kalpana said. With a resolution to go tanker-free, Kalpana turned into a warrior and started her mission to conserve and harvest water. Using her educational skills and expertise as a designer, Kalpana decided to build a water conservation plant on the terrace of their house. Kalpana and her husband started harvesting rainwater and have tasted success. Then, Kalpana thought of another idea. "What if we recycle the black waters that glow from the sinks, showers and basins in the house?, she thought. With this thought, she went on to recycle the wastewater generated in the house and used them to water plants. In a day, Kalpana would collect at least 150 litres of water recycled from the dirty water which is in turn used for washing, cleaning and to water plants in her garden that grows organic vegetables and fruits. With this success, Kalpana went in to share it with the members of her housing society and convinced them to adopt water conservation techniques. She says that her society is now a 100% zero waste green society. She thus started advocating the need for water conservation in residential apartments, office blocks through rainwater harvesting techniques.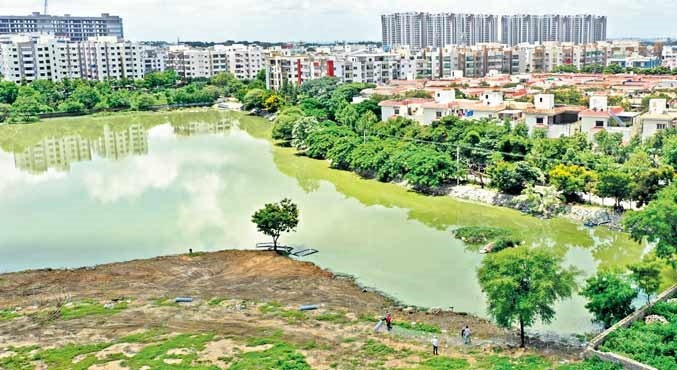 The Propelling Factor:
While Kalpana was involved in harvesting water and helping her neighbours and people of the society understand and implement the same, she happened to attend the TEDx Salon event in 2016 organised at Gandipet Lake. This event discussed the stark situation around the necessity of water conservation and highlighted the problem of severely depleting groundwater levels. Gachibowli lake, which was sufficient for the entire Hyderabad city in the 1920s, is now completely dry. "For me, that was the tipping point. I knew water conservation would be my main goal from then on," stated Kalpana. It is widely believed that if a world war happens to occur in future, then it would be a dreadful fight for water. Drinking water concerns are increasing day by day with choking rivers and foaming lakes greeting us with their wicked smile for having polluted them, in turn facing the consequences. Kalpana Ramesh thus decided to extend the circumference of her work and expand to beyond her house and society and has been being instrumental in reviving a number of lakes, ponds and borewells in the city. She is a volunteer with SAHE, Society for Advancement of Huma Endeavour, and goes by the slogan, 'Go Green Water Champion" turned into a water conservation champion and has been driving the 'Live the Lakes' initiative with SAHE in Hyderabad. Through this programme, she is creating awareness about the importance of lakes and increase civic responsibility. "I started reading more about water conservation in the state and realised how fast our groundwater levels are depleting and how people travel up to 200 km a day only to fetch water.", she mentioned. She used her weekends to expand the activities of rainwater harvesting and reviving lakes and ponds in the city. Kalpana, who got about 200 families to repair their defunct borewells also joined hands with Hyderabad Metropolitan Water Supply and Sewerage Board (HMWSSB) for three months with enthusiasts who wanted to save water. "We gave them a 60-day city-wide awareness campaign plan. Awareness is the key to people adopting any initiative, and we wanted it to be supported by a policy change and strict implementation," says Kalpana. In these three months, she also organised awareness classes for people living around the slums near lakes. "Improper disposal of garbage was a matter of concern. We got members from the community themselves to clean the garbage they throw and sought help from the GHMC to collect the garbage for disposal. In a matter of 15-20 days, we were able to clean the precincts of the lake," Kalpana told.
This lady went on to set things with the Kudikunta lake right. She mapped out the lake and then got various departments like the irrigation department, GHMC, Town Planning, Revenue department and Water board into the loop. Once the work is started, she created communities around the lake to watch if any garbage is being thrown into it. "We also spoke to the shopkeepers nearby to request them not to throw their garbage anywhere near the lake,". Kalpana has further worked on various water bodies in Kondapur, Gachibowli and Chandanagar. She leads the water initiatives for the Society for Advancement of Human Endeavor (SAHE). "I was able to broaden my horizon after I joined SAHE, and could think beyond lakes. I noticed that several new bore wells were being drilled in the city, whereas the old, dead bore wells could be still revived. We have been able to revive several bore-wells and are actively working on many others," she said. Her projects include The Rainwater Project in 2019, Kudikunta Lake Restoration 2019, Telangana Step-wells Research 2018, Eco-friendly Plant Ganesha 2017, Save 10k Bores 2017 and others. "The Rainwater Project is an initiative to try and replenish the groundwater levels of the city. We, with the help of IIIT-H agri start-up, were able to divide the entire city into 98 micro watersheds and we are working on replenishing these," she shared.
Challenges And Overcomings:
Kalpana faced a lot of questions initially. People reacted differently to what she was doing. 'why are you doing this?' 'How is your family giving you permission to work on a lake for long hours?', 'Why should we listen to a woman?' were a few of the numerous discouraging comments and questions that she faced. She was taken aback and badly disappointed with people's behaviour and attitude. But over a period of time, she learnt that she should focus on her job rather than on the negativity. "Now I don't let these things bother me.", she says with a smile. "Small efforts can make a big impact. Water is a valuable inheritance we got. Let's not deprive our next generations. Contribute by using water responsibly, harvesting rainwater, saving lakes, recycling used water and creating awareness.", She tweeted through the Prime Minister's Twitter account in 2020. Success for her commitment and dedication came all the way and can be seen when numerous households are able to sustain the dreadful of summers with the help of rainwater harvesting instead of depending upon water tankers. "We realised the full impact of the rainwater harvesting in 2016, which was one of the worst summers the city had seen in a long time. That year our society in Gachibowli went through the entire summer and beyond with the help of rainwater harvesting," she said with pride. Pandemic and the lockdown didn't stop Kalpana from reviving a huge well near Kondapur. This well could catch 13lakh liters of water during the flood. That means, she literally saved the neighbouring regions from damage that could have otherwise caused due to floods in October 2020.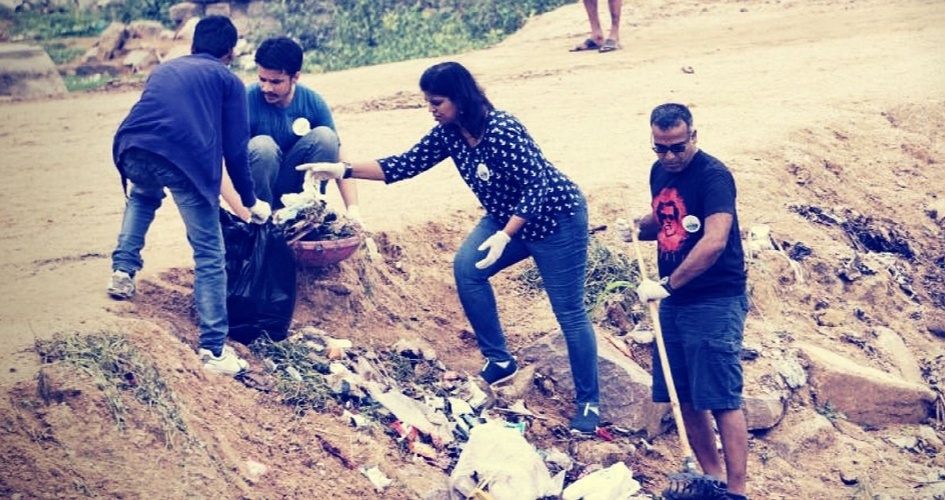 Eyes Forward:
Going ahead, Kalpana wants to create a model that can be replicated and used in other regions as well. She is also planning to start a mobile water museum that travels to different communities involving people in mapping and understanding their own groundwater levels. "When you involve the community, problems are solved. You are the problem but you could be the solution too," she opines.
Thanks to the angel who came all the way to Hyderabad to help solve the concerns with water just like the fairy in a fairy tale story. May the people understand, co-operate, and let the lakes that came to breathing again sustain for the generations to come.

Follow Her Work