Watchman lost his job,started a tea stall -failed because of Covid but see how he turnaround with his idea.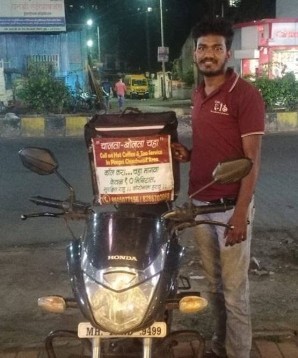 These days when we are getting to hear stories of people who are carving their lives that came to a standstill because of the pandemic, we are falling no less than jaw-dropped. Many people have lost employment but most of them bounced back with their own ideas, ventured into money-making using their skills. Loss of jobs made people think of what else they can do, assess their abilities, and discover their potential. They came up with unique ideas to feed their tummies and those ideas turned out to be unique business models that not just gave them great profits but also allowed them to stand out from the rest. In fact, their lives became much better than what they were earlier. One such man who rose beyond the difficulties of a pandemic is Revan Shinde from Pune who started his own venture after losing job creating employment not just for himself but for others too.
Lost Job, Loss In First Venture - Dejected But Not Drowned In Spirit:
Pune-based 28-year-old Revan Shinde who studied till Class XII and is the son of a carpenter worked as a security guard at a logistics company in Pimpri Chinchwad for Rs. 12,000 per month but lost his employment in December 2019 when the company shut down its operations. After losing his livelihood, Shinde felt dejected but he thought that cribbing about the lost job will not do him any good.
He rather decided to get back on his heels to earn money. He started thinking of money-making ideas that gave him the joy of working too. He explored various ideas where he could start a business with minimum investment. He also did odd jobs like working at a snacks centre. However, on March 15, he rented a place and started his own snack and tea corner in Pimpri. Unfortunately, with the outbreak of COVID-19 pandemic, his eatery saw no customers. The business that came to a standstill melted the hopes and faith that his family had on him. "My family lost confidence in me after my first business failed. My elder brother Sidharam, who works as a delivery partner, encouraged me through these hard times," he recalls. It was the time for Shinde to sharpen his thoughts in order to pull himself out of this menace. When he closely observed what's happening around him, he noticed that shopping for basics and essentials has gone digital. Work in companies also has gone online and offshore. However, Shinde noticed that there are still a few doors open for people who are involved in on-site emergency works. Those employees who always had tea during their work breaks now stopped having anything outside. No tea seller is supplying tea to the employees too. Slowly, as the lockdown relaxations came in, increasing the employee attendance, Shinde realised that if he supplies tea to the employees giving them the trust and confidence about the hygiene and quality, then it would serve as a great business idea for him.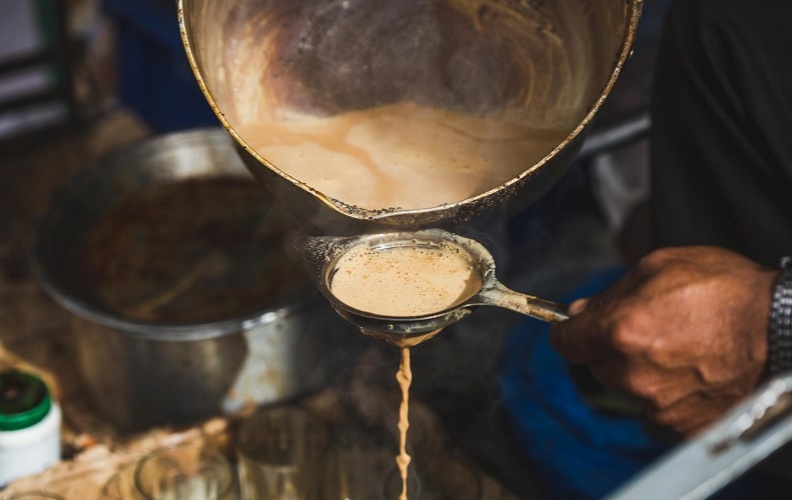 Thought Into Action:
Shinde then took up this idea and set to implement it. He poured hot, sizzling tea in a thermos flask and carried paper cups to offer tea to the employees directly at their office doors. He took all the precautions while preparing the tea, wore gloves, mask, and used sanitiser to ensure his clients about the safety of his garam chai. Initially, no one ordered except for one or two. As people's fears are quite understood, Shinde didn't lose patience. He kept supplying his tasty and hot tea to the employees and slowly orders started pouring in. He took photocopies of what his venture is all about and distributed them to the clients. He served tea free of charge to introduce the taste of his tea and service to his clients. He distributed tea among bank employees and in industrial and commercial areas. Along with ginger tea, he offered coffee and hot milk as well. A small cup of tea was priced at Rs 6, while a big cup was priced at Rs 10.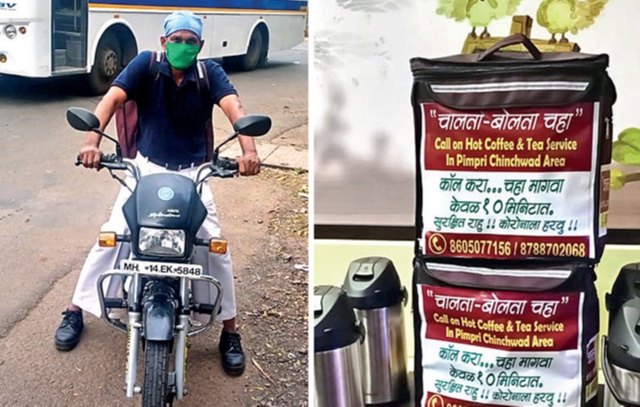 A majority of the potential customers who tried my tea were happy about the hygienic and safe beverage being delivered to their desks without the fear of risking their health at a tea stall, Revan says.
Success to Him And Opportunity To Others:
Six months after he initiated this tea service, about 700 cups were served across Pimpri-Chinchwad, and he earned daily profits of Rs 2,000. "The monthly business has scaled to Rs 2 lakh a month out of which about Rs 50,000 are profits," he smiles. Not only did this venture help him feed his family, but also showed the way to a few others. He employed five people from a village in Solapur out of whom two are students to meet the demand for tea delivery. Tea is prepared at a central kitchen and then taken to the clients.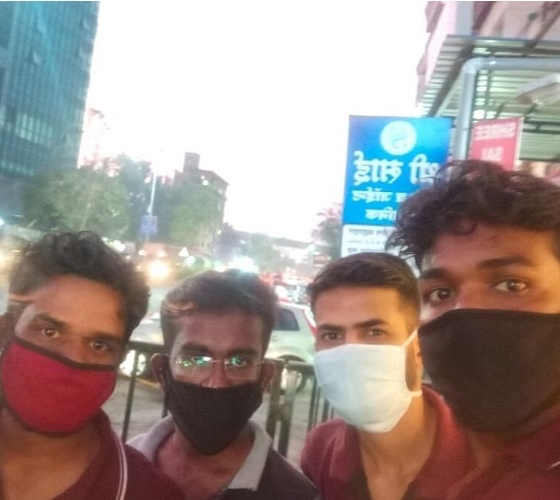 Helping Hand:
Revan started making money out of his venture but he also made sure that he uses a portion of this money to help students from impoverished backgrounds. He takes care of the food and accommodation of five students who come from the village to study in the city. "I can only afford to accommodate five students right now and will reach out to more, as my finances permit. All the students undergo a background check to ensure they genuinely require help.", The Class XII drop-out says.
In The Days To Come:
Shinde who serves tea in the Pimpri-Chinchwad area is planning to employ more people to sell tea in the Pune municipal region and other areas as well. "Currently, we only serve tea in the also plan to offer some quality snacks to my customers who often make such requests," Revan says. From January 5, he will start serving breakfast. "Plain sandwich, vada, idli and dosa, healthy and hygienic," he says. "A lot of people are facing hardship due to the pandemic. I have learnt that you have to change with the times. If you have an idea, work on it and move ahead. Don't be disheartened. When one door closes, another opens." he adds.
Say WOW to this man who is readily standing up to empower and support underprivileged students from rural backgrounds while trying to climb up his own success ladder.