Filthy NOIDA made him take action. No more time to waste to clean up the waste.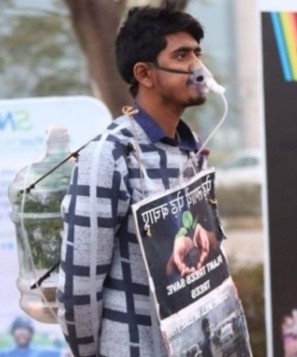 He didn't complete his education but he acquired greater wisdom than any other educated person. While people who went to school, secured degrees, and are contributing to the advancement of the society are forgetting the concept of eco-conservation in the course of their journey, this college drop-out understood the basic aspect that human advancement happens only when he takes the surrounding environment together with him. Pankaj Kumar is here for all of us today waking us up while we are ignorantly walking towards an ambiguous future.
Born to Fulo Choudhary, a vegetable vendor, and Indu Devi, a housewife, Pankaj originally hailed from Bihar. Having finished his 12th standard from the UP board, he dropped out of college where he joined to pursue journalism, owing to a few reasons. Pankaj was so sensible and thoughtful of environmental and social issues since childhood. Everything that he learnt, he learnt from observing people around him. He used to teach children who couldn't afford going to school. He always thought of the way the surroundings are maintained - filthy and unclean. He tried to bring about cleanliness in his surroundings but he couldn't bring the change he wanted to see. He was often disturbed by the unhygienic conditions that existed in the locality and wanted to bring awareness about the effects of the same. But, he was unsuccessful most of the times. When he shifted to Noida, he came across the harsh reality that's prevailing in the nation's capital itself. In Noida, there's toxic air, dirty water, polluted rivers every where around and breathing has become poisonous. Pankaj wanted to make people aware of the dangerous situation we all are in, urging them to stop waste spillage, burning plastic etc. He wanted to create awareness on waste management and air pollution. But no one would listen if he tells it just like that. He has to find a unique ways to grab people's attention first and then make them listen to what he wants to say! Else, who would pay attention to anyone?
An Animated Picture Made It All:
When Pankaj tried all means to bring change in the way people treated the environment and failed, he once came across an animated picture in which a boy was seen carrying a plant and an oxygen mask. A thought triggered in his mind and he jumped into action. He wore a mask that's attached to an old water container filled with plants. He stood in the middle of the road holding a placard. This different from the usual protest and awareness feat attracted people. Everyone turned to Pankaj to look at what he was trying to say. For the past three years he has been campaigning in different locations of Delhi. This Earth Warrior, as he calls himself in his Instagram bio, has been spreading awareness on water conservation, carbon emission, air pollution and other important issues affecting the environment. In 2020, one of his videos that showed him standing in the middle of a road with mask and plants in the water Can behind him, was shared on the Instagram. He was seen with a placard tied around his neck which read "Plant trees, save trees". This video has received great response from the internet community. 'Thank you for trying to make a difference and helping our planet,' wrote one user while other wrote, 'Totally support your thought. Huge respect'. Finally, people started noticing Pankaj's efforts to spread awareness on the burning environmental issues - thanks to the animated picture he once saw and thanks to his efforts.
The Vegetable Vendor's Hardships:
"I came from a background where we don't know what we will eat tomorrow and hardships are not new to me", says Pankaj. He was a vegetable vendor before 2015. Later, he began to work with a Multinational Company, American Bank where he works till date. He does night shifts and in the day, he campaigns for the environmental issues. He says that many times, he finds no time to sleep. Moreover, campaigning is not an easy thing, for the path he has chosen is different from the rest. He should prepare himself mentally for 'standing on the road as a joker' for hours together. He says that he should be prepared for all the gags because he could be seen by any known person. All this is so tough to do but he doesn't give up. He says that this struggle is what is life. "I will not even call it a struggle. It's a journey and I enjoy it", Pankaj told BOA with a firm tone.
Consider His Advice, It's Worth It:
Pankaj, who is striving his best to bring awareness about environmental issues in people says that India is a country with the greatest youth potential. We have lot of opportunities, resources and we are full of information - he says. He mentions that youth should choose a path in which they can grow personally and also work for the growth of the society not forgetting the environment. He further says that youth should go hand in hand with society and the environment.
Another precious message he gives the present-day youth is not to fall for the two-minute pleasures of life. Be it relationship, career or anything, he urges youth not to get bored but maintain consistency. He asks them to enjoy the journey without giving up.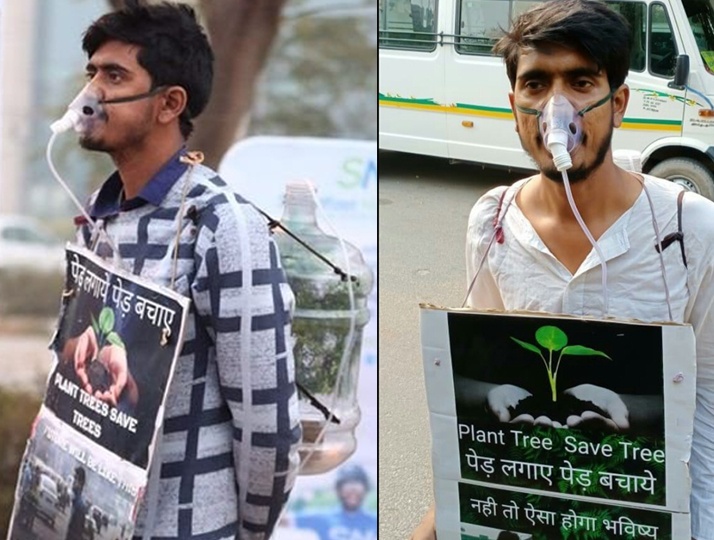 It's Time to Think:
Pankaj says that the philosophy of life keeps changing as we keep obtaining new information. That's not what we are bothered about now. All we need is action. He questions each and everyone, "Can you imagine your offspring standing before you with an oxygen mask?", "Can you think of your offspring drinking water with a spoon?" If you have answers to these questions, then it is just your silence and guilt. So, he calls everyone to join and work for the cause, else the coming generations will not have air to breathe, water to drink and soil to live. "If you don't want that, work for the environment, work for the society, we will bring the change together", Pankaj concludes.
Before we stand with guilt in front of the coming generations, let's act. Let's regenerate the damaged environment.
Follow His Work