Stunning designer wear from waste fabrics creates a new fashion trend.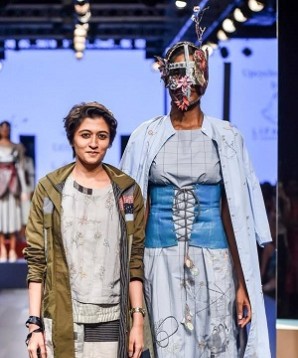 Weaving Wonder designer garments and other products out of Fabric Waste.
"There are three responses to a design- Yes, No and Wow".
Imagination and out of box creativity coupled with a sensitive heart results in a 'WOW'-like product output.
Meet Kriti Tula, Co-founder and Creative Director of "Doodlage" - the hand that has been weaving wonders out of waste!!
We have heard about recycling paper, reusing plastic and treating huge domestic and industrial waste. But what has caught the attention of a Design management student is the left-over fabric lot after tailoring the clothes.
Her keen study on this revealed that 16.36% of the total fabric is wasted while cutting the fabric, 6.37% is wasted in the stitching process and approximately 0.09% goes out in quality check. She also observed that India alone produces garment waste that can be equalled to re-create 6 billion garments!! Such astonishing observations made Kriti think! What if this wastage is re-created into fabrics?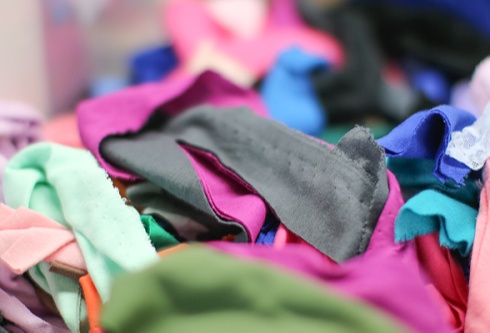 A durable and sustainable piece of fabric out of the garment waste!!
An alumni of London College of Fashion, Kriti added imagination and creativity to convert the waste material into elegant designer wear. She has emphasized on "Conscious Fashion" rather than just keeping with the trend. To realise this, she founded DOODLAGE where the trend of fast fashion is given a U-turn. Practising the concept of "slow fashion", this one of its kind start-up focuses on making good quality hand-crafted products.

Checkout the Doodlage products
DOODLAGE'S amazing features.
One gets to wear good quality hand-crafted fabric trendy designs. The waste pieces make it sustainable and durable. Kriti carefully utilises pieces of waste to almost making it a designer fashionable garment by stitching together/patch work/filling patterns etc., thus creating a ZERO wastage in the process of making. Want to Buy the Products Click Here.
The Road Isn't Always Smooth:
In the initial stages of its journey, Doodlage could convince neither it's consumers nor the e-commerce partners about its value. When the true value of a product is not understood, we can least expect people to come forward to grab it. However, Doodlagers used the weapon of patience, educated everyone and three years of perseverance started bearing fruits when, now, the notion of "conscious fashion" is slowly being germinated in people's minds and they started embracing new ideas like these.
What's In Store For This Unique Fashion Store?
Tied up with NGOs like Goonj and Samparan, Doodlage is working towards creating a green, accessible, sustainable and a liveable ecosystem. The latest collection used bamboo, eucalyptus and corn fabrics to ensure sustainability.
Not just clothes, this unique start up is moving towards making bags, accessories, pieces knotted together to make planters, home furnishings and other interesting and eco-friendly products. Not just as an individual label, we can see Doodlage in collaboration with leading brands in the days to come. This would definitely happen within no time as the Doolagers are constantly working upon challenging the usual fashion trends to steal the eye of their consumers.
"When a creative mind collaborates with a sensitive heart, life sprouts in every corner of the globe".
Look around and you too can create products with any waste. Let's grab a Doodlage product and let's build a Zero waste community. Order Now from Doodlage