Visually impaired Stanford student coveted with the Prestigious Queen's Young Leaders Award.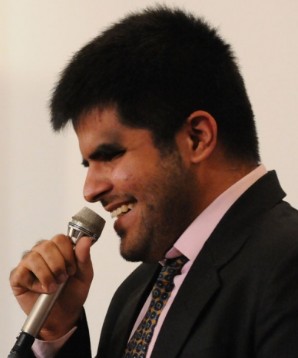 Karthik a visually impaired is a Lajpat Nagar, Delhi boy never once thought or felt he had a disability. He loved Math and science and wanted to pursue only these subjects but our Indian education system leaves one with no choice. He disliked History and Geography but had to force himself to study these. According to the Indian system, most visually impaired are not allowed to pursue Math and Science subjects after class VII.
Tough Challenges Indeed!
He was in for a rude shock when CBSE refused him admissions to the science stream. The reason was that the Board was sure that Karthik wound never be able to cope with the practicals, graphs, coding language etc., He sent several letters to the board, used the help of some NGOs and after some time was able to convince them. Delhi Public School, R K Puram had full faith in this young and bright boy and allowed him to join the school. The faculty and his classmates helped and assisted him especially in the Laboratory. The results spoke for itself and he scored 95% in computer science. His parents, family, and friends were delighted and proud.
Keen on IITs he started preparing hard, only to learn that it was seen as a disadvantage. Karthik was dejected, but wasted no more time and floated his Applications to foreign universities. Stanford University was so impressed with his grades and especially his passion for science, they offered him a seat.
Humble background did not hinder him.
His father owned a car accessory store in Lajpat Nagar, Delhi and his mother is a homemaker. Coming from a middle-class background and being blind never even once made him feel inferior to his siblings nor his friends. He wanted to study hard and probably be better than others.
Prestigious Queen's Young Leaders Award.
In 2016, Karthik won the Queen's Young Leaders award presented by Queen Elizabeth in Buckingham Palace. This award is given to young people who help transform others' lives through their achievement. He was quick to start an organization called STEMAccess which provides training sessions and mentoring the blind to think big and achieve higher goals. He also prepares study material for the blind.
---
Journey one is proud of.
Karthik's journey to success is not easily forgettable. Bookofachievers.com salutes this young man and hopefully, this story will inspire and especially the visually impaired.
---
Read more: https://stanford.edu/~kartiks2/