After retirement, what this lady has done is definitely inspiring to those who show age as an excuse.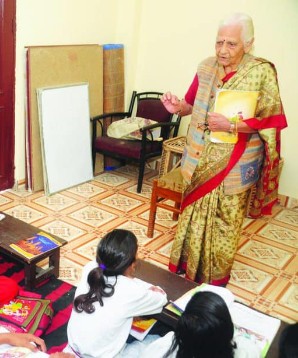 One day, she and her husband were distributing biscuits to slum children in Chauhan Chaupal, when an old woman walked to her and said, "instead of giving them food why don't you make them eligible to earn it?" This stuck with her and she decided that she would help these underprivileged children live on their hump by means of educating them. Ever since then, she has been tirelessly educating the people in the village of Madanpur Khadar, New Delhi. Today, on 11 November the occasion of National Education Day, let us take the honour of bringing before you, the story of one of the greatest educationists of India, Vimla Kaul. She is not only educating children but has also been empowering women of the villages by teaching them the required skills.
Education has the ability to give a new turn to life"– Vimla Kaul
Retirement Means A New Beginning:
In the year 1993, after working as a government school teacher, Vimla Kaul retired from her services. Along with her husband, HM Kaul, she started a school named Guldasta and it's not a big building like the other commercial schools. It is located in a small residence of four rooms where underprivileged children from around the area are given education. "My husband and I had both just retired. We decided to do something charitable, but were not quite sure what," stated Mrs. Kaul. That question was answered during a visit to the village of Madanpur Khadar, which is where an old lady asked if they can make those children self-reliant rather than giving them biscuits. That very question laid foundations to Guldasta, which means 'Bouquet of Flowers'. These are the children of the maids, drivers, or daily wagers and are taught English, Science, Math and Environment along with computer, yoga, physical education and dance. Talking about her school, Vimla says, "Many government schools do children a disservice. They don't teach them properly, and then follow a no-detention policy. What you are left with are teenagers who can't construct a basic sentence in either English or Hindi. We don't turn anyone away, but we hold an entrance test to evaluate the standard of the child, and if they perform poorly at class examinations, we hold them back. The main thing is to teach them properly". At Guldasta, four teachers are hired who teach students of classes from LKG to Grade II. There are close to 120 students at Guldasta.
A Small Start and An Eventual Upscaling:
Vimla started with conducting sewing classes at the Madanpur village in the year 1994. What started with 44 women, is now a group of over 110 men, women and children. When she first went to the village, she saw the kids playing around and simply wasting their time. So, in 1995, she went on to gather five students who were interested to learn and started teaching them at a public place in the village. She hired a teacher to let the classes going even when she is not in the village. But when the teacher left the village, Vimla brought those children to Sarita Vihar in Delhi and took classes going from one park to other. "We could not afford a school building so we would sit in the open and learn. We kept moving from one park to another because we would not be allowed to teach in many of them. Finally, we moved to MGD park where we taught for 15 years," she said. Also, thanks to The Malviya Trust, with whose help, her services are continuing till date in the form of Guldasta. "It was so difficult. We were a retired couple. We had no money. But we didn't want to stop doing what we were doing just because of lack of finances. We kept managing somehow and, thankfully, we now have an organization supporting us," she said.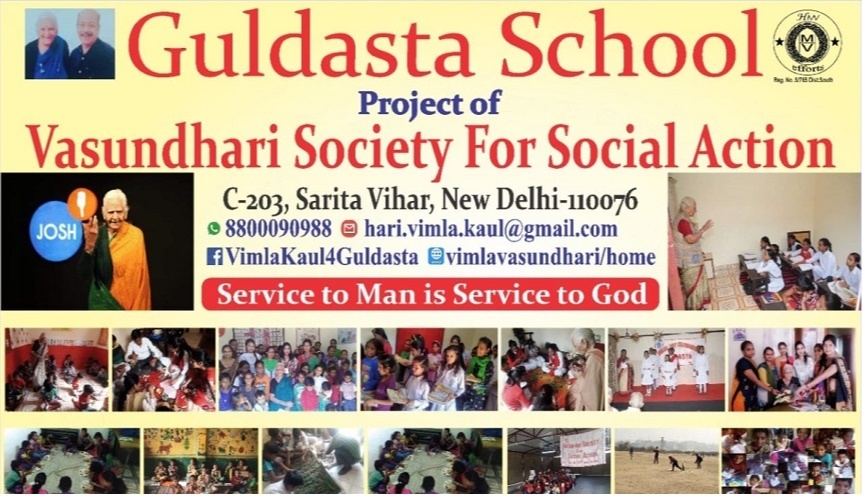 The Future Scene:
This octogenarian is looking forward to provide education to a greater number of students. She is in plans to construct a school building and accommodate more children of higher classes too. "These children are very talented. They just need support and guidance. If they are given the same opportunities and facilities like mainstream kids, they too can do wonders," she says.
Retirement is to the job and not to the zeal. If one has the will to work for something noble, age and finances don't matter. Thanks to Vimla Kaul's efforts. It is only because of her that many children who were otherwise aimlessly spending their lives are now receiving education and are turning into valuable assets to the community.

Follow Her Work For More Updates