U.S. return entrepreneur found his calling. To save the stray dogs in Bengaluru.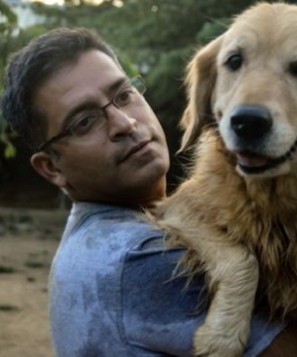 Stray Dogs. Who cares ??
Animals have a special place in everyone's heart....Dogs and humans have an even more closer connection. Our pets become part of our families and they are not only pampered but quite spoilt with the best food and comfort right ? ..Does this go for the strays as well ??? NO such Luck !!... Yes a few care enough ..but what Rakesh Shukla is doing for the strays is simply beyond one's imagination and sure to bring joyful tears.......
"Lucky" ?? ...
Rakesh is yet another US return software engineer who set up his own start-up in Bangalore. He was running a successful enterprise and had a life of luxury but somewhere felt a void.... and found the much-desired joy in his new family member his Golden Retriever Kavya.Life continued like heaven on earth until one fine day while walking his Kavya on a gloomy rainy day...it all changed...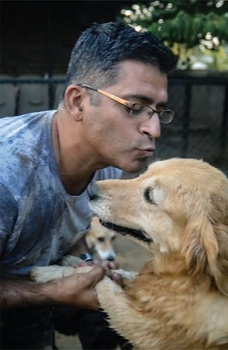 indeed he heard a sudden whining cry from a stray dog who was severely suffering from throbbing pain and hunger......this was the MOMENT Rakesh too felt a deep sense of pain...and instinctively carried his "Lucky" in his arms, gave him the much-needed shower, food, love and welcomed him to be part of his family...His new member "Lucky" changed his life forever....and thus began his love story with hundreds of strays...The name "Lucky" coz he was lucky to survive....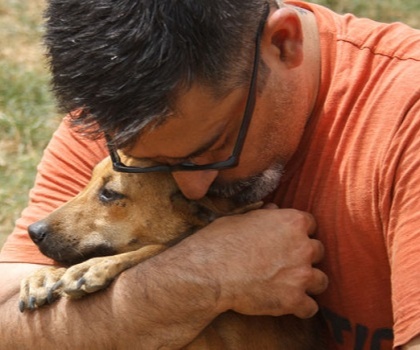 Voice of Stray Dogs "VOSD"
Every time one adopts a stray it makes you believe in the good in the people...What would one think of a string of adoptions ......1,2,3... "Luckies" kept adding up... This was the power of one lovely Lucky. Never mind if there isn't enough place as long as there's a place in his heart ....things will fall in place...That's how the farmhouse in Dodaballapur was put to good use and VOSD took shape....and now in 2020 is a home for over 900 plus strays...
Luxurious Abode...
Wonder how is it possible to house so many? Of course with pure unconditional love, the Will, loads of sweat, and money ."VOSD" is the world's largest citywide dog rescue. He has a special name for each one of them and that must have been a fun task..Spread across a spacious 3.5 acres with carefully planned enclosures for each to rest and sleep, leaving enough space to walk and run...Creating small water bodies to enjoy a cool splash and a 1/4 acre swimming pool. The entire sanctuary is equipped with lights after sunset, heaters for winter etc.,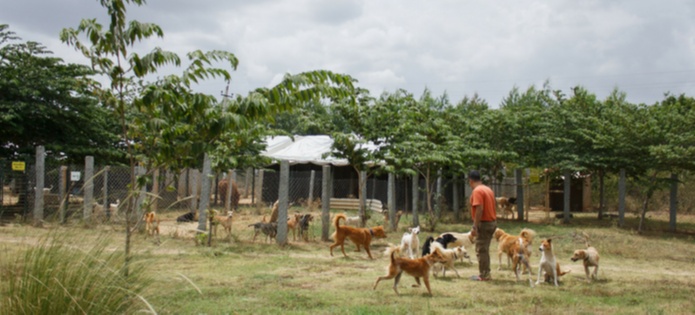 Smooth functioning
Rakesh Shukla's 6-year-old VOSD has put enough thought behind smooth functioning. He has built a team of 25 para-vets, feeders, handlers, helpers to ensure his loved ones are well taken care of. Apart from sheltering these, has provided medical treatment to more than 2 lakh dogs. Launched a Dog-Rescue App- a first of its kind probably and a Canine Blood Bank too.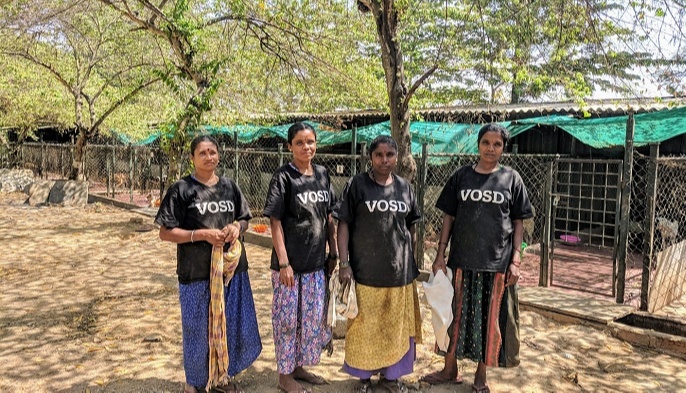 Money crunch ?
Its obvious, with cooking 2 tons of food each day, paying salaries, medical needs, water and power bills etc., Rakesh says its more than 15 lakhs p.m. To make ends meet he has now sold his houses, cars and things that he owned. In tough situations, people get tougher and that's exactly what this a man with a golden heart is...
Ask and you shall Receive...for a good cause..
Ideas, Ideas and Ideas......Monster Bake ..The VOSD Monster Bake started two years ago and is now India's largest charity bake sales. The Monster Bake brings together volunteer organizers, donor patisseries, bakers and sales volunteers to generate funds and to spread awareness about VOSD. Large patisseries such as Ganache from The Ritz Carlton Bangalore, Fava, Caperberry, Amande, Lavonne and boutique bakers such as Ovenderful, Battered Up, Konfection Konnection support the cause of VOSD.
Over the last 2 years, 15 Monster Bakes have been held on MG Road, Whitefield, and HAL Airport Road. Each sale averages a thousand cupcakes in a single day. The collection is further used in the sustainability of VOSD.
.....LOL ......Barking Mad
VOSD chose an attractive method to spread awareness on dog security and protection among everyone and came up with an idea - The stand up comedy!! India's largest stand-up comedy series was created dedicating it completely to charity. The stand-up comedy stars include famous ones like Radhika, Palta, Naveen Richard, Sundeep, Boman Irani, Kenny and the list goes on..
Howling Mad
Music is one of the best ways to reach out to a wider public. VOSD organizes Live music performances by eminent musicians and bands across the city raising funds to aid for the dog rescue.
Art For Dogs
India's leading visual artists create and donate their art to VOSD to support this world's largest no-kill dog sanctuary.
Stars For Dogs
Leading celebrities from divergent fields like sports, entertainment and fashion stand with VOSD trust. They support different campaigns launched by VOSD. Celebrities also come forward to raise funds or even donate memorabilia for auctioning which inturn go to VOSD trust. Virat, Sindhu, Chhetri, Bidappa are some of them.
Want to do your bit ?
To Support The Divine Deed..
VOSD is expanding every day. If you wish to connect and lend a helping hand do drop them a mail at info@vosd.in. The trust is trying to expand itself from accomodating 900 dogs to around 1400-1500 dogs in the days to come.
Kudos to this wonderful human being. Can we hear the strays ? Be kind.. Donate VOSD