The journalist turned author is re-telling mythological stories with a new perspective.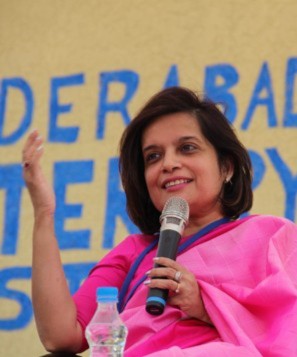 When we read that "Surpanakha" was punished badly by Lakshmana in Ramayana, we were told that it was the price she paid for her behaviour with Rama. It was the most violent episode of Ramayana though. Again, we talk so much about Sita but pay a blind eye to Urmila, who sleeps for 14 years just for a reason that her husband can stay awake and serve his brother. Who thought about Menaka, Karna's wife, Ahalya, and other lesser-known characters in mythology? Kavita Kane did. She kept posing questions to her grandmother who couldn't satisfy young Kavita with her answers. Fast forward to present, Kavita started to dig deep into Indian mythology to find answers. She started to pen about the lesser known female characters in Indian mythology. Let's get into the story of Kavita Kane, the best-selling author of six novels - all that celebrate unsung women from mythologies.
Growing Up With Books:
Kavita Kané was born on 5th August 1966 in Mumbai but most of her childhood was spent in cities like Patna, Delhi and Pune. Her house had numerous books with an in-house library which had 10,000 books exposing young Kavita to various genres. "There were no writers on my family, all avid, mad bookworms who bartered books, not chocolates!", she said. Kavita graduated from Fergusson College, Pune receiving her post graduate degree in English Literature and Mass Communication from the University of Pune. She always had inclination for writing and so instead of choosing administrative services, she choose journalism as it was the only sensible career option for writing. She worked for media houses like Magna Publications, Daily News and Analysis and The Times of India for over two decades. She was married to Prakash Kane, a mariner. The couple has two daughters, Kimaya and Amiya.
The Writer With A Different Perspective:
While others who were told mythological stories heard them the way they are, Kavita Kane displayed a completely different perspective. She believed that mythology serves as a "huge canvas for contemporary thought". "It is not telling us some old tales, as so carelessly assumed, of Gods and Goddesses, but of Man and his follies and fallacies.",says Kane. Kane showcases in her writings, how stories in mythology were portrayed in the light of patriarchy. She says that as it was men who wrote, re-told and re-framed the stories of mythology, they emerged to be purely patriarchal. She says, "Women have not been portrayed in a proper light, it's because of misogyny and chauvinism which made us all myopic and did not allow us to see these women for their enormous strength and conviction." She further says that we can very well work on to get the characters to their original self by using mythology as a tool to show how innately powerful these women were. Her first novel, Karne's Wife published in 2013 was an instant hit which gave her confidence to further her writing. Her later novels followed the principle she believed in - to get into light, the original strength of lesser known women characters. They are Sita's Sister published in 2014, Menaka's Choice (2015), Lanka's Princess (2016), The Fisher Queen's Dynasty (2017) and Ahalya's Awakening (2019). She turned into a bestselling author of six novels and is seen as a revolutionary author on the Indian literature scene.
Not As Easy As It Looks:
Writing a book itself demands huge brainstorming, framing and post-writing activities. Be it fiction or non-fiction, a book, if it has to ring the pulse of audience, should be framed with utmost care. When Kavita decided to re-tell the existing stories from mythology from a different perspective that was never done before by anyone, she is sure to have faced challenges. As the characters she chose were less described, a lot of research goes into knowing about them. Further re-creating these characters in a way by not driving away from originality, is again a challenge. "Mixing fact and fiction is delicate and therein is the biggest challenge. I write on marginalised characters, on whom there is not much matter and I draw them out essentially through the major characters and events revolving around them, spinning a story around them but the spin tale has to be believable, rational and logical to the original character. I can't corrupt it beyond recognition. The best way to keep the readers riveted is to tell or rather retell them a story with a fresh perspective.", she explained.
Overcoming all that she had to face, today, Kavita Kane emerged as an author to whose next work, people eagerly wait. Her depiction of female characters from a while new angle is winning hearts. Her next novel about the untold story of Goddess Saraswati is something that's triggering waves of excitement in book lovers. We wish her great success in that too.

Buy Her Books Here

Follow Her Work