14 and a graduate? It's inspiring but all kids cannot do it...Must be a child prodigy.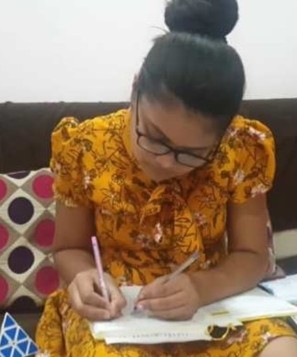 She is a child prodigy who up-scaled in her education well ahead of her fellow mates. Her parents, having recognized her exceptional learning capabilities at a very young age did all that they could, to give the girl, education suitable to her abilities and not according to her age. Not only in academics, but this little girl also showed her flair in other activities like dancing and solving Triangular Rubik's cube in record time. Tanishka Sujith's story is something that will fuel other exceptionally talented kids to move ahead of their physical age.
Beyond the Age and Class:
Tanishka Sujit is from Indore and is a child with surprisingly faster learning capabilities. Her parents Sujit and Anubha who ran a small school in Indore discovered her abilities to learn things faster when the girl was in her nursery. So, they trained the girl in the house away from the conventional education a school provides her and by the time the girl completed 3 years of age, they got her seated in Class I. While she was in Class 5, her parents understood that the girl had already gone so far in learning and understanding, thus gave her Class X-based equations to solve. Tanishka solved them with ease and that made her parents think of jumping her classes. Anubha frequently travelled to Bhopal to request the authorities of the education department to promote Tanishka directly to class 10 from class 5. That took one year for her parents to get approval from the education department and meanwhile, Tanishka sat for her class 6 examinations and cleared them. After getting permission from the authorities, Tanishka was moved to class X but before that, she was given a time of 20 days to first pass the 9th class exams. Tanishka did it and was moved to Class X. This fast learner cleared her class X examination at the age of 11. By the age of 12, she also finished her Class XII. "Changes made by the education department especially for Tanishka will also motivate other students to do something extraordinary," said Anubha. Currently, Tanishka is pursuing BA from an Indore-based University, Devi Ahilya Vishwavidyalaya. While there is no provision in Maharashtra's education policy to allow students to skip classes, it is her parent's efforts that got special permission for the child which now stands as an encouragement to all those kids who want to upscale. "She is pursuing BA from our college and she is performing well in college. She is the first student in our University to get admission at such a young age," said Anil Sharma, Registrar, Devi Ahilya Vishwavidyalaya. However, Tanishka is a little disappointed when she was refrained from pursuing her dream course, B.A LLB owing to her age. According to Maharashtra's education policy, a student is eligible to take up the BA LLB course only if they are 18 years old. Finally, Anubha got her daughter admitted to BA Psychology in the same university.
Helping Hands Come If The Desire Is Strong!
According to reports, the MP of Lok Sabha constituency, Indore, Shankar Lalwani spoke to the Union Education Minister Ramesh Pokhriyal Nishank to give special permission to enrol Tanishka into BA LLB course. Lalwani's request for the girl was considered and Pokhriyal reportedly assured to speak to the University Grants Commission about relaxing age rules in Tanishka's case so she can seek admission in the five-year integrated law course. Lalwani also dropped Tanishka into the eyes of Smriti Irani, the Minister for Women and Child Development, who in turn gave a video message to the little girl. In her message, Smriti said, "Tanishka, you passed 12th at a young age. I bless you and greet you. The Minister of Women and Child Development also said that we are all optimistic that you will create new records in the same way not only through education but also through contribution in social work and will illuminate the name of the country, Indore and your family."
Not Just Studies, Nay:
Tanishka displays other good talents apart from being a quick learner. She solves Rubik's cube by wearing a blindfold. In a recent video post shared by ANI, Tanishka is seen solving the triangular-shaped Rubik's cube blindfolded. This 58-second long video shows her in a completely blissful state without a tinge of nervousness while solving the cube. Tanishka can also read and write with the blindfold. Tanishka is also a Kathak dancer who performed in Europe too.
Having passed 10th and 12th class exams at the ages of 11 and 12 years respectively, Tanishka made it to the India Book of Records and Asia Book of Records respectively.
Though its an inspiring story, caution needs to be taken not to push children to unrealistic goals.