Assamese lawyer's painting flags of UN-recognized countries on single eggshell goes viral. Check Instagram.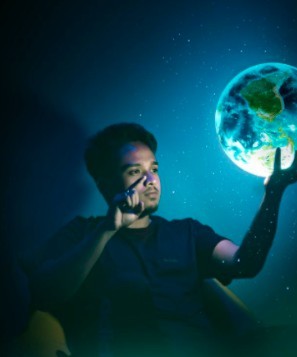 When I heard about this young man, I happened to check his Instagram handle and was awestruck by what he has there! Amazing photography, incredible art, enchanting digital works – woah! Words are not enough to describe the aura of his page. "Is that what people mean when they say it's a small world?", he writes below a picture where he is seen 'holding' the earth in his palm. His Mandala art that's captioned as "Mandala Garden" is sure to leave you jaw-dropped. When he wrote that he starts a "creative lockdown photography challenge" with the photograph of a shuttler he posted, I'm sure no one must have equalled him. His digital works; The Uninvited Guests, The Aurora Dream leave you in amazement. We introduce you to Chengize Hassan from Assam, India, who is not just an artist in his own world but has also created a record for his top-notch work. Let's know more about Chengize and his artistic journey.
An Artist By Passion:
Born on 31st January 2001 in Sonari to M. Inamul Hussain, a retired government employee and Mrs Nazma Begum who is an Assistant Teacher, Chengize Hassan completed his schooling from St. Joseph School, Sonari securing first division in the H.S.L.C. exam. He also passed his Higher secondary examination in the Arts stream from Sonari Junior College. Currently, he is pursuing his bachelor's degree in LLB Hons. from Dibrugarh University. Ever since childhood, Chengize was inclined towards art. He always loved to explore and try out new things. Looking at the child's love and passion for art and craft, his parents enrolled him in an art school that ran under the able guidance of Mr Amal Kumar Layek. Chengize never missed participating in any of the art competitions and he also cultivated an interest in photography over the years. Any institution or NGO conducts an art competition, chengize is sure to be seen there, not to win recognition or prize, but to inspire and motivate himself to do the best. He says that his participation gives him utmost pleasure and he says, "It's a pleasure to be a part of harmony among the rest of participants and the amazing company inspires me to achieve more"
Recognition To The Man of Art:
Yes, Chengize never thinks of receiving awards and accolades for his work, but like every other artist, he surely wishes that his artwork appeals to his audience. He strives constantly to make improvements to his work, hones his skills time and again, coming up often with new and unique pieces of art. If one looks at the following he has on the social media platforms, we can say that he has already received huge love from people for his work. For his outstanding and incredible performance, he bagged a gold medal at the All India Child and Youth Art competition in 2013. He also bagged the most coveted Dr Aboni Ch. Goswami State Child Scientist Award, 2017 for a project titled "Repeated use of harmful cooking oil vs banana peel charcoal". In 2021, he set a record for painting the maximum number of flags of UN recognised countries on a single eggshell. In what can be termed as an unbelievable work, Chengize perfectly drew the flags of 138 UN-recognized countries with each flag measuring 1cm * 0.4cm on a single eggshell in a time span of one hour, 40 minutes and 8 seconds which was confirmed on June 4th, 2021. For this feat, he secured a name in both the India Book of Records and the Asia Book of Records.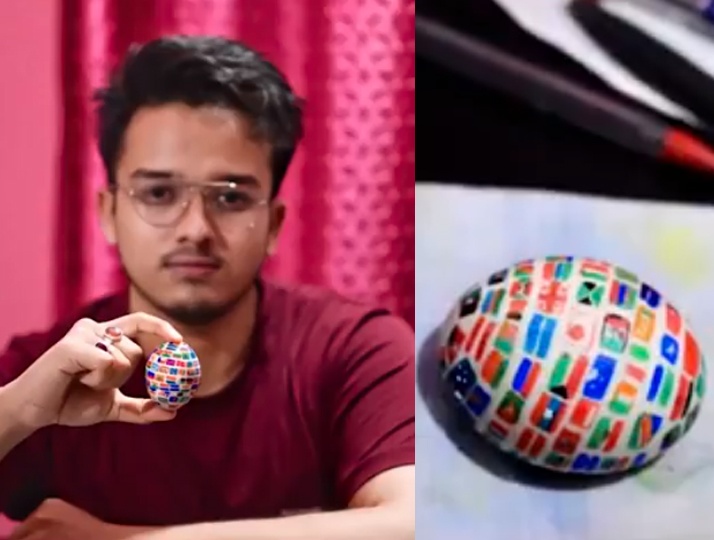 An Artist with Sensibility:
Chengize, who says that he wants to see himself as an improved version of himself in the years to follow opines that improvement is the key to reach one's definite goals. He mentions that it is an artist's primary duty to contribute to the betterment and advancement of society through his work. As art reaches every person, be it educated or a layman, it should be able to inspire the community with a positive message. "The works we do should provide the community with joy and inspiration while encouraging people to engage in social progress", he says. He says that he wants to inspire the younger generation and also strengthen Indian culture through his art. Through his work, he wishes to instil the values of humanity and encourage people to lead harmonious life. "I am very curious to highlight my nation in the field of art and culture in the global society", he told BOA.
His Words Of Value:
To all those aspiring artists out there, Chengize says that they should not be disappointed by failures. He advises them to keep creating the content without ceasing. He tells them that their artwork should satisfy their soul first even before it goes to impress others. "Don't wait for or seek compliments. Instead, look forward to a better 'you and work harder than before. Have patience and continue to have the willpower which will boost you up every day", he says. Asking the young generation to be continuous learners, Chengize says, "You should live while you are alive and you should give others the same privilege. You should do what you want to do with your life, as long as it makes you happy and causes no harm to others and most importantly do not fear failure but rather fear not trying" – a powerful message!
We wish that Chengize Hassan makes true, all his aspirations and may his vision to give his able contribution to the society inspire and empower the generations to come.

Follow His Work