Live with your parents, save, plan and travel the world. Words of wisdom from 21 YO who travelled 196 countries.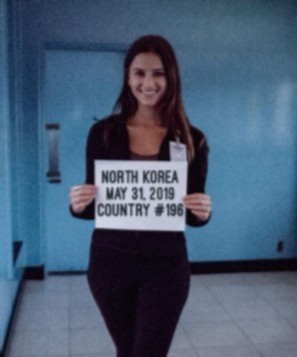 A 21-year-old American, on June 2nd 2019, uploaded a picture on her Instagram handle in which she is seen holding a card that read, "North Korea May 31, 2019, country #196". She officially declared that she has finished travelling to 196 countries by May 31st, 2019 breaking the previous world record set by a 24-year-old. This hodophile says that travelling helped her grow as a person by broadening her limits and expanding her thoughts. For whatever she is today, she attributes all of it to travelling and says, "Travel is an essential part of growing as a person and realizing what else there is outside of the bubble that you were raised in. It breaks down so many different stereotypes and misconceptions about other places and about what other people are like. It's really hard to be closed-minded when you're a traveller". Alexis Alford from California has so much to say to the young girls out there who are scared of breaking the bubble they were brought up in. When Alexis pushed beyond her limits to see what the world is like, on the other side, she stood as a record-breaker.
A Family Of Hodophiles:
Alexis Alford was born in a small town called Nevada City in California. Her parents were both travel agents who run a travel agency. From the family business, Alexis also learnt the skills of planning journies and booking reservations when she was quite young. By the time she was 18 years old, she had already received an Associates degree from a local college and has visited 72 countries with her family. After travelling so extensively, the thought of breaking the world record came to her mind but she didn't aim for that initially. She just started off to see as much world as possible. During her journey, as things got difficult, she noticed how she was looked up to by people as an inspiration which led her to keep going. She noticed how inspiring she turned especially to the young women and couldn't give up on her journey across the globe. She was determined enough to show everyone that the world is a better place as compared to that portrayed by the media. There is love, there's kindness and warmth in people and that's what she wanted to show. "It wasn't until things started getting really challenging that I realized what I was doing was inspiring the people around me, especially young women. Feeling that support meant that I couldn't give up when things got tough. I was determined to show everyone that the world isn't as scary as the media portrays it to be and that there's kindness everywhere.", she says. While she travelled, she maintained low-profile weight on her back by just carrying what was necessary for her backpack along with her camera gear.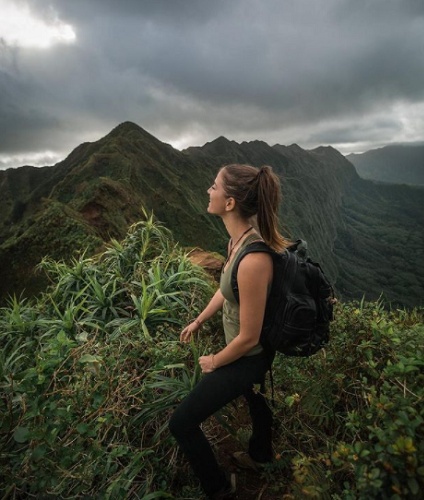 Funding On Her Own:
"Even we can travel all over the world covering every single place if we have got enough money and sponsorship. She must have been backed up by rich economic background that allows her to travel around the world" - words like these are common when someone hears of others' accomplishments. Without knowing the struggle behind someone's victory, people sit to judge them. Alexis clarifies how she pooled up money to cater to her travel expenses. She has self-funded her travels completely. Alexis always knew since her younger years that she would travel extensively sometime in her life. So, the young girl with foresight, began to do every job she found ever since she was 12 years old. In whatever she earned, half of it was spent on her education while the remaining half was saved for her travels. She also worked as a travel consultant in her family's travel agency, worked as a photographer and blogger while she was travelling. Apart from this, she always acted wisely in spending on travel too. She often looked for the best deals for her flights, stayed in cheap accommodations, and created content for the hotels she checked into. "I've also made sure to keep my monthly overhead as low as possible by living at home with my parents, I don't have a car payment or student debt, and I don't spend my money on unnecessary material possessions.", she explained. She has also worked with brands, hotels, and tour operators across the world to create promotional content.
A Record Breaker:
By 21 years of age, Alexis visited 196 countries covering more than 9 countries a year. With this, she has broken the record of James Asquith, a 24-year-olf British man who achieved the same record. Alexis Alford secured the Guinness World Record for the Youngest Person to Travel to Every Country by more than three years – at just 21 years old. She shared her journey with her followers on social media and this passionate young woman received huge love and support from her 250k followers ok Instagram. Her blog Lexie Limitless gained more than 17K readers monthly. "I use these platforms to encourage young people, especially women, to get out of their comfort zones and discover different cultures", she quotes. After completing the feat, she dedicated a few months to nourish her physical and mental health along with drafting a book about her travel experiences and adventures.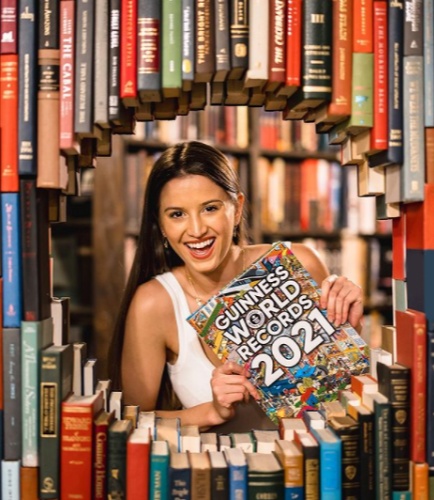 Her Words Of Wisdom:
To all those who would like to travel, Alexis says, "If your goal in life is to travel, one of my biggest pieces of advice to you would be to move back in with your parents! It isn't always that easy and for some people doing this is impossible, but if you have the opportunity to live at home (free of rent) you should take it. This is the reason why so many young people can afford the travel lifestyle. Money is a lot easier to save at home, and saving is the name of the game. You are capable of doing whatever you put your mind to. Work harder than anyone you know, do anything and everything you can to save the money you make because it will take you so much farther than you could ever imagine. You may not have expensive material things or a fancy degree, you may even have to sacrifice relationships with people in your life and the daily comforts you've grown accustomed to. These are the challenges that one must overcome in order to experience what other places in the world have to offer."
This young lady is setting an example and telling the youth that age has nothing to do with aim. Her mission was successful in showing people how beautiful the world is.

Follow Her Travelling Journey

Know More About Her Works