Trans Photojournalist urges parents to educate them so they don't beg in local trains.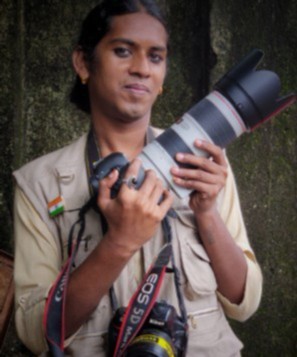 When an individual is not allowed to enjoy their childhood, rightfully pursue their education, live in harmony with others in the community, made deprived of shelter, made empty-handed with no opportunities to earn a living, where will they go? How will they live? They would like to work hard and live a decent life like others but what if they are not allowed to? That's what is exactly the case with the majority of them in the transgender community. They long of a good childhood, dream of green future but how far is this conservative society respecting their wishes? With little chances for a better living, they end up longing to at least "survive". They resort to odd jobs, beg for alms and do various activities that they themselves don't like to do. Even then, the society doesn't let them live in peace. It banishes them, under looks, suspects, insults and secludes them from the so-called "civilized" group. It deprives them of their opportunities and in turn blames them for leading lowly lives. However, over the recent years, many trans people are pooling up courage to make their way to cross this hostile path and are trying to create their identity, giving hope and inspiration to others in the community. One such brave soul is Zoya Thomas Lobo, India's first transwoman photojournalist. When Lobo says, "We're fetishized. We're not viewed as humans for most of the times.", it shows the pain she underwent on the way to become what she is today. Her story is a reflection of toughness, grit and immense moral fibre.
Growing Up Years – Miserable:
Zoya Thomas Lobo belongs to Bandra West in Mumbai. After a series of unexpected incidents that swarmed Zoya's childhood, she entered the scene to take up the responsibility of the family at a very young age and while studying in Don Bosco School, she took up part time job in a bakery. The church they visited provided them with the monthly ration.
Discovering Herself:
During this tussle, Lobo also discovered that she was different from her peers but she couldn't dare to open up fearing judgement and ill-treatment. She kept her identity a secret for close to around six years but she would feel comfortable and safe with a few friends in her area. She opened up to her family only at 17. For various reasons, the family walked out of her aunt's house and started to take shelter near the railway stations. As there was no income, the family couldn't rent a house. To earn a living, Lobo took up odd jobs. She worked in bakery, in a nursery, collected tickets and swept theatre halls in south Mumbai's Grant Road. When one day, her dance teacher at school noticed Lobo resorting to menial jobs, she suggested that she is not meant for all those and invited Lobo to work as a receptionist at his dance studio. To Lobo's ill fate, the dance studio was shut later leaving her to work at a bakery in Bandra. During this time, Lobo found a Guru, Salma who named her 'Seema' but Lobo later changed it to 'Zoya'. She disclosed the same to her mother assuring her that she wouldn't resort to any objectionable work and would ask for money in trains. "The first day, my mother accompanied me and helped me drape the saree every day before she left for work", recollected Lobo. Zoya thus saved the money she collected in the trains and rented a room for her family. When she felt that things started to turn for good, it didn't take much time for them to turn worse. Her alcohol-addict mother took money whenever she wanted to drink. Due to disputes, they lost their rented space and landed on the streets of the Mumbai Press Club area. They constantly shifted places because the police drove them away.
The Buried Interest:
Zoya had deep rooted interest in photography which she never disclosed as she always thought of 'surviving' first even before trying to 'live' her dream. While seeking alms in the trains for over a decade, she started to save the amount needed to buy a digital camera. Things began to work well only after she moved to Hyderabad and started working under another guru, who changed her life for good. "My life changed, even in terms of how I dealt with inhuman behaviour. I don't live in fear anymore.", she shared.
An Opportunity To Be Seen On The Screen:
Zoya watched a short film named "'Hijra Shap ki Vardan-Part 1" on YouTube and when she came across some inaccuracies in the movie, she mentioned them in the comments section. The director of the short film then contacted her and this led her to work in the film's sequel which received wide acclaim, amazing viewership winning Zoya an award for her performance. In the award function, Zoya met the owner of College Times Education Media, Srinit Singh, who offered her to report to his newspaper. Zoya accepted the offer and thus became India's first trans freelance journalist.
Dream Come True – The Emergence Of a Photojournalist:
Along with reporting to the newspaper, Zoya continued to ask for alms in trains and had collected close to Rs. 20,000 to fulfil her dream of owning a camera. She thus bought a second-hand camera from Mumbai's Bora Bazar in 2019. She began to cover events of her choice that emerged out of her interest. She covered the rally called "PINK" in which the transgenders were protesting for their rights. It is there that she met a senior photojournalist, Divyakant Solanki, who introduced Zoya to Photojournalism. In the year 2020, when she saw the migrant labourers protesting outside Bandra station, she captured them with her lens. The pictures she clicked were taken in by various publications giving her name and her work, their deserved identity and exposure. She has also covered the corona virus pandemic and the vaccination drives. One can also have a look at her street and wildlife photography on her social media handles. "Journalism has changed my way of life. Not only it has paved the way for work, but I have changed even as a person," Lobo said.
Fighting Her Way To A Bright Future:
Though her work has been receiving wide acclaim and recognition nationally and internationally, Lobo is still struggling to get a full-time job as a photojournalist. While major platforms offer employment to those who receive formal education and degree in the chosen field, they fail to recognize the talents of those who have learnt the skills out of passion and experience. "I have got a lot of exposure, and I intend to learn more.", Lobo says. Her freelancing wouldn't pay her much and thus she is looking for better opportunities to upscale. To all those transgenders who have buried their interests, hobbies and talents owing to fear and pressure, she urges them not to succumb to negativity but try hard to pursue them. Zoya desires to raise awareness in people about trans community and tell them that they are a part of the society. She pleads parents to accept and acknowledge their children the way they are. "I want to tell families that if you have a trans child in your house please support them. Educate them so they don't have to enter local trains to beg.", said Zoya.
From begging in Mumbai trains, working in a bakery and a nursery, to clicking pictures for major national and local publications, Lobo's journey is far more than just inspiring. She showed the way to stand up when there is strong wind. She showed how to bounce back when a cyclone hits. She showed how to fight like a warrior when life drops foes at your door.

Follow Her Work