Nation embraces this trans with a Padma Shri but is sadly being raped, rebuked abandoned by her own.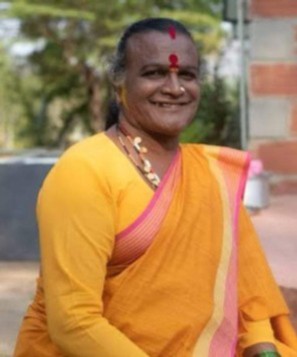 Disregarded by family, sent away from home and considered to be dead, begged on streets and was raped. What difficulty hadn't she crossed and today all those fade away into the darkness of her past when she became the recipient of one of the highest civilian honours, the Padma Shri. This is a touching and inspiring story of the Kannada Folk dancer and Kannada Janapada Parishath Chairman B. Manjamma Jogati whose name was listed in the Padma awardees 2021.
Painful Childhood:
Kallukambagraama in Ballari is where Manjamma Jogati was born a boy as Manjunath Shetty. His family moved to Kukwaada village in Davanagere where his father worked in a sugar factory. He studied till SSLC in Davanagere. As teenage years came in, Manjunath started to realise his inclination for being and behaving like a girl. He identified the female in him. "I'd wear a towel around my hips as if it were a skirt. I'd help my mother with chores. I loved to be with the girls in my class, to dance and dress up.", she recollects. By the time he was 15, he had fully embraced his identity as a woman. His family couldn't digest this. They thought that a goddess has entered Manjunath's body. His brother tied him to a pole and beat him badly in order to shoo the goddess away from his body. The teenage boy was taken to a priest and was also referred to a doctor but in vain. The priest said that Manjunath was blessed with goddess power and thus should be left alone. "After the visit to the ashram, my father said I was dead to him," Manjunath aka Manjamma recalls. In the year 1975, Manjunath's parents took him to Huligeyamma's temple near Hospet to be consecrated as a Jogappa. It is where Manjunath was transformed into Manjamma Jogati. Jogappas and Jogatis are trans people who believe that they are married to the goddess. "The initiation ritual involved the cutting of my uddaara (a string traditionally tied around the hips of young boys). I was given a skirt, blouse, bangles and a nuptial thread. All I can remember to this day, however, is my mother's piercing screams that she had lost her son that day, that her son was dead.", Manjamma recalls painfully. "I was beaten up by my parents and other family members. They took me to an astrologer and a doctor. They even stopped talking to me. I felt so helpless," she says.
The thought that her parents wouldn't accept her devastated Manjamma who tried to poison herself and was hospitalised. Once she recovered, she left home where she was unwanted and started begging for money. But one day, six men raped and robbed her. "I decided I had to die," she says with tear-filled eyes.
Encounter With Art:
When she was again thinking of death, something that she saw at a bus stand near Davanagere dragged her from the black hole she was about to dump herself into. A performance by a father-son duo where the father sang a folk song and the son danced while balancing a steel pot on his head caught her attention. It was Jogati nritya (a folk performance of the Jogappas) and Manjamma always was fascinated by it. She went up to the father, Basappa, and asked if he would teach her the art. To her astonishment, he agreed. She went every day to his hut and learnt the dance. "It was exciting to balance the chombu (pot), and sometimes even the idol of a deity on my head while moving gracefully.", she said. During this course, a fellow Jogappa introduced her to a folk artiste, Kaalavva, from Hagaribommanahalli. "I still remember the day Kaalavva asked me to dance in front of her. She got someone to put make-up on my face and I remember looking at the mirror and feeling so shy. I was so dark and this make-up had made me look fair and beautiful! I danced as Kaalavva sang, and that was that. Soon, she began calling me for small roles in plays and then bigger lead roles too.", says Manjamma. Manjamma went to Hospet where she learnt Chowdaki Pada (a folk art form). She earned her living and she later shifted to Chilakanahalli where Sushilamma, one of the villagers, gave her shelter. "There I started making idlis in the morning and used to sell 3,000 idlis. In the evening I used to take tuitions for school children and they used to pay me Rs 5 to Rs 8 per month. This was sufficient to lead my life," Manjamma said. Slowly, as she kept learning the dance form and with the help of kaalavva, dance and theatre filled Manjamma's days. "It was like someone had found the real me and set me free on stage," she says.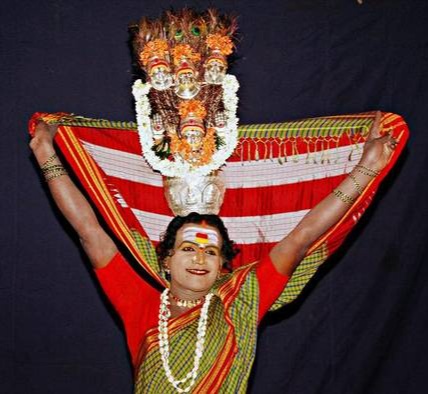 Recognition:
Manjamma was awarded the Karnataka Janapada Academy Award in 2006 while 13 years later she herself was appointed as the President of the institution in 2019 becoming the first transgender to occupy the position. The Karnataka government honoured her with the annual Kannada Rajyotsava award in 2010. When the union ministry announced the list of Padma awardees, blissful was the moment for Manjamma when her name had found a place among the other Padmas. This transgender has practised and popularised rural folk arts owing to decades of social and financial struggles, overcoming personal odds is the rightful recipient of Padma Shri. To a Twitter message that congratulated her, she replied saying, "Human is human; there are no lesser human beings. Art is Art; there are no lesser Art/Artists...For many like me - Art itself is Life!. I hope my life story can send a message to all those who harass trans people, taunt them and abuse them. I hope I can be an example for them and show them that there can be achievers among the trans-community too. That we must be treated with respect and dignity too," she says.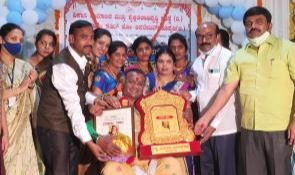 Kudos to the epitome of perseverance whose life is a lesson to many who think that they are dumped into a valley of troubles. Wake up, people! Let's March ahead and design our lives, come what may!

Follow Her Work