Man collects discarded Indian Flags to reuse every year. Urges people not to disrespect the Indian flag in the name of celebrating freedom.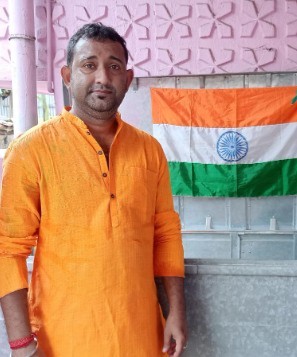 Have we ever thought of what's happening to the national flags after we pompously celebrate Independence Day and Republic Day? I am not talking about the flags that are hoisted. The question is mainly about those flags that are distributed, that people carry in their hands as a mark of respect and pride on the two special days, conduct rallies, call out slogans holding them in hands. What about them? How many of those who carry the flags are securing them after the celebrations are over? Pathetically, hardly anyone. These flags are thrown away after the celebrations are over, on the roads, in the dustbins. We should also be aware of the fact that hoisting the flag is also governed by law and flouting these laws is a punishable offence. Keeping aside the concept of punishable offence for a while, is it not an insult to our own mother nation whose pride is in tricolour? This is the story of a 33-year-old man, who felt the same. He has been a true patriot, a man who admires and respects the flag not just on Independence Day but also every single day. Let's get into the story of Priyaranjan Sarkar, the man who has been collecting national flags that are left to lie in the open.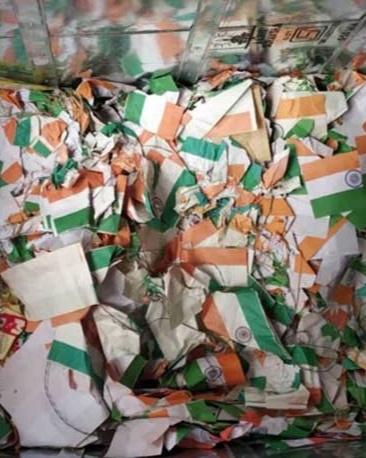 Mother's Influence:
Priyaranjan Sarkar hails from Bali Nishchinda in West Bengal. When he was just three years old, Priyaranjan lost his father. He had developed speech problems since childhood and due to this, he found it extremely difficult to get admitted into the school. There were days when Sarkar was bullied by his fellow mates for his speech impairment. However, overcoming all the difficult times, with the support of his mother, Priyaranjan is now an employee in the State Irrigation Department. He is also a professional football player with the local athletic club. Interestingly, Priyaranjan, who is called as Monu by the known people, has cultivated an interesting hobby ever since childhood and the one behind this hobby is his mother. Once, Monu observed his mother picking up the national flag that was lying on the road. When asked about it, she told Monu that the national flag is the saree of India's mother. "The flag is the saree of India's mother." That is why if you ever see a flag like this, pick it up.", she told him reportedly. At the age of nine, Priyaranjan a.k.a. Monu started collecting the flags that were being discarded on the roads.
Let Behind The Condition, Flag is a Flag:
Ever since he started picking up the flags, Priyaranjan has been doing it with consistency and dedication. After every Independence Day and Republic Day, he collects flags from the streets which are pathetically seen stamped or lying with dirt on them in the bushes or in the drain, on streets, sidewalks and in the dump yards. He picks them up and puts them in a trunk in his house. Priyaranjan has collected almost 55,000-60,000 flags to date.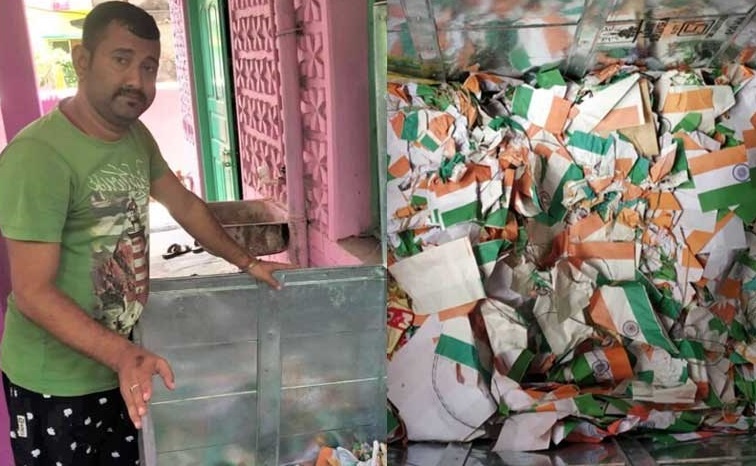 What started as a lone work grew up into a team project with a good number of volunteers assisting him in flag collection drives. The 33-year-old Priyaranjan Sarkar stops his cycle only when he spots the Indian National Flag lying on the road or in the bushes or in a drain. Sarkar collects flags from the streets every Independence Day and the day after Republic Day and puts them in a trunk in his house. He also stated that he is inspired by the Indian Army. "If Indian soldiers are willing to die for the honour of the Indian flag, then, as an ordinary citizen, I can at least raise the flag lying on road", he stated. Having got influenced by his work, youth from several regions of Bengal joined him. They collect flags and hand them over to him. Sarkar says that he is not associated with any political party and mentions that all he requests from people is to stop disrespecting the national flag on the pretext of celebrating the nation's independence. "I am not affiliated with any political party because of my love and thinking towards our country.", he says. He has a huge trunk that measures 20ft. by 15ft. at home and in that he stores all the collected flags. He also places naphthalene balls to keep the flags safe and intact. He was even termed as a madman and a ragpicker for what he does but Sarkar never stopped. Eventually, a few like-minded people have joined him in the flag collection drives.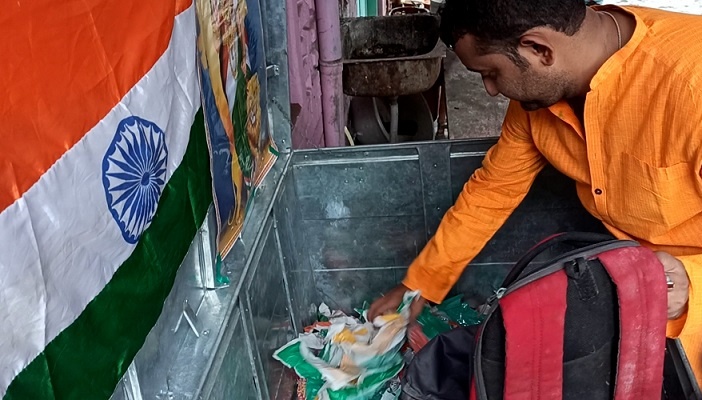 If you think that patriots are only standing at the borders, you are mistaken. Every person who strives to preserve the dignity and respect of the mother nation like Priyaranjan Sarkar is a true patriot.
Let's respect the Flag and recycle.