Assam's man makes machines out of waste to help in agriculture, people with disabilities, etc.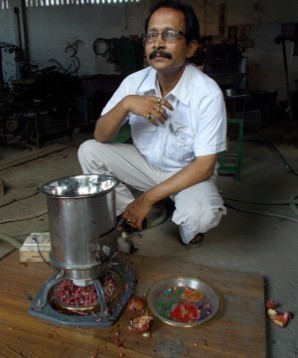 He is an innovator born out of circumstances. He brought about his first self-made machine as he couldn't afford to buy one and it all started from there. What started as a necessity for himself, grew over the years, taking into account, the necessities of people including farmers, students as well as those with disabilities. This is the story of Assam's Uddhab Kumar Bharali and it's definitely going to inspire you for the better.
Childhood - Bright But Not Beautiful:
Uddhab was born on 7 April 1962 in the North Lakhimpur district of Assam to a middle-class business man. He was a bright student and went to Government Higher Secondary School of North Lakhimpur. He was adept at mathematics in specific and for the doubts he posed continuously, he was always made to stand outside the classroom. His academic standards were so high that he was double promoted twice! From Class I to III and then from Class VI to VIII. While he was in Class VIII, he would solve the toughest mathematics questions of Class XI and XII. Uddhab finished his Class XII and then went on to pursue Mechanical Engineering in Jorhat Engineering College, Institute of Engineers Madras Chapter in Chennai. However, she could only complete AMIE sec Aand a part of Sec B and had to drop out of college owing to his family's financial constraints.
Self-made Machine:
In the year 1988, Uddhab's family was trapped in debt.it was a bitter concequence of Assam Agitation , Uddhab stood out as the only bread winner of the family. He decided to start a polythene cover making business to cater to the Tea Estates in Assam. But the polythene making machine costed Rs 5 lakh that Uddhab couldn't even think of ever affording. So, he went on to make his own machine which he did at just Rs.67,000. With the success of this machine, Uddhab focussed on building machines that would help solve issues related to agriculture and small-scale industries around Lakhimpur district. He built a variety of peeler machines that peeled betel nut, cassava, garlic, jatropha, coconut and safed musli, etc. He also re-designed the Assamese paddy grinder, that could be operated just by turning a wheel. A bamboo processing machine that aids to cut-polish-surface finish long bamboos was designed by him. He also designed cutters to crop the green tea leaves. All these machines are indigenous, low-cost, easy to operate and maintain. Above all, he sources raw materials for his inventions from scraps. He established his own firm U.K.B Agrotech and now takes up assignments from various establishments of the country.
A Wave Of Empathy:
Uddhab always understood how weak financial background can effect people and their dreams. Thus Uddhab thought not just about him and his family but also about others who are living below the poverty line. He wanted to help them with his inventions covering a range of sectors like agriculture, rural as well as commercial/industrial. His pomegranate de-seeder, a portable peeling cassava, a mechanized weeding machine, garlic peeling machine, tobacco leaf cutter, paddy thresher, cane stripping machine, brass utensil polish machine, musli peeling machine, trench digger, fisheries feed - all these are just a few examples that reflect his effort. His inventions also aim to help people with disabilities. His cement brick-making machine can be operated by anyone, including people with physical challenges. He also devised a machine that helps people with disabilities in eating. It also helps them in cleaning themselves. Udddhab also helped the needy and those who approached him by providing machines to feed the disabled, slippers for knees, cleaners, and de-weeders for amputees. Thus, he directed his inventions towards the advantage of the people and society.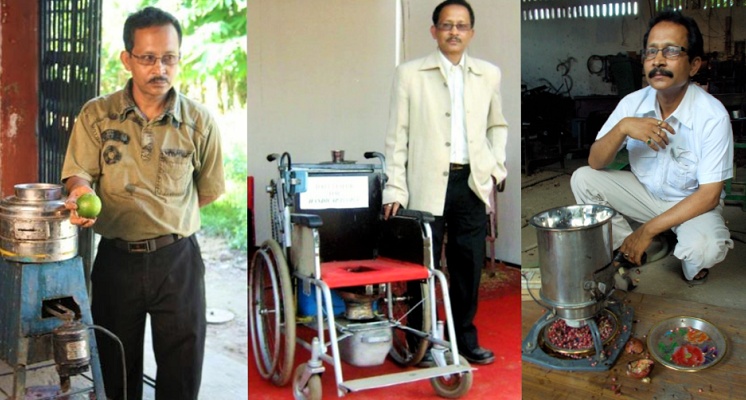 Recognition:
For his invention, pomegranate de-seeder, Uddhab entered an online voting competition for the NASA Exceptional Technology Achievement Medal. In the year 2007, he bagged the Shristi Samman Award. He was also chosen for the President's Grassroots Innovation Award in 2009. He was also the winner of NASA Tech's ''Create the Future Design Contest'' (2012-13). He received Meritorious invention award 2010 by NRDC govt of India etc.. and was conferred with India's fourth highest civilian award, the Padmashri in 2019. Apart from awards, Uddhab also received recognition in abundance. He was offered fiscal support under the Technopreneur Promotion Programme (TePP) Scheme at the Department of Scientific and Industrial Research, Government of India. He was also facilitated by National Innovation Foundation - India (NIF). Bharali also got covered in National and Assamese Press, Discovery Channel, BBC, Histry (OMG) and other global media for his wide range of machines. He is a frequently invited speakers in TEDx event organized by SITM –Puney ,ISM Dhanbad,KIIT,IIT Guwahati,SIBM –Bangalur etc. . Uddhab Bharali was awarded a honorary Doctorate from Assam Agricultural University (AAU) in 2014 and a honorary PhD from Kaziranga University. Frequently invited as Visiting faculty/Resource speaker to various top ranking institution of India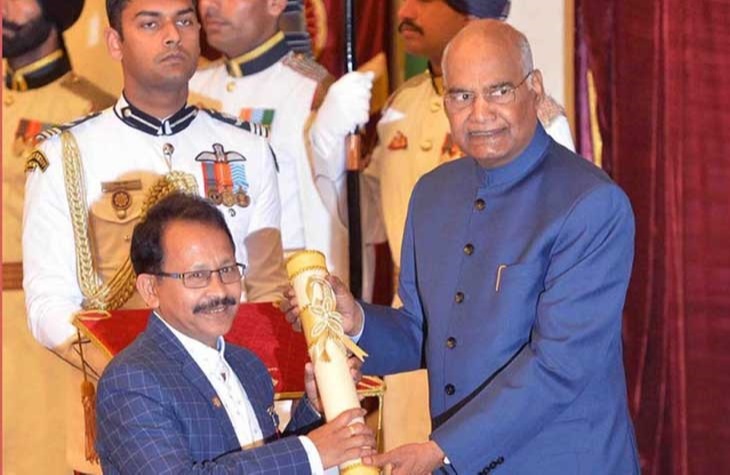 Philanthropic Uddhab:
Though he has made several path-breaking innovations aimed at the advantage of several sectors he never has gone towards publicity. Moreover, his philanthropic activities were so much included as a part of his routine that one fails to separately identify them. "Through my innovations, I want to reach out to those who are living below the poverty line, nationally and internationally. I don't want to make any profits for myself." , he says. Uddhab selects up to 10 illiterate students and invites them for a three-month training program where he trains them in using technology. He runs a "HOME for The Homeless" at his town. Uddhab also established an Orphage and a Philanthropic Reasearch Center for people with disabilities where customised gadget is being developed for them. He also gives Rs.2500 to Rs. 5000 for physically disabled people every month. His establishment "Annapurna" offers free food and ration to 17 helpless families throughout the year. Every month nine widows receive a monthly amount of Rs.1000 each. Under his philanthropic activities, he also trained more than 100 youth from rural areas in various technical fields by also offering them free lodging and food along with Rs 3000 for three months. He helps in orphan girls getting married and takes up funeral expenses of the poor and abandoned. Uddhab manages all these expenses with the money he receives for his research and development work
Future Plans:
Uddhab, who is known globally for his exceptional innovations is approached for help especially with respect to the agricultural field. Uddhab wants to set up a school of innovation far from the conventional ones. There, he says, he wants to train the children and senior citizens so they can become self-sustained and build an identity of their own.
A man with a big heart and an innovative brain. His heart tells his brain to think of other's benefit and his brain develops machines of utility. What a coordination!

Follow His Work