Teen's CareGood foundation CARES for others including the elderly? But how?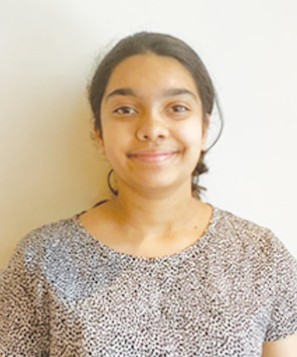 "Earlier, we used to find it difficult to study at night, especially during exams, due to frequent power cuts. But since we learnt how to make these solar lamps, we do not have that problem.", says K. Deekshitha, a class 10 student from Kuchipudi village in AP. An initiative taken by a Hyderabadi 14-year-old girl brought lights into the houses of many who were suffering darkness. Anvitha Kollipara is a teenager from Hyderabad and all those praises should fall into her pocket. Let's know what a teenager has to do with the lives of people living beyond the black stumps.
A Multi-skilled Child:
Anvitha Kollipara who was born and raised in Connecticut returned to India with her parents. She is now a ninth-grade student from Hyderabad who goes to the International School of Hyderabad. Her grandparents lived in Kapileswarapuram, a village in Karnataka. The words of her grandparents and closely observing their deeds that reflected humanity influenced Anvitha right from an early age. Thus visiting old-age homes, considering other's needs and helping them come naturally to this teenager. When Anvitha expressed her interest in helping the diseased and the elderly, her parents readily accepted. Thus was born the CareGood Foundation in 2020 through which she supplies medicines and other necessary things required for the elderly with the help of crowdfunding. As many as 200 old people found comfort in the CareGood Foundation. In addition to this, whenever young Anvitha visited her grandparents in their village, she observed frequent power cuts in the area and noticed how children were unable to study because of intermittent electricity. This girl of social consciousness decided to do something about this issue. And under her CareGood Foundation, she started another project called SolarGood.
Solar Energy Trapping - An Incredible Idea:
When Anvitha noticed the problems related to electricity, she wanted to help but in a sustainable way. She wanted to bring out a solution that's reliable and doesn't cause any harm to the earth. Electricity generation techniques have already been causing immense damage to the earth and this made her look at other abundant and safe options. The answer to her search came in the form of "Solar energy". She joined a course on solar power offered by the Energy Swaraj Foundation in the year 2020. Along with this, she worked together with and acquired good knowledge on the concept from Srinivas Sankoratri from Rajahmundry who conducts online workshops on the making of solar-powered lamps. She associated with him six months ago to learn the art and even interned with him during his workshops to get hands-on experience in the work.
To Teach A Man To Fish:
Anvitha believes in the concept of teaching a man to fish rather than providing him with fish. With the knowledge age acquired and with the experience she gained, she started conducting solar lamp-making workshops. Initially, she conducted two workshops attended by 30 people each, from rural and urban areas both. People from rural backgrounds are being handed out sponsored kits free of cost that help them make the solar lamps. These kits are either given to the kids directly or are sent to their school. In these workshops, Anvitha first talks about the importance of solar power and then moves on to teaching them to build solar lamps. For those rurals who don't have access to the internet, personal calls are made and are thus taken through the process. "Until the participants of the workshops learn how to make the solar lamp, we conduct a series of workshops, over two days or even three," says Anvitha. Eventually, Anvitha started to partner with government schools in Andhra Pradesh and Karnataka for conducting solar lamp-making workshops. "The workshop taught us how to reduce our electricity bill by using these solar lamps. This is not just helpful for me but to all those who are facing electricity issues in the villages." These are the words spoken with immense happiness by Deepika of Thadhupuri. Anvitha, who also completed the Young Researchers for Social Impact programme from Young Leaders for Active Citizenship (YLAC), has everything about her consistent work been out upon the organization's homepage. There, she also presented how her CareGood House works. The list of activities is a great example that says why not feeding fish but teaching how to fish is important.
In The Days To Come:
Anvitha wants to open a Science School for children in future in order to inculcate in them, scientific thinking and a rational approach. She also wants to expand the SolarGood project to states like Telangana and Tamil Nadu. For this, she already got associated with Milaap, a fundraising platform. These funds will help her supply solar lamp-making kits to the children.
Kudos to this young girl who is still in school but won the AIM 2020 Worldview Competition on Sustainability and Environment Conservation award for her CareGood Foundation activities.