Sure to let your imagination wild once you read this teen's debut novel.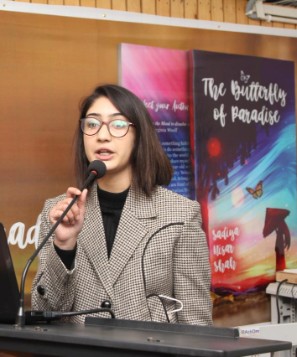 "I write what I imagine" and that's why I choose to be a novelist". Greatly inspired by Hazrat Shams Tabriz r.a and Hazrat Mawlana Rumi r.a., a teenage author emerged from the aesthetic natural beauty of the nation, Srinagar. 16-year-old Sadiya Nisar shah launched her debut novel "The Butterfly of Paradise" and became one of the youngest authors of Kashmir valley.
Kashmir's largest city Srinagar saw its youngest author studying in Delhi Public School, Athwajan, Srinagar. A Class 10 student of the school, Sadiya Nisar Shah who loves reading books has got inspired by renowned poets like Maulana Rumi. "For the past two years, I read about Hazrat Maulana Rumi (R.A.) and Hazrat Shams Tabrizi (R.A.) It opened my imagination and inspired me to write." she said.
Her debut novel published by Freshcode books was released by the then Director Information, Dr Sehrish Asgar in December 2020 at DPS school Srinagar.
Stream Of Consciousness:
Based on the concept of stream of consciousness, Sadiya framed the pages of her debut novel, "The Butterfly of Paradise". Talking about her book, Sadiya says, "Its central idea is if we have faith in Allah and a pure heart then indeed no one can defeat us." The book is published by Freshcode Publishing Bookhouse, Kashmir and was released by Director Information, Dr Sehrish Asgar, in presence of Additional Secretary to Govt, Finance Department, CEO, Mission Youth and ERA, Dr Abid Rashid, Renowned poet and author, Zarief Ahmad, Vice Chairman DPS, Vijay Dhar and Author, Shabir Ahmad. "The girls are talented to create their own niche in the society and prove their capabilities. Sadiya has capitalized on her talent, in spite of peer pressure, competition and Covid lockdown. The author has focused on the positive side of the lockdown to pen her imagination and thoughts", Dr Sehrish Asgar said. "Sadiah has inspired her friends and other students by the feat she performed. We expect her to bring up more books in future.", The Vice Chairman, DPS said while congratulating the girl.
Grateful To Everyone Who Helped:
Sadiya said that she received immense support and help from her parents, teachers and friends. If she could put her imagination and thoughts on to paper and mould it in the form of a book, she said, it's all because of their cooperation. Her teacher, Sajid Reshi provided Sadiya with ideas while compiling the book. "He has a big hand in the success of my book. He is my mentor because he taught me many things about literature and life"., says Sadiya. Sadiya says that her father has instilled a love for literature in her.
"Some of my earliest memories are of my father telling me stories. This inspired me to be creative with words." Sadiya began her journey into the world of writing by embracing poetry. She later cultivated an interest in long-form of writing also. Penning fiction is her favourite. Lockdown has her time and space and that's when the writer in her emerged. "I started writing what I imagined. I kept on writing and at the end, I summed up all the pieces which formed a novel," says Sadiya. It took two months to complete the book and she says, "I used to write during evenings and night time so that I had enough time for my regular studies."
Her Words Of Value:
Sadiya says that everyone should cultivate the habit of reading. "It's really important to read before we write. Knowledge is the most important key for writing. I would recommend students to read books apart from their academic books. They would not only gain their knowledge from the books, but it would also open their imagination. Hard work is necessary to achieve success in the pursuit a person takes up.", Sadiya says.
We wish Sadiya pens many pages in the years to follow that inspire, empower and open the minds of people bringing about a positive change in the world. May her writings make the world a better place to live and cherish. Pick up your copy to see her wild imagination.

Follow Her Work

Buy The Book Here