Manguluru's teen sets a world record in writing is now aiming for a Guinness World Record.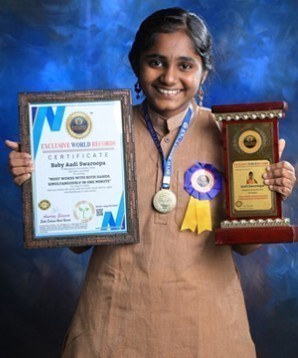 Who said that one needs formal schooling to excel in life? School provides access to improve the overall performance of children by including various activities in the curriculum. However, if formal schooling is not providing a conducive atmosphere and is sending waves of discomfort to a child, then how about self-study and homeschooling? Knowledge gaining doesn't depend upon the number of books you carry in your bag or how many hours you spend in the school. When someone is inquisitive about learning, it can naturally happen from anywhere. Moreover, few children who don't perform well during the formal school hours give their best when they are given a chance to self-learn and explore. One such unduly curious kid who started reading just in 18 months after her first cry and displayed her ability to write 30 pages when she was just 30 months old is now aiming to achieve Guinness World Record soon.
A Teenage Girl's Exceptional Ability:
Have you ever heard of someone being ambidextrous? Well! Someone who is capable of writing with both the hands is termed as ambidextrous. Though they aren't many, there exists some good number of ambidextrous people around us. So here is the journey of one such girl from Namma Kudla, 16-year-old Aadi Swaroopa, born to Gopadkar and Mrs. Sumadkar who run Swaroopa Adhyayana Kendra. Aadi has the innate ability to write with both hands. So, what's so new and exciting about this? Well, Aadi has created a world record for writing the maximum words simultaneously with both hands in just one minute. She set the world record for writing 45 words in one minute in unidirectional style breaking the past record of 25 words/minute. LATA Foundation of Rai Bareli, Uttar Pradesh has declared this activity of her as an exclusive world record in July 2020.
A Talent That Writes In Styles and Types Innumerable:
Aadi Swaroopa can write in ten distinct ways using both her hands. During the lockdown period, she enhanced her skills and introduced herself to 10 different writing styles like uni-direction, left-hand speed, right-hand speed, reverse running, mirror image, heterotopic, hetero linguistic, exchange, dancing, and blindfolding. These techniques activate both left and right brains simultaneously and we know what and how much it means!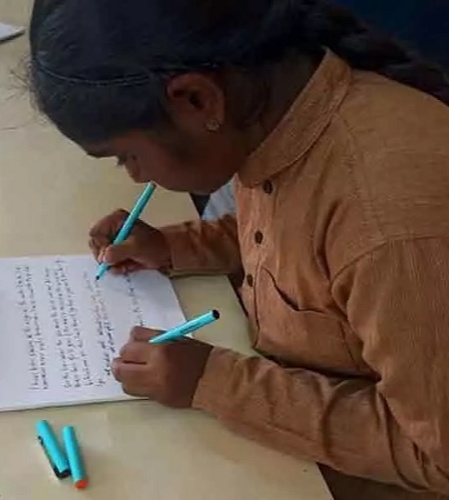 A Versatile Learner Who Never Went To School:
When she was just 18 months old, Aadi started to read. This fastest writer, who writes with a speed of 40 words per minute, started this writing practice at Swaroopa Kendra as a creative and fun-to-do home task. By the time she attained two and a half years, she developed the ability to write with both the hands. Aadi, who has never entered a school after the formal school setting and pressures instilled fear in her, shall appear for the SSLC examinations as a private or external candidate. Right from the age of two and a half years, Aadi accompanied Swaroopa's Education Jatha until 2019 and has taken part in more than 1600 programmes. She showcased her talent along with the group. She performed mimicry, Beat Box, and memory shows that entertained, awed, and inspired numerous others. Aadi has a deep inclination for music right from childhood.
She has been learning Hindustani Music from Pandit Ravi Kiran, Manipal, Yakshagana from Vidhushi Sumangala Rathnakar, Guitar, and Keyboard online. She prepared notes for the SSLC syllabus and composed many poems contributing her vocals to over 10 C.Ds. Aadi also writes stories and novels. Her first collection of 40 stories, Aadhiya Kathe Anthya Nive Heli, was released when she was 10 years old. Thus she turned into a published author when she was just 10. She has also conducted an exhibition of all her paintings at Prasad Art gallery, Mangaluru. She has also given programmes in All India Radio, Namma T.V., along with various regional and national channels. Aadi is a curious learner of various aspects and with a great memory, she presents all the names of 736 districts of India, 64 Vidyas, 101 Kauravas, etc. She is a record holder in creating visual memory art, wherein she draws one complete lesson on a single paper driving home exceptional memory technique. She has the ability to record and recall thousands of phone numbers and can solve the Rubix cube in 45 seconds. In a group event organised under the association of Pruthwish Brahmavara, she set a Guinness Record in this arena. She is also deeply inclined towards studying psychology and loves the critical analysis of things. This voracious reader does all these not under the pangs of formal schooling or pressures. She does them at the comfort of her learning pace and the freedom to learn given to her lets her explore her talents, interests and capabilities further letting her remain active and effective for around 16 hours a day. Wow!! Don't you think she is into many more areas of expertise than a formal curriculum could offer?
What does She wish To Accomplish?
Swaroopa is aiming to set national and world records in various fields like mimicry, Rubik's cube and music. She wants to set at least 10 world records in the fine arts. While she has already set a Guinness World Record in Rubik's Cube Mosaic with her mother, Sumangala Sumadkar in the group category in 2018, she would like to participate and set the record in the same under the solo category in 2021. She also wants to set a world record in Beatbox wherein she mimics drum machines by using mouth, lips, tongue and voice. She has also pushed her word count per minute to 50 from 45. Eventually, she wants to raise the bar setting it to 60.
We wish Aadi many more accomplishments to her credit and may she become an icon of free-style and self-paced learning.