Teen has 40 Innovations and is a Social Media Ambassador for UN Climate Change Conference.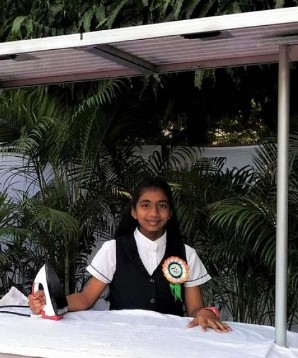 She excels in both scholastic and co-scholastic areas. She loves drawing, singing, dancing, crafting, collecting fossils, swimming, cycling, performing aerobics and photography and is equally interested in science experiments, stargazing, microscopy. She plays the 61-key electronic keyboard and has also received the Grade 5 Electronic Keyboard Certificate of Trinity College London. Not just these, the story of a class X girl from Tamil Nadu, India, is bigger than her age. Her innovations are drawing everyone's attention and she is being recognised on a national level at a very young age. Her journey into inventing useful products for the benefit of the community started when she was just 12. Let's know more about Vinisha Umashankar, an enthusiastic teenager from Tamil Nadu, India.
Father's Motivation Encouraged The Little Girl:
Hailing from Thiruvannamalai in Tamil Nadu, India, Vinisha's father is Umashankar who always encouraged the girl's innate skills in creating new things. He kept motivating her to make innovations that help the underprivileged, also creating a positive impact on the environment. Upon father's encouragement, Vinisha directed her ideas to give back to the society.
The Little Girl's Impactful Innovations

:
Vinisha was just 12 years old when she offered the society, her first innovation – the Smart Ceiling fan. She designed a smart ceiling fan which is sensor-based. The fan stops rotating when no one is around and resumes movement when it senses movement of a person in its vicinity – a power-saving fan. For this innovation, she received the Dr. Pradeep P. Thevannoor Innovation Award in 2019 and became the youngest person to receive the honour. The award was presented by the SCMS School of Engineering and Technology, Kerala in association with the Kerala Startup Mission and Kalam Technical University (KTU). Going forward, Vinisha designed a mobile ironing cart that runs on solar power to ignite the steam iron box. The mobile ironing cart can also be powered by pre-charged batteries, electricity or diesel-powered generator when there is no sunlight.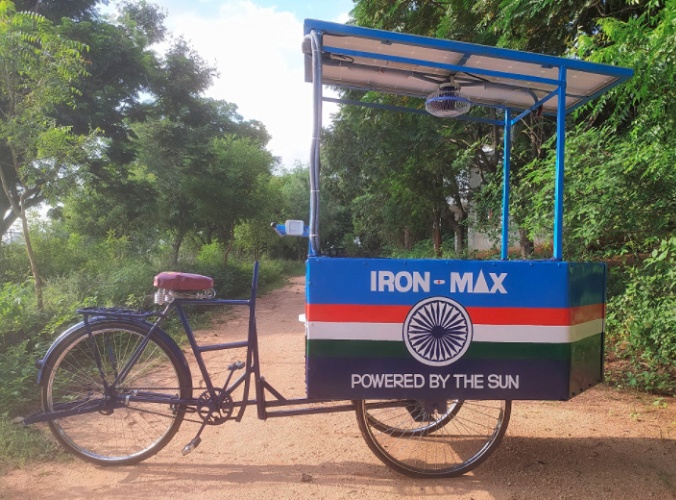 Not only that the solar ironing cart eliminates the need for coal for ironing, it also allows the vendors to move around and offer services to the customers at their door, which further increases their daily earnings. The ironing cart can also be fitted with a coin-operated GSM PCO, USB charging points and mobile charging. A casual talk with her father about coal production and cutting down of trees has led Vinisha to make this innovation. For this innovation that has a positive impact on climate and environment, Vinisha was awarded the Children's Climate Prize in 2020. "I was awarded a Diploma, Gold Medal and Prize of SEK 100,000 (Rs. 8.6 Lakh)", she said. She was also the recipient of the Earth Day Network Rising Star Award in 2021, presented by the Earth Day Network, USA. Earlier, in 2019, when she submitted a technical paper on the solar ironing cart, she received the Dr. APJ Abdul Kalam IGNITE Award by the National Innovation Foundation, Gujarat. She received the award from the late President of India, Mr. Pranab Mukherjee on 30th November, 2019. Later, the National Innovation Foundation designed a prototype and have applied for a patent in her name which will be transferred to Vinisha's name once she turns 18. Vinisha has also been shortlisted for the Rashtriya Bal Shakti Puraskar 2021.
The Words That Received A Standing Ovation:
"We have every reason to be angry. But I have no time for anger. I want to act. I am not just a girl from India. I am a girl from Earth and I am proud to be so. I am also a student, innovator, environmentalist and entrepreneur, but most importantly, I'm an optimist". These are the words from the 5-minute-long poweful speech given by Vinisha on the climate change at the COP26 in Glasgow after being invited by Prince william.
The event was also attended by the Prime Minister Narendra Modi, the Prime of UK, Boris Johnson and the US President Joe Biden and others. "Today I ask, with all due respect, that we stop talking and start doing. We, The Earthshot Prize Winners and Finalists, need you to back our innovations, projects and solutions, not an economy built on fossil fuels, smoke and pollution," she said, calling for action.

Vinisha – A Child Who Donned Multiple Hats:
Vinisha is an active child ever since childhood and would take part in various competitions at school, district, state and national level. She also won several debates, quiz games, etc. along with winning singing, essay-writing, drawing and yoga competitions. This Grade 10 student loves nature, trees, animals, birds, bees and butterflies and advocates all to grow a native tree. She mentions herself as an artist, a public speaker, an innovator and an environmentalist. "My favourite subjects are maths and science, but I give an equal importance to all subjects", her social media profile reads. Vinisha has given over 80 interviews, 40 innovation talks and 40 motivation speeches to over 20,000 school and college students. She is a Social Media Ambassador for the UN Climate Change Conference. She is also The Earth Prize Youth Board Member for The Earth Foundation as well as the Climate Science Olympiad Ambassador.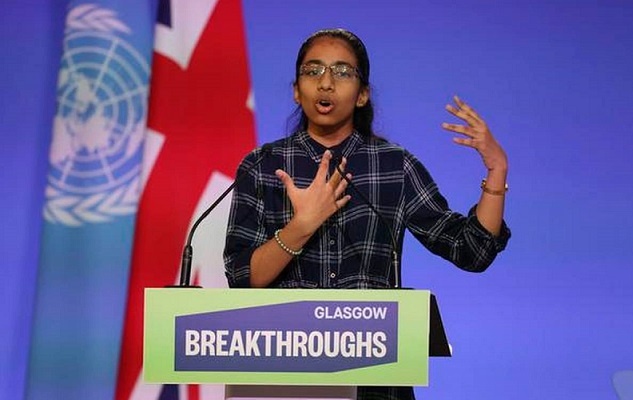 Big Dreams, Bigger Purpose:
Vinisha, whose role models are Nobel Laureates C. V. Raman and Marie Curie, said that she wishes to become a research scientist, innovate useful products and receive the Nobel Prize. She also mentioned in one of her felicitation events that she wants to invent a single vaccine for all types of cold viruses.
When a mind thinks of inventing new things that come to the benefit of the community, isn't that worth encouraging? Thanks to Vinisha's father for bringing up an innovator and hats off to Vinisha who has been making a constructive use of the resources she has and working towards giving back to the society.

Folow Her work
The big "problem" I am trying to solve is to eliminate the practise of burning charcoal to heat an iron box for pressing clothes by the vendors. My innovation, the solar ironing cart will save trees, reduce air pollution, protect the environment and help stop the climate change. pic.twitter.com/zftd14AoJq

— VINISHA UMASHANKAR (Solar Ironing Cart) (@Vinisha27738476) October 9, 2021