The teen gets GUINNESS for singing in 105 languages at a 7-hour stretch.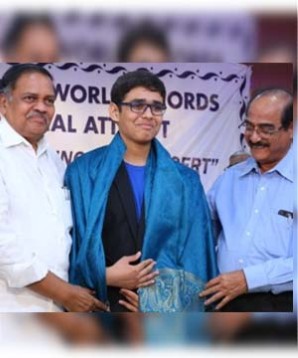 There is no dearth of song and dance talent in India. They pop up from every street corner, footpaths, railway stations and the recent win at the AGT the V Unbeatable speaks volumes.
Who is Rahath Malladi ?
It's no mean task! Singing in 105 languages Indian and foreign with perfect pronunciation at a 7-hour stretch that makes him so special. The crowd went roaring during a recent performance by this young singer superstar. The child possibly started singing even before he uttered a few words or learnt to get firm on his feet. His passion for singing grew stronger each day and his parents are truly proud of this music prodigy.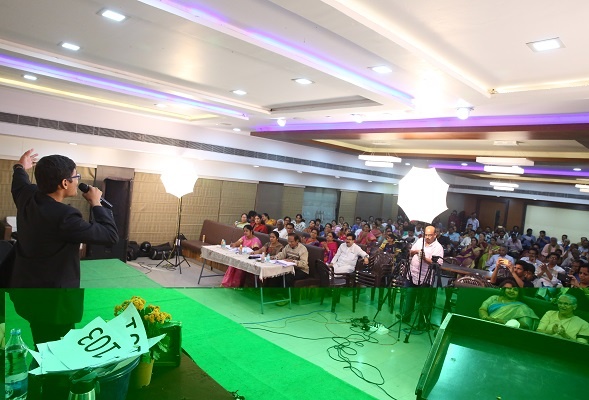 Rahath is a child like any other but his hard work and passion that makes him stand apart. Rahath used to spend all his spare time including his summer holidays practising to achieve the impossible. Rahath and his family are ever so grateful and thankful for the continuous support extended right from his childhood by the sisters of the Nirmala High School, Vijayawada. Yet it is commendable for a self-taught young teen singer to manage a perfect balance of academics and his passion.
Makes it to Guinness
Rahath took to the stage on the 06 January 2018 and with his flawless performance got his name firmly etched on the Guinness World Records That's just one of his dreams fulfilled.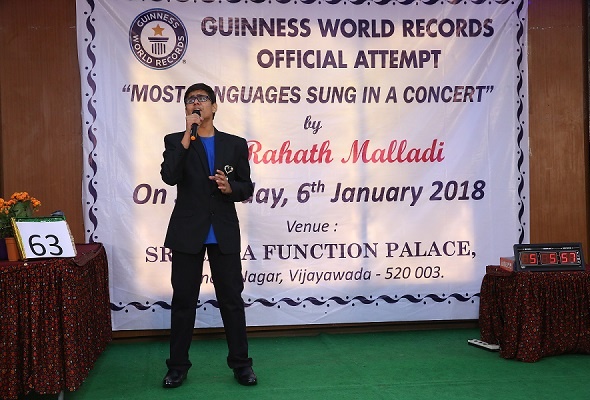 This promising star has many more years to reach greater heights. Awards and rewards come and go but his mission is to enthral the audience with his improved performance each time.
No substitute for hard work
Parents invariably have a huge role to play provided the child is willing. Fortunate that Rahath had much more than just talent .The hard work that has paid off.
Rahath concludes: "Every child is different and is blessed with different gifts/talents and its important to channelise it in the right direction"
ACHIEVEMENTS :
GUINNESS BOOK OF WORLD RECORDS title for the record "Most Languages Sung In Concert" for singing 105 songs in 105 languages continuously for 7 hours and 22 minutes.
Received "WORLD RECORD OF EXCELLENCE" from INTERNATIONAL BOOK OF RECORDS for singing 105 songs of various genres in 105 different languages.
"PRATHIBHA PALLAVAM PURASKAARAM" from "Sri Venkateswara Bala Kuteer", Guntur for his Academic Excellence and outstanding performance in various languages.
ACHIEVEMENTS IN THE FIELD OF ENTERTAINMENT :
1. Winner of Bol Baby Bol – a singing reality show that was telecasted in the year 2013 in Gemini TV.
2. Played the role of SHAKUNI in the NANDI AWARDED children movie "DANA VEERA SURA KARNA" in the year 2015.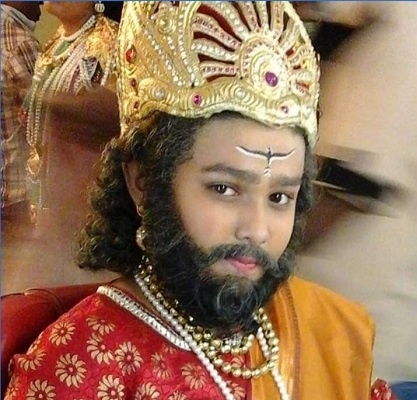 3.Sang the Title Song for the Short Film – "EM PREMISTAAVA??"
AWARDS RECEIVED :
1. "NATARAJA AWARD" as BEST ACTOR ( SPECIAL JURY ) for the role of SRI KRISHNA in Pouraanika Padya Naatakam "KRISHNA RAYABARAM" in 2019.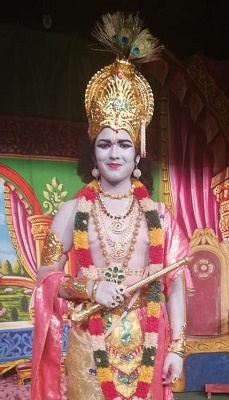 2. "NANDI AWARD" for the DRAMA - IDI KOTHHA KATHA playing the role of NAARADA in 2018.
3. "KAMALA DEVI CHATTOPAADHYAAYA PRATHIBHA PURASKAR" for SINGING TALENT IN MULTIPLE LANGAUGES from MINAKSHI ARTS & CRAFTS WELFARE SOCIETY, 2019.
ACADEMIC AWARDS :
Received appreciation from Government of A.P. for scoring 10 points in all subjects of SSC Public Examinations for the Academic Year 2018 - 19.
Received GOLD MEDAL and PROFICIENCY CERTIFICATE from NIRMALA HIGH SCHOOL, Vijayawada for his overall performance in Academics during the Academic Year 2018 - 19.
"SMART KID OF ANDHRA PRADESH" award from "The Sakshi Newspaper" in association with "Oakridge International School" in Vizag for succeeding in Inter School Competitive Examination at various levels.