An App for his who are struggling with online classes. How do these kids manage this ?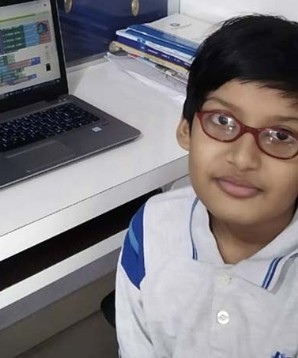 A boy sits in front of his Laptop with his glasses on, looks like a chhota scientist with bada thoughts in the brain. Not just looking so, he is actually it. If you think that he is spending time playing online games on the Laptop, then you have to take your thought back. The boy is an App developer. He designs games for his friends and also helps his teachers in making their jobs easier. He is just 11 years old and is already high above kids of his age. He is Bangalore's Samrat Singh and this is his jaw-dropping story.
Innate Ability:
Samrat Singh is basically from Bengaluru and studies fifth grade in EuroSchool. This 11-year-old was always technology-driven. He attended a coding competition organized by his school when he was in grade III. In that competition, he designed an App using his basic skills of coding and found it extremely interesting. While everyone felt that coding is the toughest thing to own, he thought that it is just like a bed of roses to him. From that day on, he wanted to gain more knowledge and deep insights into coding. He started watching YouTube videos that tutor on App development skills. "Overcoming several barriers, gradually I learned the procedure and completed my first app.", he said. He started developing apps since then. Right in grade III, he went on to design an "apple catcher" game for his friends. While others of his age are spending time playing games, Samrat ventured into developing them. Once his friends loved his game and started playing it, Samrat's zeal to develop more and more Apps ignited his soul. He started spending four hours every day designing new applications.
A step-by-step Approach:
Samrat, who started learning app development techniques through YouTube tutorials, then went on to learn block-based programming. Once he has got hands-on experience in that, he went on to learning higher level of coding based on Arduino boards. "Now, I can make an app in just three hours," he says with pride.
Helping Everyone With His Skill:
This genius fifth-grader has also developed an app to help his teachers. As the lockdown due to Covid-19 pandemic gave way to online classes, teachers are trying their best to adapt to the digital mode of teaching and taking tests. While online test-taking has become a little troublesome for the teachers in terms of preparing questions and evaluating the scores. This made Samrat think and apply his app development skills in order to help his teachers. Using this App, teachers can add and edit questions and also the options. They can also add scores to the answers. The teachers can just load questions and answers while the app takes care of the formatting, navigation and calculates scores automatically. Taking one of his social science chapters and picking up a few questions from it, he demonstrated working of the app where it has done the quizzing and score calculation. Hints and the right answers were also provided in the App.
"I made this app to help my teachers after they started taking classes online. During the lockdown, I realized that my school teachers face problems in online classes. I decided to make a quiz app to help them out. In this app, you can add and edit questions and options. You can also add scores to particular answers. My teachers liked it ," he says with pride. He developed the app in just three hours. Samrat is now proceeding to develop version 2.0 of the App. In this new version, the answers will come with an explanation.
Stepping Into the World of Robotics:
Within a few months, a coding competition is going to be held in which Samrat is going to present his automated vacuum cleaner. He has named it his 'obstacle-avoiding robot'. He designed this machine in such a way that once the device is turned on and water is supplied, the specialized motors present in it automatically clean the room. Samrat also gave it a few sensors that switch from the dry mob to wet taking a turn on its own. This robotic device also has a real-time clock in it, and one can reset the time whenever they want.
Mother's Support:
This Bangalore's genius kid who has designed and developed 137 apps so far has launched 50 of them in the public domain making them accessible to everyone. He says that his mother's support is invaluable all through. His mother, he says, keeps saying that the future is all of Artificial Intelligence and Logical Reasoning. She encourages the boy to dedicate his free time to learn and develop innovative solutions. Also, his mother realizes the importance of playtime and helps the child balance his playtime and academics.
In the Days To Come:
In future, we can see Samrat's door alarm. He wishes to design gadgets and develop Apps. He says that the smart automation products available in the market are highly expensive and thus instead of buying them, he wants to build them himself. This little tech master who aspires to become a computer scientist says that his focus shall remain on solving real-life problems like traffic jams and pollution.
May Samrat's journey continue to address various real-time problems a day his innovative techniques bring up products that are affordable by a common man too. May the next generation leaders like Samrat also choose to walk towards sustainable living and growing together in coordination with nature. When a problem is standing in front of us, young minds like Samrat are ready to design the remote to conquer it.