Who is Gandhi's 'Shakti'? Vande Mataram was composed by her n TAGORE?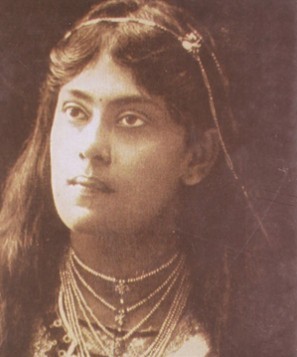 The son of Indian motherland and the Father of the Nation, Mohandas Karamchand Gandhi, the man who fought for India's independence and became an instrumental part of it, has advocated the significance of women's presence in the freedom struggle. On many occasions, he encouraged women to take part in the movements and lead them. Though there are claims that Gandhi had a patriarchal ideology though he supported women, there are instances where women were influenced by his call, joined him, and worked in close association with him. From his own wife Kasturba Gandhi, along with Sushila Nayar, Abhaben, Mirabehn to Sarojini Naidu, many women worked with Gandhi and were very significant in their roles that gave India, her freedom. Though their stories have never come to the limelight and they will only be remembered as those who accompanied Gandhi, one cannot deny how strong, influential and progressive each of them was. One such woman who remained unknown for several decades in spite of her powerful family, personal, educational, and political milieu, is Sarala Devi Chaudhurani. She has several accomplishments to her credit from being the founder of the first women's organization in India to being a fierce political activist. On the occasion of this Gandhi Jayathi, let's know about this woman, who was called as "Shakthi" by Gandhi himself.
The Woman Who Registering Many 'Firsts' To Her Credit:
Sarala Devi was born in the year 1872 to Swarnakumari Devi, the elder sister of Rabindranath Tagore and Janakinath Ghoshal, one of the founding members of the Indian National Congress. When she was five years old, she came to live in the ancestral home of the Tagores, Jorasanko in North Calcutta after her father went abroad to study Law. She studied at Bethune School and in 1886, she passed her entrance exams equivalent to the present-day Class X and XII and became the first woman in the Tagore family to appear for and pass these examinations. She later went on to study Physics, the group which was not open to the women of the day, along with her brothers at the Science Association. She pursued B.A English at Bethune College under Calcutta at the age of 18 in 1890 and achieved the highest marks, thus becoming the first woman in Calcutta University to receive the "Padmaboti Swarnapodok", the gold medal. After obtaining a degree in English, she continued to study French, Persian, and Sanskrit. Sarala was also an accomplished musician and poetess. She has composed several patriotic songs and issued a collection of them with the name Satagan. Her career started in 1895 as an Assistant Superintendent at the Maharani Girls School in Mysore where she taught for one year and went back to Calcutta after falling sick. On October 15, 1905, she married Rambhaja Dutta Chowdhury in Deogarh, in present-day Jharkhand, at the age of 33 much later compared to the marriage age of women of the period. Her husband described her as the "Greatest Shakti in India".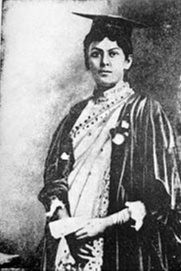 Her Style Of Freedom Struggle:
After returning from Mysore, Sarala settled in Calcutta editing a Bengali magazine called "Bharati Patrika". Since 1895, she became active in the freedom struggle and her political ideologies differed to a greater extent from those of the Tagores. She believed in the ideals of Subhash Chandra Bose and affirmed that violence is the only way to send the British away. Through her book 'Ahitagnika', she directed her efforts to generate awareness concerning the freedom struggle and much to the variance of women of her age, she also launched an underground revolutionary group, whose name was kept a secret in order to keep it from the knowledge of the British. Sarala Devi was also one among the first revolutionaries to promote the use of Swadeshi products. In 1904, she opened a shop called "Lakhir Bhandar" in the Bowbazar, Calcutta that is dedicated to Swadeshi products. In 1910, she founded the 'Bharat Stree Mahamandal', the All-India Women's Organization, the first-ever in India. She has travelled alone across the Indian subcontinent and spoke at several nationalistic conferences. After moving to Lahore with her husband, she continued her revolutionary work in Punjab, opened several associations and organisations for women. She opened a home for widows, "Widhwa Shilpashram", where widows were provided education and skills to help them become self-sufficient. Well, let me not miss the most interesting detail here. While we assume that it was Rabindranath Tagore who composed the National Song, Vande Mataram, the truth is that he reportedly composed the first two lines of it. The rest of the verses were composed by Sarala Devi and she sang the song at a conference of the Indian National Congress. She is also considered to be the only woman leader in Bengal's militant nationalist movement.
Association With Mahatma Gandhi

:
Mahatma Gandhi frequently visited Sarala and her husband in their house in Lahore after the couple were released from imprisonment post the Jallianwala Bagh incident. However, Sarala met Gandhi in 1901 through her father. Several reports came to the limelight about their relationship but it is said that they admired each other beyond anything else. They exchanged letters of intense thought-sharing, which, when evaluated by historians, though raise many questions, seem to dilute in the fact that both are them are committed towards Indian freedom struggle and have contributed their lives with devotion for the same.
Her Unique Identity:
It cannot be denied that Sarala Devi was shadowed behind influential men she was surrounded by, like Mahatma, Tagore etc. but she did not fail to stand tall by herself. This self-willed woman who had a mind of her own, felt that the way freedom struggle was taking its path was not up to the mark and felt dejected towards the end of her life. She found comfort in spirituality and under the guidance of Binoy Krishna Deb Sharma, she began studying the Upanishads. She also spent her years towards the end in penning her biography 'Jiboner Jhora Pata', the 'Scattered Leaves of My Life' before she breathed her last on 18th August, 1945.
For her progressive mindset and thoughts of Feminism, she is undoubtedly a "Shakti".