Sunball goal in a football match. Have your heard before? PIC you have never seen before..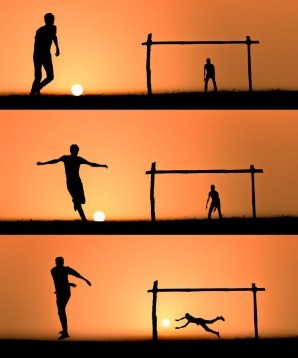 In a world where everybody depends on others to lighten up their life, be the one who can create the sunshine. "You will shine more by helping others to kill their darkness." "Willpower will help you strike every goal in your life." "You cannot defeat kids when it comes to ice cream."
Wondering where we are leading you to, today with all these quotes? Well. Here we are to take you on around to the land of sunsets. No, not we, a teenager from Maharashtra is going to take you on an amazing ride where you can enjoy the beauty of sunset relishing every drop of its elegance.
An Introvert's Choices:
Krutik Bharat Thakur hails from Dahanu in Maharashtra. He loves photography and pursued it as a hobby but never owned a DSLR. He wanted to study architecture but the grades he scored didn't make him eligible to pursue a degree in architecture. So, he chose to take up a Bachelor of Arts in Film and Television. But being an introvert himself who joined the film school in a confused state of mind, the tough college schedules and its demands made him more introverted, finally forcing him to leave college. He then started exploring his hobby and embraced his love for photography.
Childhood Love for Beach Seeded Love For Silhouette:
When asked in an interview about how he was drawn towards photography, he went back in time and spoke about his childhood. As the beach was just a few minutes away from his house, Krutik used to go there every day. When he turned 16, he got a Redmi note 4 mobile phones and he happened to click the shadow of a boy walking on the beach.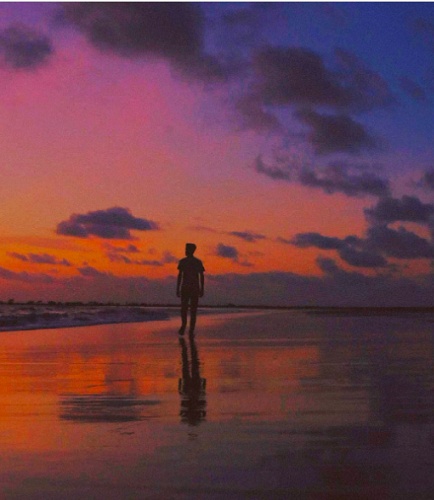 That came out to be absolutely perfect and spectacular. He didn't even know at that time that it is called a silhouette. He fell in love with shadow photography. However, after getting immersed in hectic timetables, he couldn't take time to go to the beach. It is during the lockdown that he got time again and resumed shadow photography. "The more I clicked silhouette, the more it made me happy." he shared with glee. He initially practised with his friend's camera that he borrowed twice a month. He then practised a lot more things going forward. What started with clicking pictures on mobile and edit them using Picsart has now upscaled to clicking pictures in DSLR and edit them using Lightroom CC 2019 and Photoshop CC 2019. He learnt about DSLR, Photoshop and Premiere Pro with the help of YouTube videos.
Applause For The Creativity:
Krutik started sharing his work in December 2019. Every picture he clicked catches the high-flying sun and drops it eloquently into your heart. You will be amazed at how the setting sun has come to settle in a lantern, you will be jaw dropped to see a boy scoring the "sunball" goal in a football match, you will remain speechless when you see a little boy moving off by packing sun in his backpack, you are sure to be mesmerized at the sun becoming the ice-cream in a child's hand and more like these. When his sunset football went viral, this budding photographer came into the limelight. He slowly set up a website to sell prints and he hopes that it helps him financially in his journey.
"There are many pictures I love in my collection but football with the sunset was the best for me because that photo gave me confidence that, yes, I can create more," he said.
Awards to The Sunset Boy:
When WallMag conducted a photography contest, Krutik submitted his sunset photography clicks to them. The judges' panel was so impressed by his creativity and named Krutik as the 1st Winner of WallMag Sunset Photography Contest 2020. "I was looking for such a contest to get a check on my sunset shot to know where I stand. Being in 1st position is the best feeling, and also the best thing about WallMag is that winners are decided by judges and not by likes because most of the free contest is to promote themselves rather than the artist, but WallMag is the opposite to that. Kudos to the team for building up such a beautiful platform."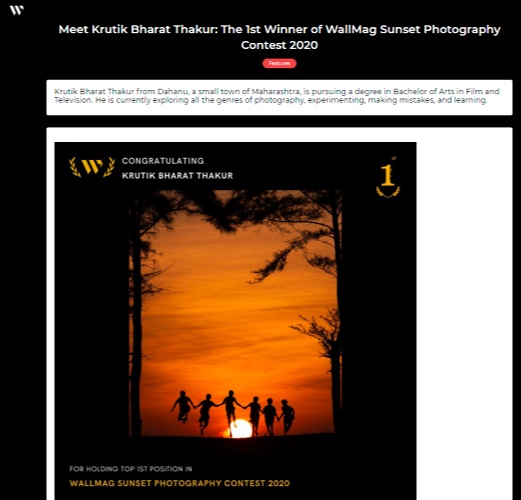 Sunny days ahead:
Krutik said that, in future, he would like to use every opportunity that helps him showcase his work.
"During my school days, I did not participate in any of the competitions because of the fear of losing. I have big regrets about this now. So, I do not want any regrets in the future, and I just want to raise my hands for any opportunity to showcase my work and competing with people of the same kind of passion while always help you to learn and improve.", he said after winning the WallMag contest.
Let's wish Krutik many more accomplished years of photography who, given a chance slips into the arms of the setting sun with his Nikon D5600 carrying its Nikkor 18-55 & 70-300 lenses.

Follow His Work