Shortest lawyer stands tall for her mighty willpower and guts.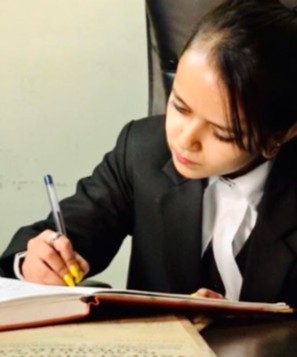 "Be The Kind Of Woman Who Does It Not To Show Off But To Show Others What They're Capable Of" - when she wrote this on her Instagram handle, she received good applause not just because she wrote it but she proved it to be right setting her own example.
"If You Are Satisfied With Who You Are, You Don't Need To Prove Your Worth To Anyone Else" - This one again attracted many people, especially those who feel that they are inferior because of the inhibitions they possess. She is Harwinder Kaur, who is inspiring everyone out there not just with her posts on social media but also with what she has done and has been doing to date. Let's get into the inspiring journey of a woman who was once ridiculed for being a dwarf.
The Little One With Mighty Spirit:
Harwinder Kaur aka Ruby is a 24-year-old young woman who hails from Armaan Nagar in Rama Mandi, Jalandhar. Her father, Shamsher Singh is an ASI in the Phillaur traffic police and her mother, Sukhdeep Kaur is a housewife. She is just 3 feet and 11 inches tall and came to know about her disability when she was 10 years old. As a kid, she was taunted for her height and she thus started hating school. She spent most of her childhood and teenage years in loneliness, skipping classes and secluding herself from the rest because of which she also succumbed to depression in her teens. Her family took her to many doctors but no medicines worked. "I was in Class IV when I noticed my body was not growing normally. With this came a lot of teasing and bullying. By the time I reached senior secondary classes, I started skipping school and spent most of my days at home. The scornful looks and words of ridicule forced me to doubt my capabilities as a child", she recollected in an interview. Harwinder, who always wanted to become an air hostess since childhood, couldn't realise her dream because of her height. Finally, she had to give up on her dream of becoming an air hostess. "I started watching the professional video all day after the 12th test. These videos helped me to get courage.", she said. After all the years of inferiority complex, she decided to give up her inhibitions and dared to face the world. She took admission at the KCL Institute of Law to study LLB. She says that her life changed from there and what all she missed in school, she experienced them at college. The law aspirant's inner strength woke up for good and she didn't succumb to negativity ever again. She went on to practise law under the Vice-president of the District Bar Association, Jagpal Singh Dhupar. She is also an active social media person with 50,000 followers on Instagram. For her posts on social media, she receives encouraging comments along with some negativity too. But Kaur knows how to handle the negativity.
The Shortest Lawyer:
Harwinder Kaur who was ridiculed for being short all her growing up years is now looked upon by everyone as she went on to become the shortest lawyer in India. Kaur secured a license and enrolment client certificate by the Bar Counselling of Punjab and Haryana on November 23, 2020. Those people who looked down on her, now show her as an example of grit and self-esteem. "I see respect in the once-scornful eyes and the sly remarks have been turned into compliments. I feel proud of myself. People with insecurities and inferiority complexes now look up to me and appreciate my confidence", she says with pride. She could be physically short but she is taller than anyone else in mental strength. Kaur aka Ruby pledged that she would take up the cases and fight them "free of cost" for the differently-abled, as she said, she can under what they must be going through. "I can feel the pain", she said.
Hats off to the shortest lawyer in India who proved yet again, that it's the mighty will and not the mighty look that matters.

Follow Her Work