Failures after failures but this venture Loo Cafes is successful. What's a Loo Cafe?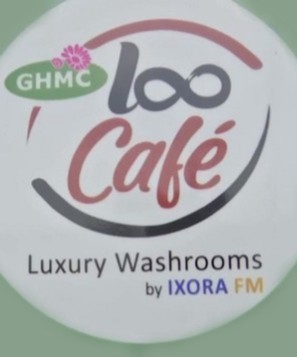 Try and try until you succeed. Stop not even if people throw taunts at you. Keep walking even if the roads are blocked, you will reach your destination one day. If you think that all these are just quotes from a book and do not fit into realities, then you should read Abhisek Nath's journey. Started off with fulfilling parental aspirations but realised that he cannot, he switched to what he was adept at and journeyed further. Tried his hand at various ventures, fell to the ground with his back touching sky, picked up the pebbles of lessons, carried them along and got them to use in his final successful venture which is now giving him crores of turnover. Not only is this giving him revenue but also is being beneficial to the public. Let's take a quick look at the roller coaster journey of Abhishek Nath that gives you a stern message that failures shouldn't lock you inside the room instead take you to the skies.
A Journey Of Roadblocks:
Hyderabadi man Abhishek had a creative mind since childhood and he always dreamt of designing innovative structures. However, his family wanted him to walk in his father's path and become a dental oral surgeon - a profession his forefathers had been into for generations. Abhishek thus joined SB Patil Dental College at Bidar in Karnataka post his passing out of class 12 from the Little Flower Junior College in 1997. With a desire to do something innovative and with love for making structures, he couldn't breathe in the dental college air and came out of it within seven months of joining. "I loved making structures and modules for which I had won several awards.", he recollects.
Back home
He returned to Hyderabad and took up a Hotel Management course at Shri Shakti College of Hotel Management in Hyderabad. He got a job at the Taj group of hotels in Bengaluru through campus placements in 1999. He was later transferred to Mumbai and was promoted as a Manager at Taj President. He grew in position and drew good pay in the industry but still felt that he was missing out on something he wished to do in his life.
And again
In the year 2003, he returned to Hyderabad again leaving his highly-paying job and his family was disappointed with his decision. He then started a catering business, named it Food Republic and supplied packaged food to corporate offices from a 300 sq. ft rented office with two employees. His business grew and he had 40 employees by the end of 2003. In 2004, he faced severe losses and had to shut his business.
Hyderabad to Goa
He decided to shift to the tourist destination of India - Goa.
"I had to start from scratch due to the severe losses I suffered in my previous venture. I took a 200-sq-ft space on rent at Calangute and set up an eatery," he recollects. As he couldn't afford to have employees, he himself turned into a waiter, served food to people and did all odd works at his own eatery. He eventually turned his restaurant into a back kitchen for the nearby hotels and residences that offer shelter but not food. Abhishek's restaurant supplied food for those who stayed in such hotels. He grew in business and opened one more restaurant the same year.
When in 2016, an investor was building a hotel in Goa, Abhishek took up the responsibility of planning everything right from the interior, decor to the food menu. He later handed over both his restaurants on lease and came back to Hyderabad in 2007. He then joined an MNC as area manager, got promoted as the company's director of South East Asia by 2010 and was shifted to Mumbai. In 2012, he joined a marine and offshore services company as the director of business development and operations in Mumbai and returned to Hyderabad in 2016. The urge in him to do something on his own didn't die and continued to burn him year by year. After returning to Hyderabad, he started a facilities management company, Ixora Corporate Services Pvt. Ltd., with around 10 employees. Two years later, in 2018, Abhishek got an idea that he worked upon rigorously which has now been changing the face of public toilets in Hyderabad. His years of searching for what he desired ended with Loo Cafe. This venture is his first baby as he put his childhood flair and love for building innovative structures, and also his experience in the F & B industry and facilities management into building it.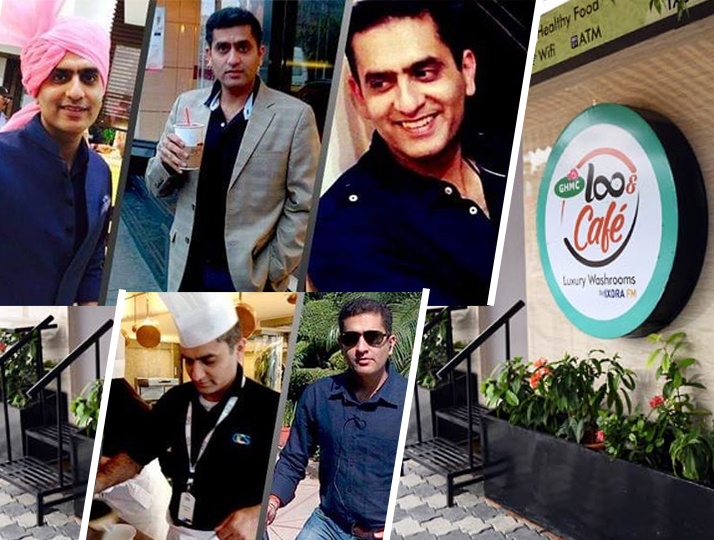 What Is Loo Cafe?
Once when Abhishek was on a road trip to Goa, he came across the terrible condition of public toilets and he started to think of a solution. That was how the concept of Loo Cafe took birth. He immediately got in touch with Hyderabad's municipal commissioner who found Abhishek's concept of bio-toilets with facilities such as cafe, WiFi, sanitary napkins dispenser and a ramp for the disabled interesting. The Greater Hyderabad Municipal Corporation (GHMC) offered the required space to construct the toilet on a private-public partnership model. Abhishek spent around Rs 25 lakh to construct the first toilet that came up in May 2018. The model became successful and thus more of them were built in partnership with various local bodies across Telangana and one in Srinagar. Within a span of two and a half years, the number of toilets increases to 450. Each toilet unit has separate toilets for men, women, and the disabled, for whom a ramp is also provided for easy access. These toilet units are constructed with pre-fabricated materials which can be dismantled and reassembled elsewhere. These bio-toilets are maintained by trained staff who ensure the hygiene levels in the premises through IoT (Internet of Things) enabled stink sensors. Though the toilets are free to use, with the experience he gained in the food industry, he set up a connecting cafe that brings in revenue to sustain his business. Revenue also comes in the form of the sale of advertisement space in their properties. Thus his idea transformed into a Rs 18 crore turnover business in just two years and is providing employment to around 1,000 people.
His Words Of Wisdom:
To all the budding entrepreneurs, Abhishek asks them to be passionate in whatever they do. "Every failure is a learning and a step closer to success. Be determined and go all out to chase your dreams.",
Thanks to Abhishek for showing how failures can be true learnings.

Follow his Work