Street kids Picture that made this amateur photographer the winner.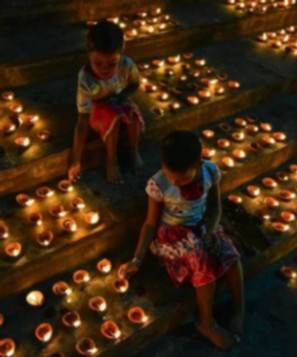 When you see two helpless street children who cannot celebrate festivals like other children of their age, sitting amidst the glowing diyas on the day of Diwali, what's your feeling? When Papiya Das clicked a picture of that sort and I happened to come across it, I just wished to get there immediately and celebrate the festival with those lovely kids. This heart touching picture captured through her lens has also won the hearts of the jury of the WallMag Photography Contest. Papiya Das, a wedding photographer from West Bengal, clicked this picture with no clue that it would make it to the winning list. Let's get into the story of this small town amateur photographer bubbling with energy and enthusiasm, whose hobby for photography is now filling her pockets too.
Photography - A Treat To Eyes and Heart:
Papiya Das hails from the small city of Nadia, Krishnanagar in West Bengal. She completed her Masters Degree in Chemistry and is currently working in the Indian Postal Department. Photography is her hobby and she loves to go out and click pictures that capture her interest quite often. During her leisure hours, she can be seen on the streets collecting smiles of the children, sweat of the hawkers, realities of everyday life that make interesting street stories of Kolkata. She loves to capture precious moments that are worth preserving.
From Mobile-Phone Photography To Wedding Photography:
In the year 2017, Papiya Das started clicking pictures initially using her mobile phone. She explored the world around her with just the lens of her phone camera. While she started off with capturing everything that she found appealing, she slowly found street and wedding photography interesting. When asked in an interview after her winning in WallMag contest about what made her choose street and wedding photography, she said that capturing the amazing range of love and emotions of people, and the zeal to preserve precious moments is what drove her towards such photography. "Whether they are your own, a friend's, or a client's, portraits are an amazing photographic subject. Being able to capture that is both a fantastic photographic challenge and a profound learning experience for me.", she explained. She also says that every person has a different perspective and sees things with a unique vision. She thus wants to show the world her perspective of looking at it through her pictures. "If you put 100 photographers in a room and you'll get 100 different photos. The way I see the world is always different than others, and it's a different perspective.", she adds. Births, weddings, initial steps of a baby - all these are the moments to be cherished forever. People want them to be documented as the mark of their family history too. She thus wants to capture all these big moments, especially the weddings, through her lens. "A lot of the big moments aren't times when you'd hire a professional photographer. So, being a professional wedding photographer, preserving the big moments is important to me.", she explains.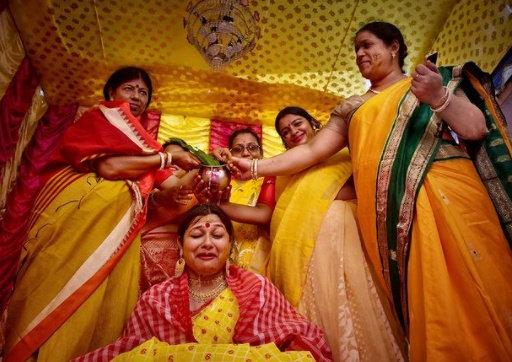 An Enthusiastic Wedding Photographer:
Papiya says that she loves to do wedding photography and says that it's an amalgamation of portraiture and event photography in a wide variety of settings and groups. She finds it exciting to capture the anxious people roaming around the venue, emotional moments during the"Vidayi", runs and jumps of innocent children, ladies who glitter in gold at the wedding venue, love of the newlyweds - all those that make a wedding complete. "Along with that, I also like street photography that allows me to capture street stories from a different angle and in a different mood.", says Papiya.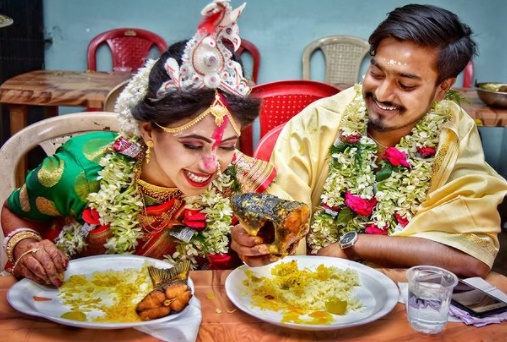 A Self-taught Artist:
Papiya's photography is all about capturing real colours. Be it the lined up diyas or the ferocious Mother Goddess, be it the bodybuilding men on the river banks or the blushing bride-to-be - all are captured so eloquently through her creative lens. But the point that's worth mentioning here is that Papiya has never taken any formal training in photography. She is a self-taught artist who has learnt and kept honing her skills with the feedback she received from people. "Thanks to the people who have been guiding me to grow", she said. She says that she believes in the consistency of work. "I take each image to bear sense and hit sensible viewers. A storytelling frame not just narrates the moment but also helps the photographer to narrate the feelings about the subject. Frames, composition, figures, and storytelling are some of the most important factors of street and wedding photography. Along with that knowing the importance of the subject, including powerful emotions and complementary colours, you can enjoy your photography.", She explains. When asked what she loves the most about photography, this amateur photographer says that the creative space photography offers her to enjoy is something she loves. "By being able to capture a special moment in time, I carry the memory of that event forward with me, allowing me to share it and remember it with those that were there.", she expresses with glee. The travelling she does in order to capture interesting scenes in other places that involve landscapes, wildlife, architecture, and people from other cultures is something that she admires the most about photography.
"Travel broadens the mind and exposes me to new concepts and ideas, and is an excellent learning opportunity, provides so much creativity.", she adds. Meeting new people and the chance to explore different perspectives is something that keeps her going every day when it comes to photography. "Being creative is something we don't tend to allow ourselves to do as adults. Photography is a very acceptable form of creativity that allows endless flexibility in how we adapt it to your style.", she says. This creative genius is inspired by eminent photographers such as Vineet Vohra, Navin Vatsa, Soumya Shankar Ghosal, Subrata Dey etc. "These people used to capture streets based on abstract and geometrical things making a magical combination between still & street life. Mainly I love the way how they intricate forms, structures, figures everywhere, be it on the street or the wall anywhere.", she explains. This artist says that she ensures self-satisfaction first because until she is satisfied with her own work, she cannot expect viewers to connect with it.
This award-winning photographer says that though winning awards doesn't measure your skill or doesn't decide your success, participating and winning the contests to some extent is important as it serves as a confidence booster especially to the budding artists.
Words Of Value:
To all those aspiring artists, photographers out there, here is what Papiya has to say for you, "Just keep clicking your frames from your angle and perspective, don't try to copy frames from other photographers, and keep participating in any photography contest. One day you will be the winner, as the proverb says – "Slow but steady wins the race".
Our team wishes this winner of the WallMag Diwali Photography Contest 2020 to win more awards and recognition in the days to come. May her photography reflect the lives of people as they are and may she get more years of opportunity to preserve people's amazing moments.

Follow Her Work