High time we started using eco-friendly sustainable Vegan leather products since we have a choice now.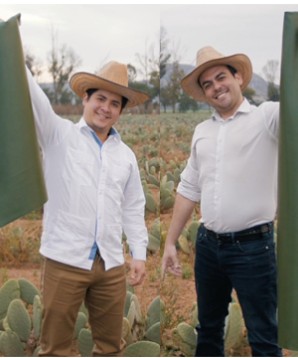 Who doesn't like leather shoes, bags, jackets, etc. Car interiors, in-home furniture sets - there's leather mania everywhere. However, how many of us think beyond the comfort and royalty that leather offers? How many of us know that leather which is majorly sourced from animals is harmful to the environment as well? Raising livestock to source leather generates huge amounts of emissions. According to reports, Livestock rearing accounts for 14.5 per cent of all greenhouse gas emissions. Also, tanners treat animal-based leather with 250 different substances that include formaldehyde, cyanide, arsenic, and chromium. These substances in turn enter the waterways polluting oceans and marine life rising the risk of disease for local communities. These serious environmental threats are making eco-enthusiasts look for greener alternatives. Plant-based leather is the solution they found. Plant-based leather is trending these days. Young innovators are turning pineapples, olives, coconuts to produce environmental friendly materials. When H&M unveiled a vegan jacket made from pineapple leather, or when the German footwear brand launched a line of leather shoes made of olive leaves, or be it the Kerala-based brand Malai created leather and accessories from coconuts, all these became an instant hit. It shows that plant-based products are also being welcomed by the public. On the same note, two Mexican entrepreneurs after noticing the adverse effects of animal-based leather manufacture and usage decided to develop plant-based leather. Their research stopped them with cactus as their source. Let's get into their story and know more about their venture.
The Greener Solution:
Adrian Lopez Velarde and Marte Cazarez, two entrepreneurs from Mexico were associated with the furniture, automotive and fashion industries. This association brought them closer to the serious environmental concerns that are connected with every stage of the industry. They thus wanted to find a solution in order to reduce the pollution, especially that caused due to the production and processing of much-used product in these industries - leather. They decided to develop a cruelty-free alternative to animal leather. After two years of extensive research and hard work, they discovered that leather can be developed out of cactus in the year 2019 and thus became the first to create leather out of it. They founded Desserto, a first-of-its-kind organic or vegan leather made of nopal or prickly-pear cactus.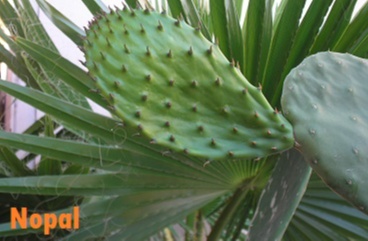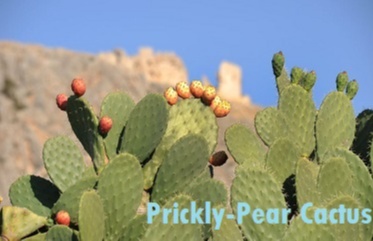 "The idea of using this raw material was conceived because this plant does not need any water to grow, and there is plenty of it throughout the Mexican Republic. Also, symbolically, it represents all of us Mexicans and everybody knows it.", López Velarde says.
Desserto - The One-of-a-kind:
Desserto is a highly sustainable vegan leather made of cactus. Cactus is prickly but not this leather. It comes with incredible softness and offers great performance when used in a wide range of applications. It also complies with the environmental standards providing the sustainable alternative to the animal-based leather. Not only that it's natural and cruelty-free, but this vegan leather can also be used in all industries like Fashion, Leather goods, Automobiles and Furniture, etc where conventional leather finds a place. This leather is also flexible, breathable and durable making it nothing less than synthetic or animal leather.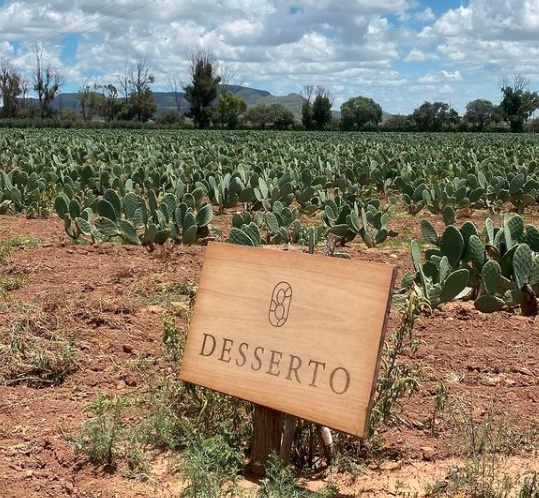 "After two years of research and development, we managed to produce a suitable material that complies with the features and technical/mechanical specifications required by those industries that use animal and synthetic leather," said Lopez. Cactus leather is also less water-intensive and is free from phthalates, toxic chemicals and PVC. It's sustainable with a lower carbon footprint as compared to traditional leather. Also, companies that opt for plant-based leather into their production could lower water consumption by 20 per cent. "Currently, the volume used by the fashion industry alone is huge, almost 79 billion cubic meters, which is enough to fill almost 32 million Olympic-size swimming pools," López Velarde says. This vegan leather is also partially biodegradable.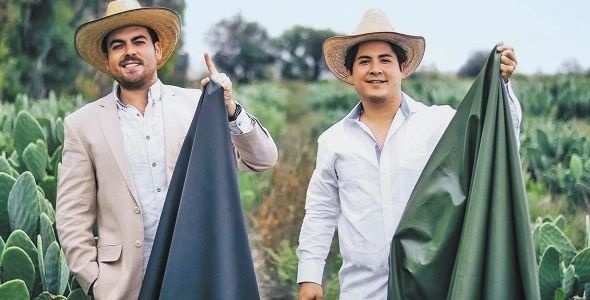 These Mexican entrepreneurs showcased their product at the International Leather Fair Lineappelle in Milan, Italy.
"The aim is to offer a cruelty-free, sustainable alternative, without any toxic chemicals, phthalates, and PVC. The result, Desserto, the Cactus Vegan-Leather, is partially biodegradable and has the technical specifications required by the fashion, leather goods, furniture and even automotive industries," they mention.
When the environment demands, solutions pop up. All we need to do is to listen to what nature is saying. When a call to reduce her pain is heard, alternatives are born to soothe her. When the environment is eased and nature is pampered, humankind survives longer.

Know More About Desserto

Follow Adrian Lopez Velarde and Marte Cazarez