Love my nickname Little Aryabhatta. The human calculator does Squares, Sqroots, Cubes, Croots up to 100 crores.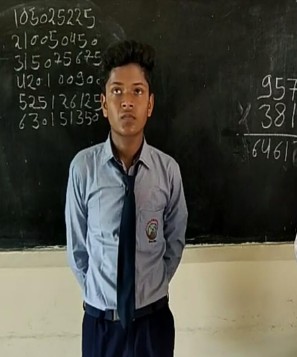 When parents question children about not performing well in academics, we often listen to them complaining about not having proper resources to study. They keep cribbing about not having a smartphone or a laptop or some material. Instead of realising that anything is possible if we have the zeal to accomplish something big, they keep pointing out to what they don't have. Parents, on the other hand, go beyond their limits, sweat day and night to give their children whatever they have asked for. The list keeps going as parents keep providing. But Chirag Rathi from Uttar Pradesh has a different story to tell.
A Genius From An Impoverished Background:
Chirag Rathi belongs to Tirpadi village in Saharanpur district of Uttar Pradesh. His father is a farmer and the family lives in a single room. Though it's hard for Narendra, Chirag's father to make the family's ends meet, he makes sure that his poor economic conditions do not effect the child's education. Chirag is currently studying in 11th standard in Jila Singh Public Inter College in the same village. Ever since he was in Class III, Chirag used to display exceptional abilities in academics, especially math. At a very young age, Chirag started to memorize multiplication tables. What children found difficult at least to memorize till 10, Chirag memorized mathematical tables till 100. As years went on, he grew up to advanced classes and eventually he memorized multiplication tables upto 100 crore.
The Talented Kid Of The Village:
Not only the multiplication tables, Chirag also began to make mathematical calculations faster than a calculator. This teenager developed the ability to add, subtract, and multiply numbers upto 20 crore. Chirag can calculate tables upto 40 Crore. Furthermore, he calculates squares and square roots, cubes and cube roots upto 100 crore. Just give him a number of your choice and he gives the square and root of it in seconds time. Any calculation that's given to him takes not even a few seconds to be answered. He is reminding of ace mathematicians with his excellent computational skills. He needs no pen and paper. All he uses is his mind. People call Chirag as the Little Aryabhatta of the village. Chirag also loves to watch and play cricket and his favourite cricketer is Mahindra Singh Dhoni.
No Training, No Coaches:
This wonder kid and genius mathematician who comes from a humble background never had proper resources to ease his educational journey. Being the son of a small farmer who struggles hard to bring food to his family, Chirag could never take any kind of special training or has attended any coaching to brush his skills. He hasn't even took part in International Olympiads given his financial constraints. The Principal and the school staff recognised the child's abilities and when the child was in fourth grade, he was promoted to higher classes. His number skills spread to nearby villages through word of mouth and the boy gained fame.
Recognition That Poured In:
Chirag has not participated in any of the international competitions, still, he came to be noticed by many. That's the power of knowledge. His amazing skills were recognised and honoured by the Deputy Chief Minister of the state Dinesh Sharma. In an event organised in Lucknow, Dinesh Sharma presented the child with a Tablet and some books. The Deputy Chief Minister also lauded Chirag's parents in the event. Chirag was also honoured with Byju's Young Genius Award and was featured in their show in which Soha Ali Khan was present.
The Down-to-earth Boy:
Chirag, who is studying in Class XI now says that he never thinks that he is ahead of his classmates. He expresses hope that he would take part in international competitions in the following years and make India proud one day. He wants to map his village on the world stage. This child prodigy aims to become an engineer and says that he would let no stone unturned in the process.
This Little Aryabhatta is loved by everyone in his village. Villagers show him as an example to the children and youngsters out there. The villagers also have high hopes on the boy that his story and the example he sets, would lead several others in the village come up with their respective talents.
Our team expresses hope that Chirag Rathi receives ample support from the authorities so that he can pursue his dream. When intellects like him are encouraged, others would get hope to hone their skills. Else, they would succumb to circumstances. May Chirag continue to set example to young talents out there.