Everyone is talking about Spirituality but see what this Indo-Canadian Author is offering.
"If you are a person who is interested in spirituality but still have some doubts you should give this book a read and believe me you will get enlightened. Talking about the title of the book it is appropriate and the author deserves an appreciation for designing such a vibrant and creative cover. The book is recommended to everyone"
"This book enhances your soul power, reduces hypertension and anxiety bring stability in life. Full of peace"
"I liked how the author has taken single topic and explained it thoroughly without side distraction. Overall good one. Quite informative read".
The above lines clearly display the love of readers for the book. Books on spirituality find it harder to make their way into the shelves of the present-day people. Not every one is inclined towards spirituality as it is taken amiss that 'Spirituality' is the word that bears connections with God and religion. But it is something deeper. Even the word 'AUM' has been being a victim to such misinterpretations over the years. That's where Manjula Banerjee, a researcher, an ace educator, a blogger and an author, steps in, to explain the true meaning and significance of the word AUM and its chanting through her book. Ever since its release, the book has been knocking the doors of book lovers and has been taking them into the world of spirituality connecting the dots of science behind it. Interestingly, unlike most of the non-fiction writers, Manjula takes up one concept and writes extensively about it detailing the same without branching off and without causing any boredom to the reader. The one who picks up her book thinks that he is going to know about what was there on the cover page but once he keeps flipping the pages, he dives deeper, sinks into the concept, gets drenched into its connotations and denotations and emerges out as a whole new person gleaming with refinement. That is her flair for writing.
An Avid Reader's Growing Up Years:
Born on 11th June 1986 to Mr. Tapan Mukherjee and Mrs. Mandira Mukherjee in Delhi, Manjula went to D.A.V Public School, Dayanand Vihar. She was interested in the biological sciences ever since childhood and her love to explore the most of the world through the lenses of science grew with her age. "I love biology the most "almost can't live without exploring biological world through different windows", she mentions. After finishing her B.Sc. in Biotechnology, she went on to obtain Master's degree in Biochemistry. As a child, Manjula was also inclined towards music and with the encouragement of her grandmother she learnt Indian Classical music from Gandharv Vidhyalaya. Talking about her childhood achievements, Manjula mentions with pride about the certificate she received from the former President Dr. Shankar Dayal Sharma for her participation in Scouts and Guides camp. Manjula mentions the role played by her father in quashing off her stage fear. Her all time passion stands to be pencil sketching and canvas painting – Multiskilled, isn't she? She was married to Mr. Saurajit Banerjee, Sr. Consultant at CGI, and currently lives in Calgary, Alberta. Manjula, who grew up in a family that's inclined towards spirituality, got the same from her husband too. "If you want to witness a miracle, do meditation", her husband would tell her. All these, laid impressions on Manjula's mind and whatever her pen inked, had reflections of the same.
The Rise of An Author:
Manjula says that her mission is to connect the broader populace to the latest discoveries and innovations. She also says that she is keen on looking at the world through different windows and wants to uncover her findings to the world. In short, "Shedding lights on reality" is her motto. Manjula was never interested in writing but as she started looking at the world at different angles, she started to pen the amazements of the living world, giving them a tinge of imaginative approach along with shedding light on various aspects of existence – this penning of observations eventually took the form of a book and made Manjula, an author who inks the actuality of the living world. She has published two books so far and both of them have received great acclaim from the readers. The first book, "Demystify Foggy Brain" explores various functions of the brain and its cognitive and non-cognitive abilities to deal with 'foggy' situations. Aiming at the otherwise ignored aspect of mental illnesses, this book is Manjula's attempt to provide top-notch remedies to get rid of foggy brain. Her latest book, "Discover AUM and Its Omnipotent Intentions" has become the readers' favourite connecting spirituality and science, throwing light on the benefits of chanting AUM on the mind and body. Rated 4.5 on Amazon, this book is currently trending in the book shelves of spiritual minds who don't want to miss out on reason.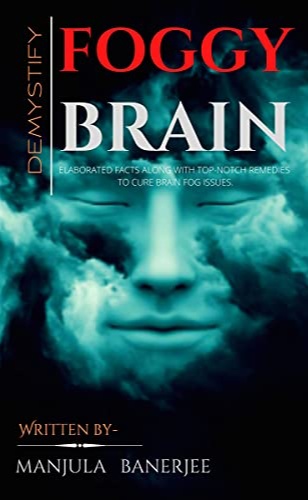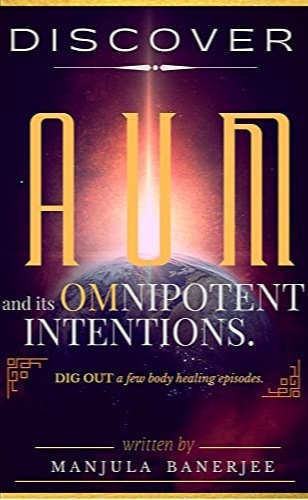 Grateful To All Those Who Stand By Her:
Talking about the driving forces behind her successful journey so far as a multifaceted personality, Manjula credits her parents for what all she is today. Thanking her father for making her stand tall, she says that her mother's role is immense - "I am incomplete without my mother's warmth and smile as a lady". She mentions that her husband is the greatest source of her inspiration. "His favourite line- ONLY YOU CAN DO IT. With his support today I achieved the author's journey". She says that her father-in-law Dr. P. Banerjee who himself is a Scientist and an ex-Director at NPL (National Physical Laboratory), inspires her all through. "I always find him sitting on his favourite chair reading and writing, and my proud mother-in-law Mrs Alpana Banerjee would say that she hasn't found that kind of zeal ever in her life. Since then, I began to realize the meaning of word 'ZEAL'", she said. Manjula thus drew inspiration to research and to write from her father-in-law and her mother-in-law played an equally important role in her rise as an author. "My biggest strength of happiness defines my son, Master Arit Banerjee whose smile never let my happiness to dim" – Manjula revealed the secret behind her being an accomplished author. Happiness is all that matters to increase the productivity of work and Arit is her happiness!!
Gratitude And Self-belief Is All We Need:
Manjula mentions that whatever she has learnt during the pandemic times has moulded her into a person and to what she is today. She further says, "The lessons I learned from growth and experience are generally applicable when you shed light on reality. In addition to trusting in others and in myself, I must also believe that each of us have a unique journey in life, that I am exactly where I am supposed to be, and that I have everything I need. The journey of mine has been filled with so many blessings and so much love, and even on the darkest of days, there is always light ahead." She is open about the hardships she faced that came in terms of criticism to her work. Well, she was however smart enough to handle them. Having known the true meaning of constructive criticism, she was brainy enough to ignore what destructs her. "Plan to act on constructive criticism and NEVER GIVE UP!", she advices. To the youngsters, Manjula calls them to slow down and enjoy the journey. "Don't rush to grow up. Always try to stay positive and open-minded to the views and opinions of others".
Talking about what she sees for the future, she says that her interest keeps flourishing in demonstrating her passion for curating the ecstasies of the living world by adding a bit of imagination and not drifting away from reality.
"My central goal is to discuss and explain various fantasies and realities of biodiversity on our blue planet", she says.
"Be the reason someone smiles today, so keep smiling", she concludes. We wish Manjula many more accomplishing years as an author, blogger and an educator, and may her works unveil before us, the real pictures of the living world. May she touch upon an array of aspects - untouched, undiscussed and unsaid, making way for her readers to reach the pinnacle of enlightenment.

CheckOut Her Book "Demystify Foggy Brain"

CheckOut Her Book "Discover AUM and Its Omnipotent Intentions"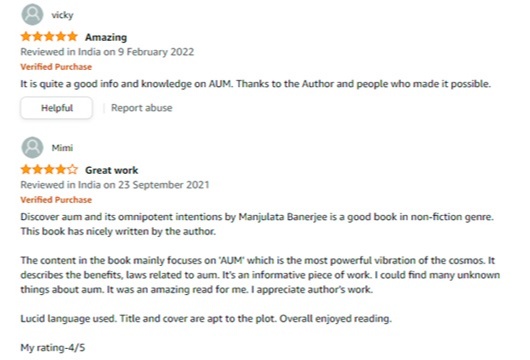 CheckOut More Customer Review Here