Sisters Saree revival biz is a huge success, in turn empowering artisans.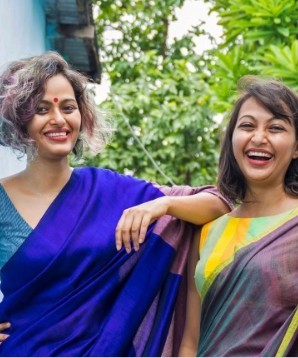 How many of you have enjoyed the softness and warmth of granny's sari? The feel it provides is the ultimate one - irreplaceable. Sarees are love. They are an emotion to many and so the same to Sujata and Tanya. While they played hide and seek in the garden during their childhood days, the touch of their grandmother's soft sarees is fresh to life in their minds. Their love for sarees grew with their age and threads in the fabric became their best friends. Let's get into the story of sisters who fell in love with fabrics and made it, their way of living.
Finding Their True Calling:
Sujata graduated from IIFT, Delhi and her inclination towards the stories and lives of traditional weavers and their amazing skills made her sensitive towards their livelihood problems. She learnt about their lack of work and minimal wages when she decided to uplift their lives in the best possible way she could. Her passion and belief in the weavers and the immense desire to make a difference in their lives drove her to take the biggest call in her career choice. On the other hand, her sibling Taniya, an IIM Lucknow graduate, worked with the IBM and Tata group for almost three years. She is a painter and loves photography too. Finding her corporate job to have failed to satisfy her creative hunger, with a zeal to start something on her own, she started pondering over numerous ideas looking for something she could "own" to satiate her calling.
The Brain And Heart Came Together:
The sisters, who shared common interest in sarees and draping them, came together realising their common love. They did photoshoots together but instead of getting offers or requests for shoots, they were constantly asked details about what they were wearing. "I had designed a few clothes and had posted them, but instead of getting requests for shoot we were asked about the products," Taniya told in an interview. Thus, whenever the sisters posted their pictures, due to the queries they received regarding the products, they realised that their potential lies in products itself. "We had designed a few clothes and had posted them, but instead of getting requests for shoot we were asked about the products," Sujata says. Thus, they plunged into designing the products and that's where it all started. Love for thread and its incredible inclusion in our daily lives is what brought Sujata and Taniya together with their founding of "SUTA" in 2016. The name "Suta" is an amazing combination of their names Su-Sujata and Ta-Taniya.
"We were elated with the fairy-tale like coincidence of the syllables in our names. It felt it was meant to be," they told to a release. What started in their childhood when they made bags out of handkerchief became their passion, love, and livelihood for the rest of their lives. When they realised that this passion did not die even after toiling years in the corporate world, SUTA was born. Suta is a fresh design house that creates a range of products blending ancient tradition and the contemporary. Their clothing products are designed giving detailed attention to the details, designs, material, comfort, elegance, and grace. Suta which means thread, reminds it's customers of the ancient craft traditions of India. All that you will find at Suta is the simple, minimalistic, nostalgic, and humble designs that keeps one comfortable, simultaneously adding the grace. To add such designs to the fabric material and to go ahead with the weaving, Taniya started hunting for the right fabric and skilled weavers. For this, she travelled extensively to various places like the remote villages of Madhya Pradesh, Meghalaya, the home of Banarasi sarees - Varanasi; Maniabandha in Odisha, the district of Kutch in Gujarat; and West Bengal; where they currently have their two offices - in Shantipur, in Nadia district, and Dhaniakhali etc. She hired skillful artisans from different corners of the country and the journey of providing sustainable clothing thus started. ''The idea isn't about working with a single weaver or a couple of weavers but adopting the entire family of weaver and empowering them. Thereby, making our own family bigger, one weaver at a time'', says Sujata Biswas.
Thus, Suta gets artisans from across the country who create raw and uninhibited designs using their ancestral weaving processes on to a single platform. Sita's products represent the passion of every thread lover.
"We salute their craftsmanship and are thankful to them for keeping this art alive. We aspire to keep the undying spirit of artistry alive. Suta celebrates raw threads, traditional boldness, and uninterrupted simplicity!", tell the sisters with joy. Through Suta, they are also empowering the talented and deserving artisans.
Humble Beginnings And A Rising Graph:
Suta started working initially with just one weaver called Gopida and his daughter-in-law. Gopida used to give them one saree every 3-4 days while his daughter-in-law made pom-poms for them. They started small and took steps towards reaching where they are today steadily. Initially, the sisters took care of everything by themselves to cut down on expenses. They did everything right from sweeping their office, to packing and shipping the products. They also took trains instead of cabs for their vendor meets. One year after Suta was born, in 2017, the sisters faced something unexpected. Their shall at an exhibition called The Lil Flea was caught in fire when Sujata was 5-months pregnant. She recalls, "Holding the sarees that were either sullied with mud or fire. It felt like holding your wounded child in your arms". It was during that time that the sisters stood firm, took each other's support along with the support of their family, continued to work by believing in their talent and mettle, thus helped Suta stand back on her feet. "Our first collection was the Made-in-Heaven Mul sarees", the sisters recollect. Today, Suta has a team of 20 in Mumbai and works with around 50 weavers around the country. Its handloom sarees come in varieties of jamdani weave, malmal, malkesh, banarasi, and fully handwoven ones. They are shipped across the country as well as to international markets. Sujata and Taniya together worked to build a microeconomy in the villages of Shantipur and Dhaniakhali. "The weavers feel very proud of what they do and now that they have a stable income they are considering bringing their next generation into the same business instead of losing their ancestral craft.", the sisters tell with pride and joy. "We make sarees that anyone can drape, from a three-year-old to a 100-year-old. It's fuss-free," they say adding, "It reeks of innocence yet looks the sexiest.", say the creative duo. "We are at a revenue of 5.5 crore this year, MoM growth is around 10 percent," they reveal. Taniya tells a release, "Suta, for us, isn't just work. It's a part of our life. It's mingled with our personal lives completely."
Plans for the future:
The sisters who complement each other's skill sets, share the same vision - to double the top line in the years to come. May Suta develop in leaps and bounds empowering numerous artisans out there who have lost hope in the revival of their art.

CheckOut SUTA Collections

Like and Subscribe SUTA Channel For More Videos