Mumbai teen wishes to dedicate his life for the service of Indian Classical Music. Here is the story.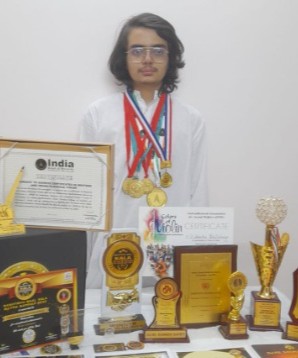 On 17th October 2022, the Times of India wrote an article titled "Mumbai Teen wins big at International Music Competition" about a boy in his early teens. I saw the picture of the boy in the article and felt nostalgic.
"I have seen him somewhere".
After brainstorming for quite some time, I recollected spotting him in the Flipkart commercial a few years ago. I searched for him on Google and was bowled over by his immense talent. He is way more than what a child of his age can be. Mumbai's Siddhartha Bhattacharya has a lot to tell you today, not with his words but with his actions. Hold on to remain jaw-dropped at his commendable journey as a violinist, flautist, a brainiac and above all, as an obedient disciple and a gifted son.
Born and Raised to Strum:
Born on 1st February 2006 in Vadodara to Amal Bhattacharya, a consultant at an IT company and a freelance writer and Kuntal, a certified yoga trainer, wellness consultant and the chairperson of Indradhanush Foundation, an NGO, Siddhartha is a passionate Indian classical musician. Ever since childhood, he has been a packet of surprise to his parents for his quickness of mind and cognizance. After noticing their child's energy and enthusiasm, Kuntal and Amal felt the need to channelize his energy in the right direction. Thus, when he was 5 years old, they enrolled him in activities like drawing, music, football, swimming etc. Siddhartha would enjoy doing all the activities but was specially inclined towards music. Noticing his interests, his parents took him to Guru Pandit Milind Raikar ji, a renowned Violinist. Ever since then, the boy has been receiving intensive training on violin in Hindustani Classical Music. Parallelly, Siddhartha was also sent to learn Hindustani classical music on Bansuri (Indian flute) from another guru.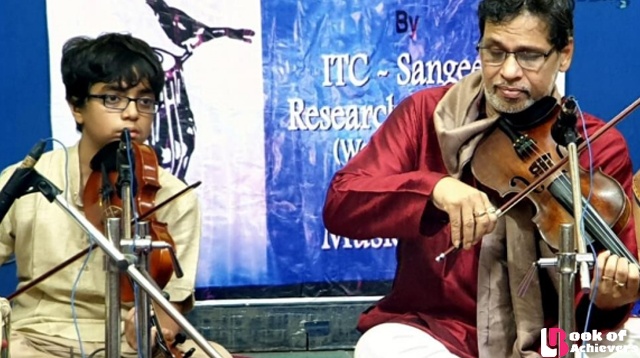 From Dawn to Dusk, Through Bushlands and Meads:
Unlike other children who would juggle between academics and activities only to laze about at the close of the day, Siddhartha dedicates almost 5-6 hours to practice. He would wake up with sunrise and resort to practicing music before school. After school, he would finish off homework, and go to his gurus and practice till late nights. Weekends and holidays are meant not for movies or outings, but for practice. His parents never forced him for good grades in academics. However, the discipline and maneuver he developed while specializing in performing arts, reflected in his academics too making him an outstanding student.
Creating the Centre of Excellence Around Him:
More than 10,000+ hours of rigorous practice in both Hindustani and Western Classical music with more than 6500+ hours of practice sessions with Gurus - this alone shows how dedicated the boy is. And what did he master? The boy plays various genres like Hindustani Classical including Bada Khayal, Chota Khayal, Dhrupad, Dhammar, Jhod/Jhala, along with Ghazal, Bhajans, Dhun, Kirtans, Bollywood film songs, new age music etc. He received training in Bansuri (Indian flute). Not just the violin and flute, Siddhartha has sound knowledge of electronic keyboard, Tabla, Tanpura etc. In 2013, he gave his first performance in front of more than 1500+ audience. He was just seven years old then. There was no looking back ever since with more than 200+ performances both online and on-stage. By 2018-19, he began accompanying his guru Pt. Milind Raikar ji on-stage to various monumental events like 'GuruVandana' and 'Swar-Pravah' - just a couple of many such historic concerts.
In 2019, he cleared the Grade 7- Level 3 certification in western classical music in Violin in the exams conducted by Trinity College of London at the age of 14 years. He also cleared 'Madhyama Poorna' exam in Hindustani Classical – Violin Instrument, conducted by Akhil Bhartiya Gandharva Mahavidyalaya Mandal, with a first class in 2021 which is equivalent to 'Diploma in Music' at the age of 15 years. Siddhartha also gives pleasure to the elderly by performing at the old-age homes. Siddhartha can also be seen as a child artist in the commercials of leading brands like Flipkart, Nestle, Goodnight, Maruti Cars, Paper Boat etc.
Is Siddhartha just a person of art? No. His brilliance is seen in mainstream disciplines as well. He was among the Top 30 in the world-wide talent search exam in Mathematics -ISI Limit conducted by Indian Statistical Institute. He was also selected for the Indian National Mathematics Olympiad Training Camp conducted by Homi Bhabha Science Center, Tata Institute of Fundamental Research (TIFR), Mumbai. Again, these are just a couple of his extensive list of attainments.
Accomplishments of the Young Lad:
When I say that this 16 year-old boy has so many achievements, the list of which goes to three long pages, I'm not exaggerating it. Siddhartha bagged several national and international awards in various events at different occasions. He performed in various online competitions organized by leading organizations in countries like the USA, the UK, Germany, Canada, Bulgaria, Bosnia etc. and left his signature wherever he went. His living room glows with the golds and silvers he got home with his exceptional renditions on violin and flute. He was honoured with titles like "The Extraordinary Child Violinist", "Youngest Versatile Child", "Rising Star" etc. for his artistic brilliance. He was also named in the India Book of Records as the "Youngest Violinist to achieve maximum qualification in the field of Hindustani and Western Classical" in 2021. The Center for Cultural Resources and Training, Government of India has recognized and encouraged him with a scholarship for Hindustani Classical Violin. He was also bestowed with the "India Star Icon Kids Achiever Award 2021" by the National Academy for Arts Education, Pune.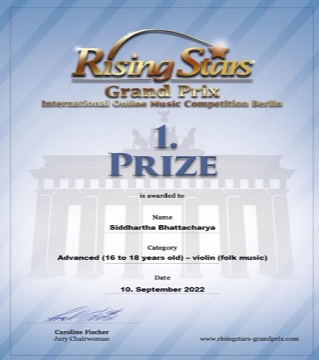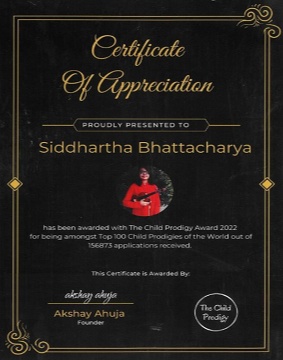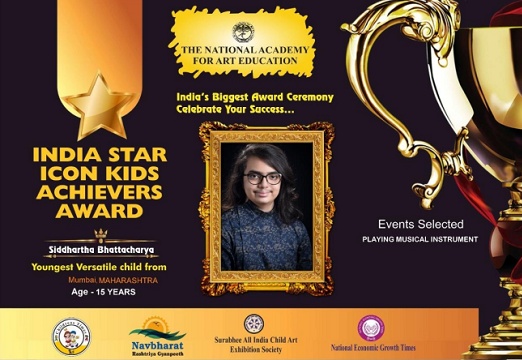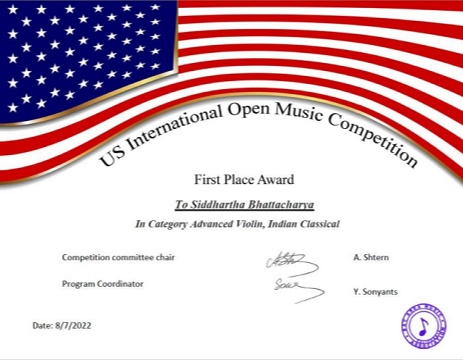 He bagged first prize at the US Open International Music Competition, California (USA) for his exceptional performance in the advanced level Indian classical music in 2022. He brought home first prize yet again from the International Youth Music Competitions- Atlanta USA in the World Music category. He received the "Rashtriya Baal Kala Ratna Samman 2022" by Kalakriti School of Arts - the highest award for outstanding achievements in the field of Hindustani Classical Music. His work and talent were featured by leading newspapers like 'Sandesh', 'Gujarat Samachar', 'The Afternoon'. Siddhartha was interviewed by the leading television channel, BRG News in their prestigious 'Talk show' in 2021. Siddhartha was honoured as a 'Diploma Laureate' for his unprecedented performance at 2nd Golden Strings, an International Instrumental music competition held by the European Association of Folklore Festivals (a partner of UNESCO) and was also invited to take part in the 'World Folk Competition'. In Jan 2023, Siddhartha bagged 1st prize at a national level competition organized by Auro university. In April 2023, he won 1st prize at Zonal level west, the interschool music competition held by prestigious NGO Routes2roots. Well, as mentioned, the list of his achievements keeps flowing like a perennial river and the ones listed here are some of its brooks.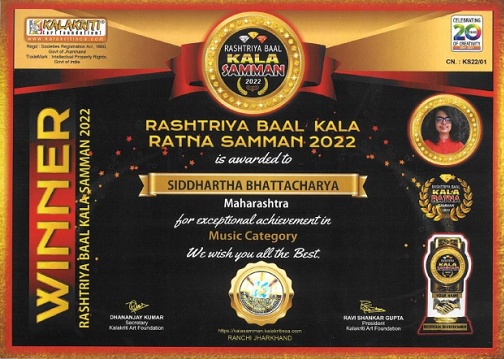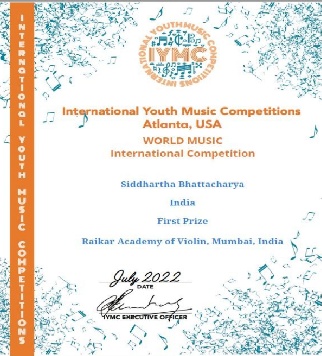 Nothing Has Ever Been an Issue, With Parents and Gurus by His Side:
When asked how Siddhartha has been managing to follow hectic schedules over the years, he said, "Self-determination, push from parents and Gurus are the major factors which kept me going day after day in music". He mentioned that music became a part of his everyday activity. "I started appreciating music more and more while studies were on" he told the BOA.
Music Helps Promote Love and Peace:
We asked Siddhartha if he likes anything else besides music. He said he loves to travel and explore places. This little musician is also a bookhound and loves to make friends. Still and all, music is what floats his boat. He says that classical music has the power to rejoice and rejuvenate. "Classical music essentially propagates peace and harmony for the very reason that its effect on humanity on a large scale will be on a positive side" he reckons. "On the other hand", he says, "Instrumental music has a special place, as the expression is direct without use of any words and in able hands it's magical at times".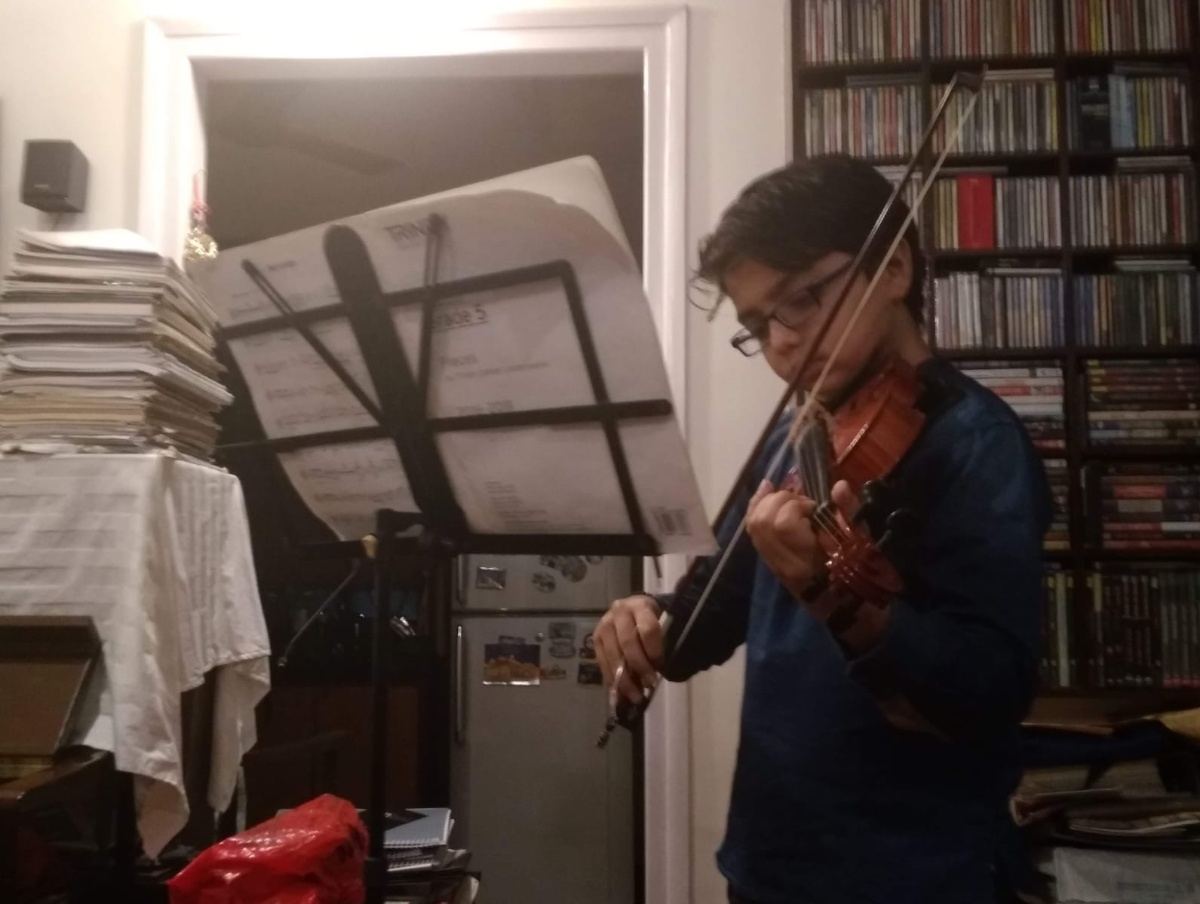 The 4Ds of Success:
Siddhartha swings between multiple tasks in a day and this has been continuing for years now. The boy was never tired or distressed. When asked for the secret, he shares with everyone the mantra of four Ds suggested to him by his guru - Discipline, Determination, Dedication and Devotion. "I believe that if one is disciplined and determined to do multiple things, they can do it easily. The journey is not easy but if one remains dedicated and devoted throughout, one can do it" he explains.
Siddhartha, who wishes to work selflessly and devote himself to greater purposes in life, says that he would like to contribute as much as he can, to the service of Indian Classical music. Kudos to the boy for emerging as an epitome of hard work and dedication. The Book of Achievers wishes him success in all his future endeavors. May he continue to inspire, enlighten and empower.