A compassionate couple from Pune went on a mission to provide Oxygen to the Siachen soldiers.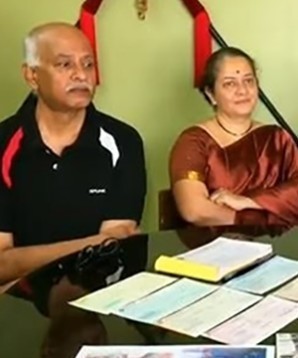 'This is packaged juice' says one. 'Guava flavour', says another playfully. They use a knife and slice through the packet to reveal what seems like a box of coloured ice. 'We have to heat it in a Pathila to be able to drink it' say soldiers based in Siachen in a viral Twitter video, as they laughingly attempt to hammer the block of juice that doesn't yield to any amount of force.
While one applauds their good spiritedness, it doesn't take long to look beyond the video and wonder about the life they lead at what is known to be the deadliest battleground in the world. The Siachen glacier, also the highest battlefield in the world at 22,000 feet, has seen the loss of nearly 869 soldiers between 1984 and 2015 (Indiaspend, 2016). While some have fallen to enemy bullets, most of these brave ones were instead claimed by avalanches, extreme weather and high-speed winds and even the treacherous fissures in the ice. However, the greatest dangers lie in the altitude-induced ailments that plague these soldiers for months on end. The extremely low oxygen levels and harsh weather have led to conditions like oedemas, hypoxia, strokes, thrombosis, memory loss, slurred speech and even depression. Even their own sweat poses as a threat, as it converts to ice inside their boots and gloves, leading to frostbite.
Transporting basic supplies, including the much-need oxygen cylinders is a challenging task in Siachen, requiring helicopters for more inaccessible points. Oxygen cylinders from Chandigarh are transported to the Siachen base camp and then to the higher altitudinal points. Through this long arduous route, the cylinders often take a great deal of time to reach soldiers, who literally left holding on with bated breath.
Life of Indian soldiers at the Siachen Glacier where the temperature ranges from -40 to -70 degrees normally. Not just the juice tetra-packs but even eggs and potatoes are completely frozen here. That is why it's important to support the Indian Army Jawans. Share if you care. pic.twitter.com/HxASJmSBRm

— Aditya Raj Kaul (@AdityaRajKaul) June 8, 2019
A Raksha-Bandhan for Siachen
In 2015, on Raksha Bandhan, the Honorary Captain Bana Singh, Param Vir Chakra awardee, one of the three soldiers responsible for India's victory in the Siachen Standoff of 1987 visited the home of his friend Yogesh Chithade, a former Air Force Official and his wife. A casual conversation on this occasion in the Chithade home in Pune soon became the biggest boon for Siachen's bravest. As Captain Singh described the weather conditions and lack of oxygen at Siachen, this Puneri couple who had since long been fueled by a love for the armed forces knew they had to do something.
No ordinary duo, Yogesh and his wife Sumedha Chithade, a teacher by profession, have been working towards the welfare of soldiers and their families, since 1999. Within a few months of hearing Captain Singh's tale, this passionate couple began the task of raising funds to establish an oxygen plant at Siachen. Why not just aid the supplies of cylinders instead of a plant? The transport of the cylinders from Siachen's base camp to the main camp at 22,000 feet above sea-level requires men to physically carry the cylinders on their backs over rough terrain. Not only would the plant cut back on the cost, time and danger of carrying the cylinders but would also serve as a crucial tool for treatment for the many altitude-related illnesses that require the administration of supplemental oxygen, both for soldiers and local inhabitants.
With no technical knowledge of the field, Yogesh took it upon himself to do the research on the best plant for Siachen. After much study, the couple knew they had to source a specialized plant from Germany (costing 2.5 crores) that was made by a single manufacturer. Yogesh mentions that since other designs included parts from multiple manufacturers and maintenance of the plant would require consultants from all over the country. 'At such a remote location, our soldiers cannot afford to wait for technicians from all over, in the case of a malfunction; we require a plant that a single entity could maintain.'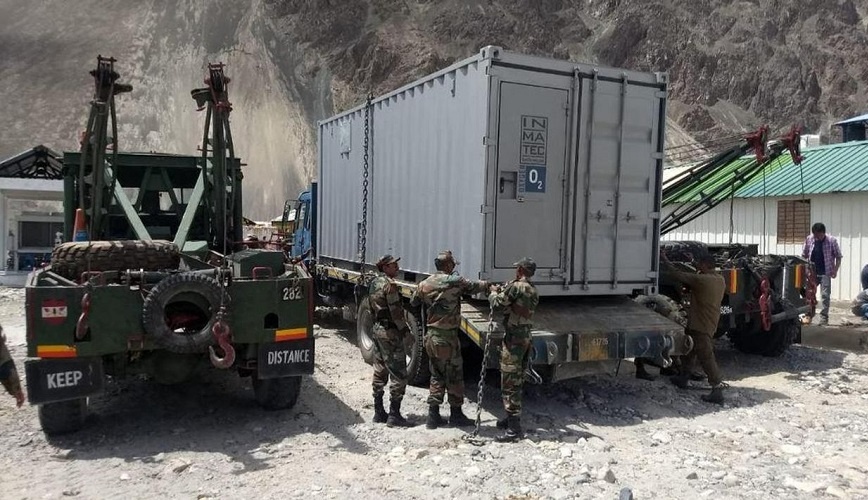 Collecting Breaths
Sumedha first looked within her own home, to help the soldiers whom she considers family. With no hesitation, the couple first raised a sum of 1.5 lacs by selling their ancestral gold bangles and other jewellery. Setting a timeline for their venture, it was decided that the plant must be established by October 15, 2019. Determined to meet this deadline, the Chithades were willing to sell more of their valuables and even their home, if funds fell short, a testament to their dedication to the project.
Sourcing 2.5 crores was no easy task and the couple travelled to every corner and cranny of Maharashtra, hosting nearly 140 programs at multiple organizations, emphasizing the great service of the army men of the country. As he recalls those days Yogesh Chithade at the very onset of our conversation insists that the project was a public-led one, not one by him and his wife. 'Every single rupee contributed with blessings for our soldiers, is what made this possible'.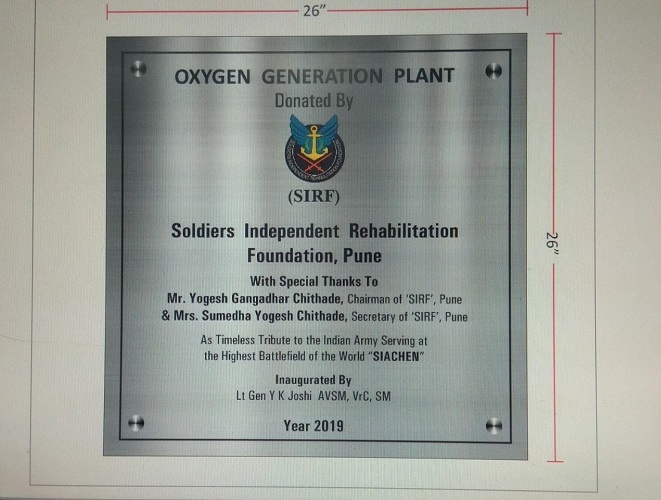 He recounts with great emotion a particular visit to an old-age home in Pune wherein an elderly woman asked him what the minimum she could contribute to the cause was. After hearing that a single rupee was enough, the woman handed over 20 rupees, all of her savings from her time at the old-age home. 'That 20 rupees' says Yogesh 'collected with such hardship and given with such love was worth more than 200 crores for our soldiers'
In the course of their work for the oxygen plant, the couple also officially founded an organization named 'Soldiers Independent Rehabilitation Foundation' (SIRF) in 2017. SIRF continues to focus on building a greater appreciation for the members of the armed forces as well as aiding serving and martyred soldiers and their families.
Planting Life
On October 4, 2019, four years since the project had commenced, the oxygen plant was officially inaugurated at Siachen by Lt Gen Y Joshi GOC, Fire and Fury Corps along with the dynamic duo that had completed the mission so dear to their hearts.
When asked about the response of soldiers stationed at Siachen at the time, Yogesh tells us how many came up to him with tears in their eyes repeating over and over - 'Aapne Bhagwan ka kaam kiya hain'. The plant contributes oxygen to nearly 40,000 people including soldiers, locals and visiting tourists. When the corona virus struck, the oxygen plant came through as a boon for medical centres in the remote areas where Siachen is located.
But their mission hasn't stopped here. After inquiring about their next big project, Yogesh mentions that the plant in addition to regular maintenance is also in need of a Comprehensive Maintenance Contract (CMC) requiring a sum of 40 lacs annually. SIRF is currently working to generate funds towards this project in addition to their other work. Yogesh appeals to anyone who can donate a single penny to aid their cause.
The Chithades along with the entire team at SIRF continue to work tirelessly to support our soldiers and their families. With a son who is a Major in the Indian Army, they never fail to repeat how much a family they consider the soldiers at the borders, whom they send Diwali sweets or in Marathi as we call it 'faral' to the borders each year. This year too, the sweets have been dispatched to the frontiers, in the hope that they bring a little bit of home and hope to soldiers serving in the bleakest terrains. With Siachen's new breath of life, however, this couple has already illuminated several Diwalis for soldiers in the decades to come.
Readers wishing to donate to SIRF's mission can visit: https://sirf.org.in/donate-us/

Know More About SIRF