She is a super cop, ferocious a biker, single mom, promotes Tourism through her rides. BOLD describes best.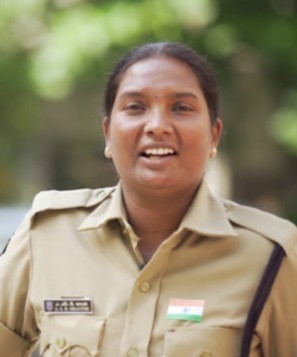 A police officer, a biker, a single mother, a philanthropist, a trainer - Hyderabadi cop Shanti Susan is on her way to set her signature on the highway of life crossing all milestones that stand in her way. She looks ferocious while riding on her Royal Enfield Classic and is no less on the lines of duty too. Let's know more about this lady of strength and I'm sure this is going to be another page of inspiration that can mould your life's book for good.
Thanks To The Brother:
Shanti Susan hails from Hyderabad and went to Railway Girls School, Lalaguda. Her father was an RPG officer. When she was in Class IX, her elder brother who noticed her interest and flair for driving, taught her to ride. The journey of this biker started ever since then. She rode Hero Puch and when she came to Class X, she learnt to ride Bajaj Boxer. She now rides a Royal Enfield Classic 350. She went on to become a constable with Hyderabad City Police and belongs to 2005 batch. Her first posting was in Begumpet and she worked with the SHE teams for four years. While she was in her initial days on duty, she used to commute on her Royal Enfield Classic 350 and was applauded by the traffic police along with the onlookers for being a woman rider. "I began riding on Hero Puch, Bajaj Boxer, Pulsar, and then Bullet", Shanti shares. However, things weren't the same after she got married. Her husband restricted her from riding. So, she shifted to a gearless bike for quite a few years. Additionally, Shanti was also subjected to harassment on various fronts by her husband. "My husband taunted me when I gave birth to my elder daughter. The situation worsened after the second baby girl was born. I decided to divorce him and be a single mother." She thus divorced him and has been raising her daughters herself. She taught bike riding to her elder daughter too. "My parents and my brother have always supported me. Now, even my daughters are my pillars of strength," says Shanti.
Encounter With The Biker's Group:
In 2015, Shanti was introduced to The Bikerni, an association of women bikers. She met a woman group with whom she has done a lot of breakfast rides. She later informed about this all-women biking group and their activities to Swati Lakra, Additional DGP (Women Safety and SHE Teams). Very soon, with her encouragement, they started doing awareness rides on women's safety. Over a period of time, the Telangana government has given them an opportunity to promote tourism in the state and country. Alongside, they were also asked to spread a note that riding is not just a man's thing. To take these two points to every corner of the nation, four of the women in the team including Shanti Susan traveled 17,000 kilometers covering 11 Indian states and five countries including Myanmar, Cambodia, and Vietnam in 2018. Before the pandemic hit, every Saturday, the group used to teach bike riding to 250 women. After the pandemic gets soothed, the activities shall resume. Shanti, who was one of the team members of the Road to Mekong expedition played a prominent role in promoting cross-cultural diversity and Indian tourism.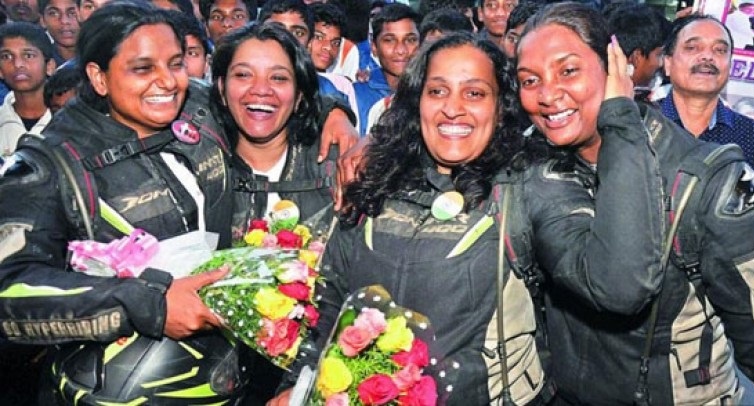 Recognition To The Boldness:
Shanti was honored with the Dr. APJ Abdul Kalam Excellence Award in the year 2019. She was also honored with the Trishakti Award along with many honors and awards.
The Philanthropist's Future Endeavours:
Shanti Susan, who lives with her mother, says that without her family's encouragement, she wouldn't have been what she is today. Her mother supports Shanti in raising her children. During the lockdown period, Shanti helped people by providing food to almost 50 families every day using money from her salary and her mother's pension. She also teaches bike riding either for free or for a very less fee to the young girls in the city. In the days to come, she wants to open a training school for ladies in memory of her late sister. To all those women out there, Shanti has something to say, "Women can learn at any age and they need to know this. Young women should face their fears and not allow society to tell them what to do. Even if 99 people say negative things about you, the 100th person will give you a thumbs up and there will be tremendous satisfaction in it. Also, do not start driving fast as soon as you learn to drive. Drive slowly and enjoy the picturesque places around you. " Shanti shows that being BOLD IS BEAUTIFUL.