Why did this specially-abled man start schools with emphasis on yoga, plastic-free, farming, money issues...?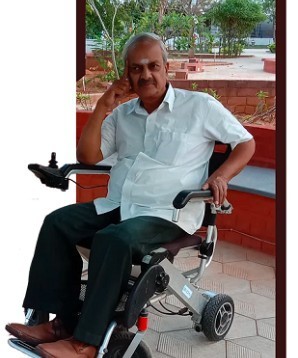 Disability doesn't stop great minds from achieving. People with disabilities are the ones with great Self-confidence and break the stereotypes.
One such Great Personality is Sanath Kumar C.D. He is an exceptionally talented and a kind human being, who is never let his disabilities stop his achievements and service to his community.
About the Great man Sanath Kumar...
Sanath Kumar's Virtue is he believed in "Vasudhaiva Kutumbakam" - the entire world is one big family. We constantly endeavour to contribute to the world everything it needs to prosper, flourish, and rejuvenate.
Sanath Kumar was raised in Krishnagiri, India. He was not like others he had a disability which resulted in him not able to receive an education like other children. He couldn't experience the joy of childhood which was perceived by other children. But that didn't stop him from learning various exceptional skills. He was home-schooled for some time and later he self-taught himself skills like typewriting, playing the guitar, sketching. Mr Sanath Kumar has been a freestyle artist from a very young age. His expertise ranges from Impressionism to Abstract art. Not just bound to paintings, he also does sketches and illustrations. His art has been displayed in Galleries in Krishnagiri. The paintings are sold and the earnings are donated to charity. He grew up to be an Indian educationist, author, and philosopher.
The Novel Line of Schools Founded by Mr Sanath Kumar...
Cambridge School was founded in the year 1989 in Krishnagiri. The school was started in a rented house with only 46 students and 2 teachers with great hopes. Sanath Kumar introduced educational models like plastic-free lifestyle, yoga, and meditation. Not only that, but he also got the consumption of compulsory fresh fruits and vegetables by all students between frequent intervals of school.
He taught his students the importance of Agriculture. He trained them to grow their own crops and vegetables and included it as a curriculum in school. The importance and nuances of politics, governance, and money management were meticulously designed and practised by him in his schools before it gained recognition and was adopted across a lot of schools in India. His school alumni are shining bright examples across the world in various fields as a testimony to the success of his institution.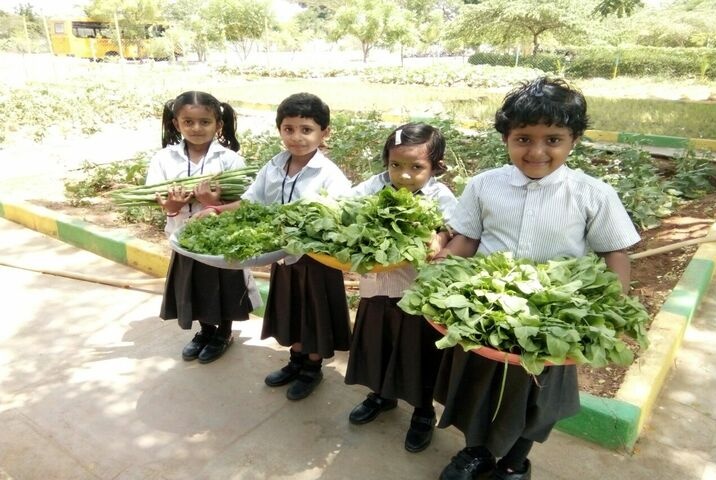 ​Not having any formal education empowered him to design his own novel education system, which is now popularly followed across the length and breadth of India. Visual Education replaced conventional teaching in his school starting from 2005 when a Theater was built and was inaugurated by Dada Saheb Phalke awardee K. Balachander.
His wish to take care of Senior Citizens Finally came true in 2018...
Mr Sanath Kumar also founded Anandamayee Senior Gated Community. It was his dream to help the seniors of the community. And finally, in the year 2018, it came true. He started Anandamayee in Kundarapalli near Krishnagiri.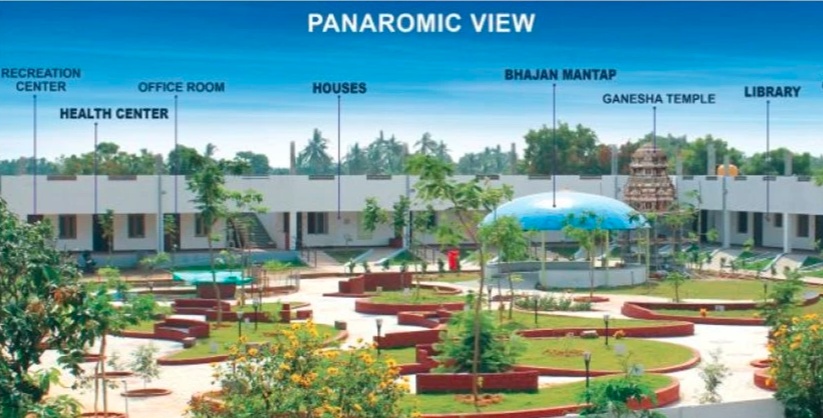 He included various interesting activities to keep the seniors engaged and healthy. They were living amidst the nature with an active lifestyle like schooling the nearby underprivileged children, coaching them for exams, while facilitating free medical facilities in their campus for people from the surrounding villages, growing and selling organic vegetables.
Apart from their continued and strong contribution to society, their physical and mental health is strengthened by regular guided yoga, meditation, pranayama, and other spiritual practices.
The importance of Agriculture being embedded in the children of his school...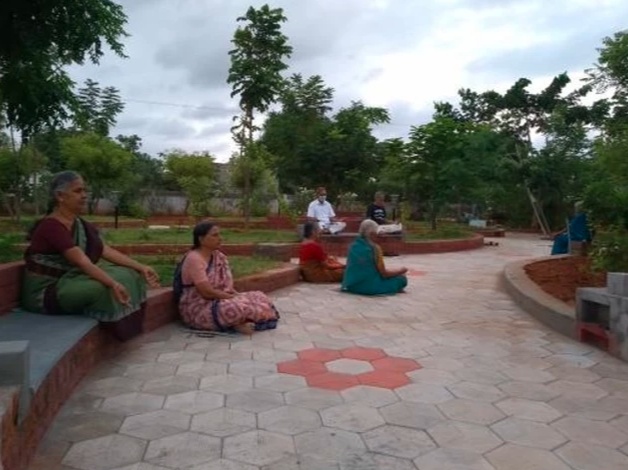 Mr Sanath Kumar has a strong belief that Agriculture is our Country's backbone. So he instilled Organic Farming into the children of the school. So that they also understand the importance of it and take it up as a passion in the future and celebrate it.
He started Organic Farming in Kaveripattinam. A part of Mr Sanath Kumar's school is dedicated to organic farming in neat & organized blocks, where students from the age of 10-18 learn to sow, care and harvest in their slotted hours. They grow vegetables, herbs, and certain other local crops, depending on seasons and soil fertility. The harvest is sold in the school and the sale and the income is managed by students, where they learn to invest the money in seeds, or equipment. On the whole, the students are learning the lesson for their lives which they will definitely implement into their daily lives.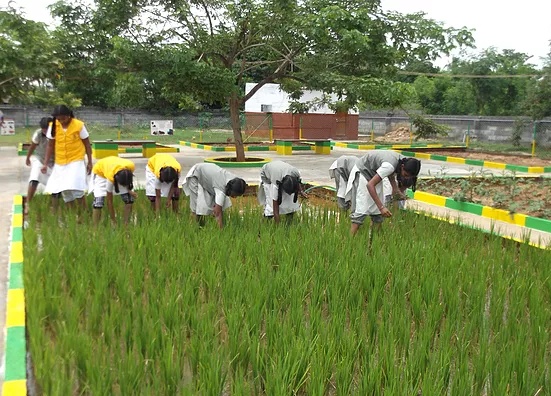 He adopted villages to improve their quality of living...
He adopted the villages Vattugmpatti and Thalavapalli which is situated in and around Krishnagiri District. These villages do not have access to any basic facilities like roads or any kind of financial support.
In Vattugampatti agriculture is the main source of income for the villagers. Almost 80% of the villagers are really poor and are unable to access even basic education. They are unaware of the value and importance of education. This is the main reason that Mr Sanath Kumar adopted this village. To provide all the basic requirements to the villagers. This village is 7 km away from his School and that's a plus, they are able to provide good education and lifestyle to them.
Periodic surveys are conducted regularly, and the results show how healthy and energetic the villagers are while lacking exposure to the contemporary lifestyle.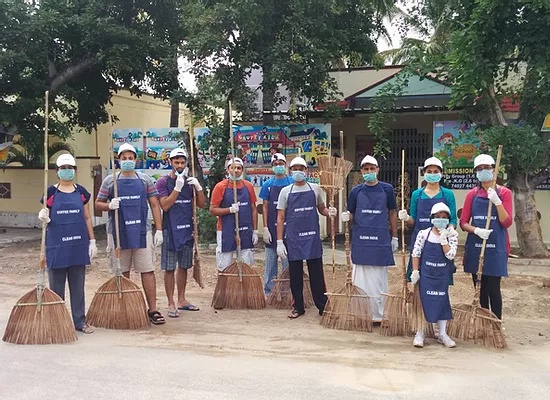 Students and teachers voluntarily participate in various activities leading to the development of the village. Short dramas and musicals are enacted by students in the local language (Tamil), expressing the ill-effects of female infanticide, the importance of education especially for girls, etc. Their grievances like not having proper roads, regular buses, proper electricity and other problems are submitted to the Collector's office as a petition from students.
On the other hand, while helping the village people there is a lot to learn from their lives, mainly agriculture. We keep taking lessons from them about organic farming.
Mr Sanath Kumar's Social Service during this Global Pandemic..
During this Global Pandemic, he made sure the RELIEF MATERIAL DISTRIBUTION to the needy. At the difficult time of lockdown between March & June 2020, "Grocery Pack" which contained about 13 different items ranging from rice to mustard seeds, enough to serve a family of 5. About 100 of these "Grocery Packs" were distributed to lower-income people who had no income during that period & to an HIV home in Krishnagiri District.
​A Biopic of Mr Sanath Kumar was directed by film director Vasanth Sai and it won the National Award for the Best Short Documentary of the year 2017.
A man with a disability who is living independently and lends his shoulder to everyone who is needed of it. Let's get the people to know this Great Man, who showed that humanity is still alive within humans.

Know More About Sanath Kumar Foundation

Know More About Anandamayee Senior Gated Community