Scaled Mt. Kilimanjaro at just 9. Where does the courage and grit come from?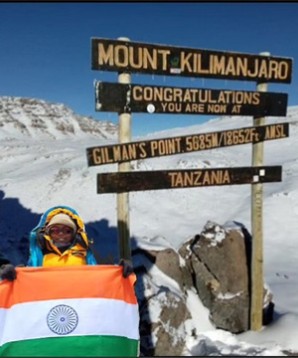 You must have known about Africa's highest peak, Mt Kilimanjaro, the dormant volcano as well as the highest single free-standing mountain in the world that ranges to a height of 19,340 feet. This mountain has three summit points and one of them is Gilman's Point. Climbers, who trek and reach Gilman's point, receive the official Kilimanjaro climbing certificate. But what is that I'm trying to tell you now? Well, this article is not about the mountain but about a girl who managed to reach Gilman's Point at a very young age of 9.
Young by Age Not By Strength:
Kadappathala Rithika Sri is a nine-year-old girl who hails from Agraharam village in Tadimarri Mandal of Anantapur district in Andhra Pradesh. She goes to St. Vincent De Paul English Medium School of Anantapur. Rithvika's father Kadapala Shankar is a cricket coach and sports coordinator in the Special Olympics Bharat wing of Rural Development Trust, Anantapur, Andhra Pradesh. He scaled Mt.Kilimanjaro in January 2020. The same passion was passed on to his daughter who took Level 1 training in mountaineering at Rock Climbing School at Bhongir in Telangana and Level 2 training at Ladakh.
Little Feet That Scaled the Highest Peak:
Post her Level 2 training in Ladakh, Rithvika embarked on her journey to scale Mount Kilimanjaro in Tanzania accompanied by her father and guide. She climbed to Gilman's Point which ranges to a height of 5,681 metres above the mean sea level on February 25, 2021. Her father approached the district collector Gandham Chandrudu for financial assistance and looking at the talent and commitment of the little girl, the collector immediately sanctioned Rs.2.98lakh from the SC Corporation funds for the expedition. The little girl did not let their hopes down. She conquered the mountain on 25th February 2021 kicking all the odds that came her way. She thus became one of the youngest persons for having scaled the mountain. District collector Gandham Chandrudu praised the girl for her feat and tweeted, "You have grabbed the opportunities despite many odds. Keep inspiring". Rithvika's proud father felt delighted about his daughter's achievement and said, "Rithvika Sri took part in the mountaineering expedition with enthusiasm and she could make it in her first attempt,"
This little girl who has already shown much grit and determination at this very age is sure to bag many more credits in the years to come.