Savi Sharma the 25 YO writer's "Everybody Has a Story" has hit record sales.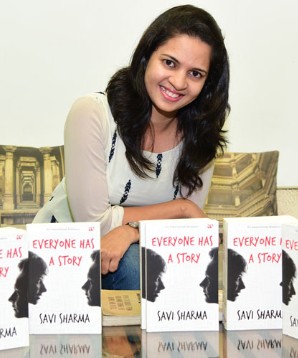 The freshness of the words and the ability of the reader to identify with what is narrated by a novelist is almost mysticism, magic, but above all talent. Savi Sharma is a novelist who has broken all sales records in India and is a best seller worldwide. Her words have permeated the souls of young and old with fresh lyrics that speak of how to achieve dreams and leave aside the superfluous, the conventional and embark on the journey to success under their own rules and rescuing the value of love.
Millions of people in India and around the world found in the words of Miss Sharma the key to restart the path to achieve unfinished dreams. Savi teaches that failures are part of life and as such should only be overcome, and then, take advantage of the lessons they leave behind.
The path of the young woman writer
Savi Sharma was born in Surat and from a very young age, she learned to observe people, listen to them and that is how she discovered that all people dream of achieving goals and that many times they simply abandon them because they think they are unreachable. While Miss Sharma was in high school, she found a vocation in business studies and accounting. When she graduated from school, she began studying for a degree in accounting, but the love of literature and the endless words that flowed from her hands led her to embark on the path to literature.
She doesn't know exactly when she found her way as a writer: "I used to contribute to my school magazine Abhisarg, but that was only a once a year thing, my first article was a poem about the elections. But she was far from imagining that she would become a renowned writer. She recalls that in her first year of college she began writing a diary that would become the raw material for her later literary works.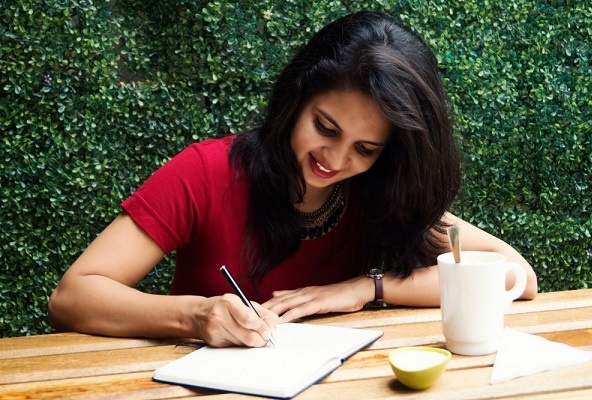 As a reader she has no limits, she reads everything, especially contemporary youth literature: "I started with Chetan Bhagat, Durjoy Dutta, and Ravinder Singh, I was new to the world of books, so I read what my friends were reading at the time" she said. In any case, and despite Savi's eclectic literary background, the most important thing is discovered in the depths of Savi Sharma's literary work, which expresses her ability to approach people's souls, their deepest longings, and to draw road maps to happiness, without anchorage, and without complexes. She only encourages people to find their way and write their own history.
The steps to "Everyone has a story"
Miss Sharma's diary became a great observation record. At the same time, she wrote a romantic novel called "A Silent Love". The novel was very well received among her close friends, however, Savi was not satisfied with the novel and decided to leave it, even when it was finished: "The only thing that worked for me was the names of the main characters. I especially like Jianna, which means 'God is kind' in Italian. In fact, I'm going to name the main characters in my future books after her.
Miss Sharma's perfectionism and her deep conviction that literary works are universally inspired, led her to create a work that touches people's souls and motivates them to find the ink that tells their story, the ink of their own experiences, their own dreams and their own learning from failure.
The international critics praised the work of Miss Sharma, for its profound human content. However, the greatest recognition for her, came from her readers around the world, who find in Savi's work an instrument to achieve happiness, exalt love and reach goals.
She and other collaborators created the motivational media blog "Life & People", where she reflects on the power of the positive mind, reflection, the law of attraction, the power of the spirit and above all the power of love.
Praise from the publishers
Publishers and distributors such as Westland, Penguin Random House, Nielsen BookScan, and Amazon praise Miss Sharma as a high impact author because her works have reached the category of Best Sellers: "Savi's story is remarkable because no other Indian woman commercial fiction writer, be it Anuja Chauhan or Nikita Singh, has ever crossed the magic 1 lakh sales figure". Said one of the publishers. Checkout Her Books
In the year 2016, she published her hit book "Everybody has a Story" which sold 250,000 copies in a few weeks, soon after in the year 2017 she published "This is not your story" selling 150,000 copies quickly, in 2018 she published the second part of the book "Everybody has a Story" and starting the year 2020 she published "Stories we never tell".
Savi Sharma's intense literary activity both in novels and in her famous blogs, made her a sensation on social networks, counting seven and a half million followers so far. Her marketing manager is Ashish Bagrecha, who accompanies her in this literary adventure in which they have not only challenged literary conventions but have even taken alternative paths to those of publishers, daring to self-publish their first work, which from 5000 copies in its first edition, jumped to 250,000 in the following ones.It is satisfying for readers to know that Miss Sharma is only 25 years old and has many years to write soulful stories.

Follow her famous blogs and Click Here to BUY Savi Sharma Books